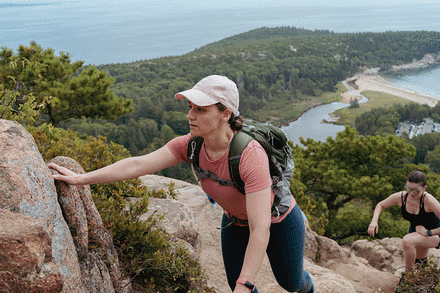 In honor of its outstanding public health work and commitment to the health of people in its state, the Maine Public Health Association was recognized as APHA's Affiliate of the Year in October.
The Maine association drew accolades for its growing membership, legislative advocacy and public health agenda, which ranges from promoting vaccinations to supporting tobacco cessation. Despite the COVID-19 pandemic, the association held regular training sessions, hosted a popular series of webinars and continued its leadership on climate policy advocacy, among other 2021 achievements.
"It feels really special, and I'm truly grateful for this recognition," Rebecca Boulos, PhD, MPH, executive director of the association, told The Nation's Health. "We have grown significantly in the past five years — in terms of membership, revenue and staff size — which has helped us to also grow in our advocacy, training and partner engagement work."
The success of the organization is the result of long hours, strategic decisions, sustained engagement from its board and partnerships with other groups, Boulos said. Since 2019, membership has grown by over half, member benefits have expanded and the association's first annual report was prepared.
"I'm proud of the less flashy but important work of updating our bylaws and our website and creating an employee handbook — all done virtually and with thoughtful engagement and discussion by our board," Boulos said.
With a mission of improving and sustaining "the health and well-being of all people in Maine through health promotion, disease prevention and the advancement of health equity," the association tackles a wide range of public health issues.
Some of the organization's standout achievements from the past year include generating several reports and fact sheets for legislators on important issues and promoting public health funding.
"Maine's members and leadership are a powerhouse," Lindsey Wahowiak, APHA Affiliate affairs director, told The Nation's Health. "They do incredible work for their state and are highly active in advocacy. They are extraordinarily deserving of recognition."
The association has also been active on addressing the health effects of climate change, taking part climate-oriented collaboratives in the state. The Maine Climate Council, a group convened by Maine's governor to advise on climate policy, is a particularly valuable partnership for the association, Boulos said. The council has provided a public health perspective on climate policy and elevated the priorities of membership.
For more information, visit https://mainepublichealth.org.
Copyright The Nation's Health, American Public Health Association