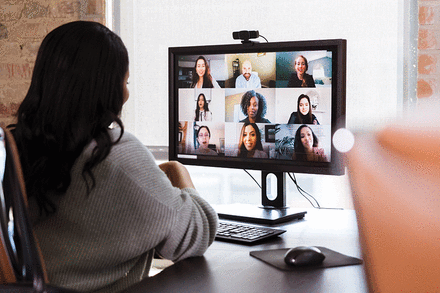 APHA supports diversity training
APHA is celebrating the end of a Trump-era measure that banned diversity training for federal workers.
On his first day as U.S. president, Joe Biden revoked Combating Race and Sex Stereotyping, an executive order from President Donald Trump that prohibited workplace diversity training for federal workers and contractors. Issued by Trump in September, the order was widely condemned.
In a Jan. 8 letter to then president-elect Joe Biden, APHA, the Safe States Alliance and over 70 other organization asked Biden to rescind the order, noting that conversations on racial equity "serve as a catalyst for change, moving diverse communities in a unified approach toward achieving equitable opportunities and health outcomes for all marginalized groups."
"Thoughtful trainings in the workplace help build awareness and dialogue, produce transformative ideas, and implement sustainable solutions that improve our nation's public health," APHA and the other advocates said.
APHA celebrates energy rule victory
APHA marked a victory for public health this winter when a dangerous Trump-era energy rule was struck down in court.
In January, the U.S. Court of Appeals for the District of Columbia Circuit's ordered the Environmental Protection Agency's so-called Affordable Clean Energy rule to be vacated and remanded. Under President Donald Trump in 2019, EPA's Clean Air Act — which reduced harmful carbon pollution from power plants — was repealed and replaced with regulations that allowed more harmful emissions.
APHA, the American Lung Association and the Clean Air Task Force issued a statement Jan. 19 praising the court for acknowledging the ACE rule was deeply flawed.
The court victory paves the way for the Biden administration to issue a stronger and more protective climate rule.
"Not only can EPA meaningfully tackle climate change, the agency can also help correct decades-old injustices and inequities by reducing pollution in communities next to power plants and other polluting sources," they said.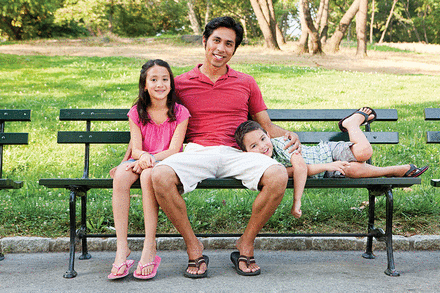 APHA calls out global climate emergency
Climate change is a health emergency and immediate action needs to be taken to protect the health and well-being of the public, APHA and 25 other health organizations said in a Jan. 26 declaration led by the American Lung Association.
Communities are experiencing air pollution, wildfires, extreme weather, vector-borne diseases and water algae toxins, all of which cause myriad illnesses and chronic ailments, the declaration said. Underserved communities suffer the most from climate change.
The declaration calls for adopting evidence-based targets to prevent warming temperatures, reducing carbon and methane emissions, promoting health equity, and preserving the Clean Air Act.
Along with policies to effect equitable climate action and pollution reduction, communities must be given access to tools to protect health and well-being, including the most vulnerable. Public health systems must have adequate resources to protect communities, and a transition to a clean energy economy must uplift all of society, not just middle-class and wealthy white communities, the declaration said.
"APHA promotes policies focused on environmental justice and health equity that are designed to address climate change adaptation and mitigation where not just the benefit of climate-forward policies affect all, but has an eye toward the equitable distribution of risks," Surili Patel, MS, director of APHA's Center for Climate, Health and Equity, told The Nation's Health.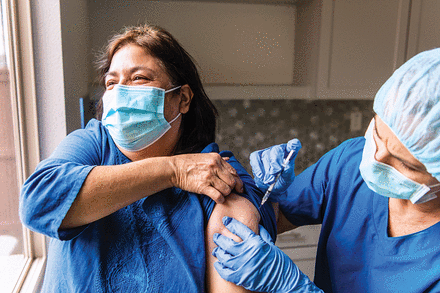 APHA urges broad vaccination funding
U.S. public health workers have been working to immunize people against COVID-19 while also trying to inoculate Americans for other dangerous diseases.
Through the Adult Vaccine Access Coalition, APHA is supporting a bill that would bring funding and education to vaccination clinics at local and state health departments.
H.R. 8061, the Community Immunity COVID-19 Act, would provide $560 million to develop, scale and evaluate local initiatives to maintain immunization schedules recommended by the Advisory Committee on Immunization Practices.
Recommended vaccinations target diseases such as flu, pneumococcal disease, shingles and hepatitis, the advocates said in a Jan. 22 letter to Sen. Tina Smith, D-Minn., and Rep. Lauren Underwood, D-Ill., the latter of whom introduced the bill to the House last summer.
COVID-19 is also part of the legislation, which would provide funding to immunize all populations, including underserved communities, against the disease and provide education on reducing vaccine hesitancy in communities.
"It is necessary to be educating and encouraging our most vulnerable populations to seek access to COVID-19 vaccines," the coalition said.
APHA behind Biden immigration actions
Trump administration policies that separated over 5,000 children from their parents at the U.S.-Mexico border have caused incalculable harm to immigrant families. Of the children separated, hundreds have still not been reunited with their parents, an issue the Biden administration plans to rectify.
On Feb. 2, President Joe Biden signed an executive order that began the process of rescinding the Trump actions and created a task force to work on uniting families. The administration also plans to review the public charge rule, which deters immigrants from receiving federal assistance in nutrition, health and housing.
"Beginning the work to overturn this ill-conceived rule now is especially critical as we continue our efforts to combat the COVID-19 pandemic and ensure all individuals are seeking care, treatment and preventive services," Executive Director Georges Benjamin, MD, said in a February news release. "We are pleased that President Biden has taken swift action to prioritize these issues and address these clear violations of fundamental human rights."
APHA denounces Capitol riot, violence
The Capitol riot in Washington, D.C., on Jan. 6 was an egregious act of violence against the U.S. government and assault on American democracy, APHA said in a news statement days after the attack.
APHA Executive Director Georges Benjamin, MD, called on Americans to condemn violence, which "is corrosive to the public's health." The attack on the Capitol came at the same time as 4,000 people a day were dying from COVID-19, he noted. The two events are linked by the common thread of disinformation, intentionally spread to sow distrust.
"This undermining of the truth has made our nation less safe, not only in our hallowed halls, but on our streets as well," Benjamin said. "We must believe in science, not fallacy, and trust our experts, not our loudest dissenters."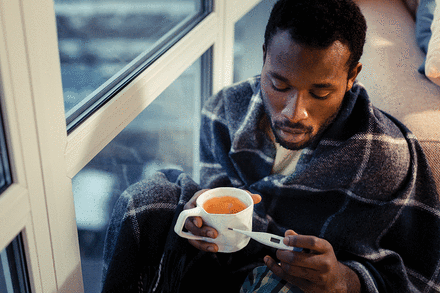 Sick leave benefits help fight COVID-19
Providing paid sick leave helps prevent the spread of COVID-19, as workers with leave are less likely to come to work and infect others. In a Dec. 4 letter to congressional leaders, APHA and partners asked that paid sick benefits in the 2020 Families First Coronavirus Act be extended beyond Dec. 31. Under the law, employers were required to provide paid sick leave and expanded family and medical leave for COVID-19.
"Paid sick leave is a public health issue, and guaranteeing paid sick leave will help to curb the pandemic," APHA and the other advocates said.
On Dec. 20, both the House and the Senate voted to pass a $900 billion coronavirus relief bill, but declined to extend the paid leave. However, the bill stated that covered employers can claim the tax credit associated with the leave until March 31.
As of mid-February, expanding paid leave was under consideration for inclusion in President Joe Biden's COVID-19 relief package.
To take action on public health, visit www.apha.org/advocacy.
Copyright The Nation's Health, American Public Health Association