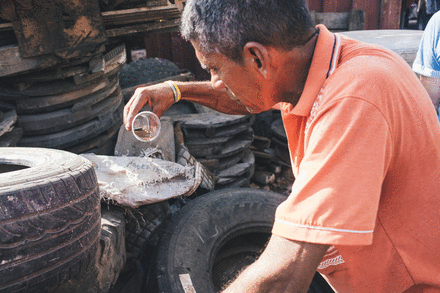 The poorest people in low-income tropical regions are most at risk for contracting rare infectious diseases, which are often overlooked in major disease eradication campaigns.
In January, the World Health Organization outlined its plan for the next decade to fight 20 neglected tropical diseases, which are infections that historically have not received the same focus and funding as other diseases. Every year, over 1 billion people become ill and about 185,000 die from the diseases.
"Ending the Neglect to Attain the Sustainable Development Goals: A Road Map for Neglected Tropical Diseases 2021–2030" sets targets to control, eliminate or eradicate the diseases in 10 years.
The road map's 20 neglected tropical diseases include some that are well known, such as dengue and rabies, and others that are rare but also dangerous. The full list comprises buruli ulcer; chagas disease; chikungunya; dracunculiasis; echinococcosis; foodborne trematodiases; human African trypanosomiasis; leishmaniasis; lymphatic filariasis; mycetoma, chromoblastomycosis and other deep mycoses; onchocerciasis; scabies and other ectoparasitoses; schistosomiasis; soil-transmitted helminthiases; snakebite envenoming; taeniasis and cysticercosis; and trachoma.
The diseases are found predominately in tropical countries in Africa, South America and Asia, and they "mainly infect resource-poor communities," according to Ashok Moloo, a WHO informations officer.
"Their correlation with poverty is so close that they are sometimes referred to as diseases of neglected populations," Moloo told The Nation's Health. "Such entrenchment among disadvantaged population groups with little public voice contributes to their neglect."
WHO plans to work closely with member countries and their national health systems to fight the diseases. The focus will be on improving health care services, teaching better hygiene and safer animal agriculture, as well as creating infrastructure that improves vector control, water quality and sanitation practices.
Overarching 2030 goals include 90% reduction in infections and 100 countries eliminating at least one disease.
For more information, visit www.who.int.
Lindsay Syms contributed to this story.
Copyright The Nation's Health, American Public Health Association