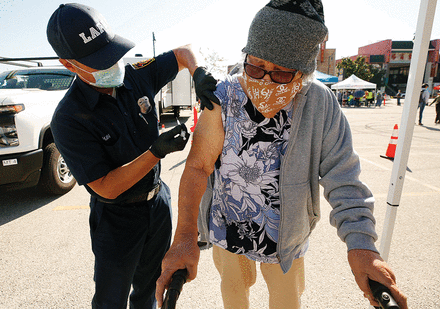 Mecca, California, an agriculture town in the Coachella Valley, had a 40% COVID-19 infection rate in January. But when farmworkers in the mostly Hispanic town became eligible for a COVID-19 vaccine, some hesitated, citing safety concerns.
Overcoming their wariness about vaccination was the task of the Coachella Valley Equity Collaborative, a coalition of a dozen local health groups. Organizers addressed vaccine misinformation in the population and promoted pop-up vaccine clinics in Mecca. In mid-January, 300 farmworkers showed up at the first clinic. By March, 7,000 doses had been administered across eastern Coachella.
"The farmworkers have been so nice and appreciative," said Conrado Bárzaga, MD, CEO of Desert Healthcare District, lead organizer of the collaborative. "They could not stop thanking us for bringing the vaccines. They said, 'We never expected to be first in line to get the vaccine, and now I feel proud I can protect myself and my family, and everyone who lives with me.'"
COVID-19 infection rates in eastern Coachella dropped dramatically, with collaborative leaders estimating a three-fold reduction based on a model. In Riverside County, which includes Coachella Valley, new cases fell from 45,000 daily in mid-January to 4,000 in early March, according to county records. Mitigation protocols and an expected seasonal decline are credited for much of the reduction, but prioritizing people at risk, such as farmworkers, made a difference, especially in eastern Coachella.
Riverside was the first county in the U.S. to vaccinate farmworkers on a broad, coordinated scale and without factoring in age or preexisting health conditions. Across the nation, other health groups have brought vaccines to prioritized populations through pop-up clinics and mobile units. But not all have been as successful as the eastern Coachella model.
Many local and state efforts stumbled into spring, developing approaches for vaccine distribution and administration in a "piecemeal fashion," said Monica Schoch-Spana, PhD, MA, co-chair of Communivax, a national coalition based at Johns Hopkins Bloomberg School of Public Health that helps organizations equitably deliver vaccines.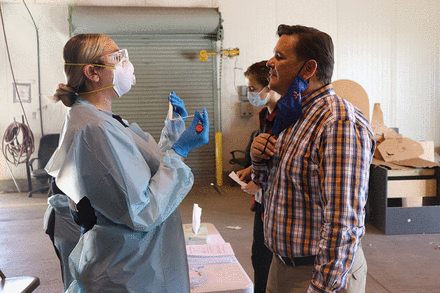 Some outreach programs ran into "entrenched systems that have not served people in the past," Schoch-Spana, a senior scholar at Johns Hopkins' Center for Health Security, told The Nation's Health.
Sometimes outreach workers get only part of their strategy right, Schoch-Spana said, citing a case in one state where officials planned to vaccinate low-income people at Walmart stores. It made sense, as the big box store is known for low pricing and attracting customers on a budget. But the stores were miles from underrepresented communities and targeted residents lacked transportation, she said.
In many U.S. areas, vaccination programs have used online registration and advertising to sign up community members for local doses. But the programs can fail when residents lack internet access, Schoch-Spana said. In-person efforts are needed in disadvantaged areas.
"Public health has to meet people where they are," Schoch-Spana said. "Instead of using a very centralized vaccination model and relying on people coming to you, it is about taking vaccines to them. Getting people vaccinated in places that are convenient, familiar and feel comfortable and safe is a big step to success."
That strategy is paying off in New York City, thanks to the Bronx Rising Initiative. From January through February, the initiative helped organize four pop-up clinics at Bronx public housing developments. Many residents are low income, have health issues and are older adults.
Vaccinations are given in the developments' community center. Partners had administered 3,500 doses as of March 1, said Tomas Ramos, director of the Bronx Rising Initiative.
Community members typically have no high-speed internet access or reliable transportation, so in-person communication and easy access to vaccinations are a must. Initiative workers go door-to-door to reach tenants, answering questions and giving out pamphlets that correct misinformation. Vaccine hesitancy eases when people learn the facts, Ramos told The Nation's Health.
"Getting people vaccinated in places that are convenient, familiar and feel comfortable and safe is a big step to success."

— Monica Schoch-Spana
"We are meeting them at their doors, and we are seeing that this is the most effective way to reach this population," Ramos said.
To vaccinate farmworkers in Coachella Valley, organizers built on the goodwill they had developed through months of testing farmworkers for COVID-19 and distributing personal protection equipment, Bárzaga said. To reduce hesitancy, organizers partnered with valley farms and brought in trusted community members to talk about vaccine safety.
Many farmworkers in the valley are in the U.S. without legal permission and some of them migrate seasonally up and down the West Coast. The nature of their jobs and living arrangements make them vulnerable to chronic health conditions and COVID-19 infection. In addition, health outreach is inhibited by language and technological barriers.
The coalition held information sessions and vaccine clinics at agriculture distribution centers, familiar places for the workers. While on the job, the workers were scheduled, registered and vaccinated. No questions were asked about immigration status.
"Equity from my standpoint is all about eliminating the barriers of access to care that these members of our community have," Bárzaga said.
Other health officials are replicating the Coachella Valley strategy in farm communities in Colorado, Idaho, Michigan and California's Central Valley.
In other parts of the U.S., health workers are bringing mobile vaccination clinics into urban areas. In Los Angeles in February, the city launched its Mobile Outreach for Vaccine Equity program, an effort to scale up mobile vaccinations in some of the most vulnerable neighborhoods.
In its first week alone, the program served over 1,300 people in South L.A. Two-thirds of the doses were provided to Black residents, a population at high risk for severe COVID-19 illness.
At the federal level, mobile vaccination clinics are being supported by agencies such as the Federal Emergency Management Agency and Centers for Disease Control and Prevention. As of March, FEMA had worked with partners on more than 500 mobile events.
"Vaccines can be a powerful instrument of equity," Los Angeles Mayor Eric Garcetti said in a news release. "By delivering doses directly into our communities, our city is sending a clear message: as we work to protect people's health and defeat this pandemic, no one will be left behind."
To learn more about equity and COVID-19 vaccination, visit www.centerforhealthsecurity.org.
Copyright The Nation's Health, American Public Health Association