Youth e-cigarette use falls during pandemic
E-cigarette use among U.S. youths and young adults dropped during the COVID-19 pandemic, a study in the June issue of APHA's Americans Journal of Public Health finds.
Researchers examined national data on e-cigarette use among people ages 15 to 24. The information was collected in 2020 before the COVID-19 crisis was declared a national emergency, and for three months during the pandemic later that year.
Of the more than 5,700 respondents, nearly half said they used e-cigarettes less during the pandemic. Most of the decline was among people ages 15 to 20.
E-cigarette store closures during the pandemic were a major factor for the decline in usage, the study said, but so was reduced social interaction for young people.
"The positive association between reported reductions in sharing e-cigarettes and reductions in e-cigarette use observed during the pandemic is consistent with the literature that finds that peers and social interactions are an important source of e-cigarettes for individuals aged younger than 21 years," the researchers said.
Overdose deaths rise during pandemic
As the COVID-19 pandemic took hold last year in the U.S., overdose deaths rose dramatically, a study in AJPH's July issue finds.
Using provisional data from the Centers for Disease Control and Prevention, researchers determined that an estimated 9,200 people died from a drug overdose in May 2020. That represents a 57% increase from May 2019. The highest number of drug overdoses were in West Virginia, Kentucky and Tennessee.
In June 2020, overdose rates were 36% higher than in June 2019, and in July they were 43% higher than in July 2019. Overall, overdose deaths during the first seven months of 2020 increased 35% compared to the same months in 2019.
"The drastic exacerbations of the U.S. overdose crisis described here warrant renewed investments in overdose surveillance and prevention during the pandemic response and post-pandemic recovery efforts," researchers wrote. "Lowering logistical and financial barriers to accessing substance use treatment is paramount."
Police aggressive toward minorities
Police encounters in the U.S. with young people of color are typically more aggressive than those with white youth, according to study in the July issue of AJPH.
Researchers examined data from the Fragile Families and Child Well-being Study, which followed nearly 5,000 children in U.S. cities between 1998 and 2000. Black youth were subjected to more aggressive behaviors during encounters wth police than their white peers.
Nearly 40% of Black boys and 14% of Black girls reported police contact, versus 23% and 10% of white boys and girls, respectively. Over 10% of Black boys reported being frisked, spoken to harshly or handcuffed, and 14% reported searches. For white males of the same ages, such procedures were "extremely rare."
"Findings suggest that urban adolescents face broad, potentially toxic exposure to police, beginning as early as childhood," researchers said.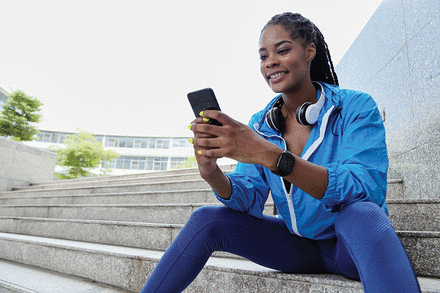 Digital health use reveals disparities
Increasing digital engagement in the U.S. is important for advancing health equity goals, a study in July's AJPH concludes.
Researchers examined data from the 2018 Health Information Trends Survey to determine how often Americans use digital services for health information. They found that people use the internet regularly to search health information. However, use of health apps and digital devices that users strap onto their body to measure vitals are not used as much. Nearly 40% use health apps, while about 35% use digital devices to track personal health metrics.
In addition, over 35% of people use digital means to communicate with their health care providers, the study found, and about 17% share health data digitally with providers.
Many people who engage with health information digitally were female, college educated and less than age 65.
Researchers said the study "highlights potential digital divides, with greater barriers to engagement for older individuals, males, those with lower levels of education and rural residents. Unsurprisingly, access to internet and digital devices predicted digital health engagement."
To access studies and podcasts from AJPH, visit www.ajph.org
Copyright The Nation's Health, American Public Health Association