APHA's Public Health Expo is back, and it is shaping up to be a star attraction at the Association's Annual Meeting in October.
After moving online because of the COVID-19 pandemic last year, the expo returns in-person at APHA 2021 in Denver, with all the networking, information and public health goodies meeting attendees love.
To be held at the Denver Convention Center Oct. 24-26, the expo will showcase hundreds of publishers, nonprofit organizations, government agencies and other public health partners. Exhibitors are excited to be coming together with public health professionals after being apart so long, according to Edward Shipley, APHA exhibits manager.
"Connecting with public health peers and partners is especially important right now," Shipley told The Nation's Health. "So many exhibitors have been telling me how eager they are to support the public health workforce and its mission, and the expo provides a fantastic opportunity to make those linkages."
Schools of public health are among the exhibitors that will be attending the expo in force.
Public health degrees and careers have attracted more interest during the pandemic, with applications to schools of public health increasing. Officials from schools of public health from across the country will be on hand to answer questions about their offerings.
Another draw at the expo will be the APHA Press booth, which will feature book signings and meet-and-greet opportunities with public health authors, including some who will be presenting during the meeting. Attendeees will also be able to pick up an official event T-shirt and other souvenirs.
The Industry Experts Theater will feature presentations from exhibitors, while the publishers' section will showcase textbooks, new publications and other media. The technology section of the exhibit hall will host companies with software solutions that can help public health professionals better do their jobs.
The expo will also have fun, interactive activities to bring participants together, Shipley said. A list of exhibitors that will be on-site at the expo is available online now.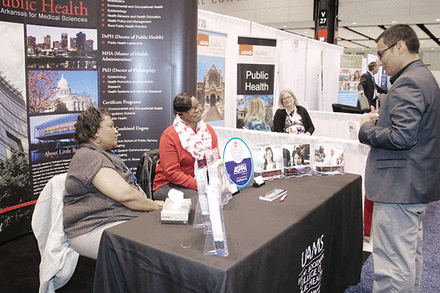 People attending APHA 2021 from home will be able to take advantage of a virtual version of the expo. Online participants can connect with exhibitors by visiting virtual booths.
Registration and housing for APHA 2021 is open online now. For more information on APHA's 2021 Annual Meeting and Expo, including how to become an exhibitor at the event, visit www.apha.org/annual-meeting.
Copyright The Nation's Health, American Public Health Association