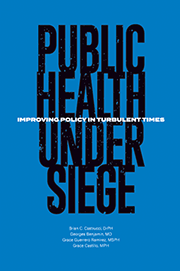 Occupational safety policies implemented for decades in the U.S set new workplace standards and have saved countless lives. Vehicle safety policies that mandated seat belt use and air bags have helped lower traffic fatalities. And tobacco use has dropped dramatically, thanks to policies that support no-smoking areas and tax increases.
"Public Health Under Siege: Improving Policy in Turbulent Times," published by APHA Press, offers professionals ways to use policy to improve America's health. The book lays out ways in which health professionals and community supporters can achieve population health improvements through policy changes — even ones as ambitious as improving vehicle and workplace safety and reducing tobacco use.
APHA Executive Director Georges Benjamin, MD, and Brian Castrucci, DrPH, MA, president and CEO of the de Beaumont Foundation, are among the book's co-editors. Chapters are written by public health experts, and include approaches shared at APHA's annual Policy Action Institute.
"More public health professionals are realizing the importance of policy in achieving lasting improvement in health equity," Benjamin told The Nation's Health. "Rather than being a quick fix, policy offers the chance to dig into the root causes of disparities. This approach cannot only be more effective, but also be a better way of investing resources."
"Public Health Under Siege" explores lessons from existing policy tools and frameworks as well as strategies in regulatory policy and litigation. Threats to public policy, such as when state laws conflict with local laws, are highlighted. The section is especially timely given the recent flurry of state and local laws limiting public health authority in the wake of the COVID-19 pandemic.
Two sections of the book are devoted to examples of successful advocacy and case studies of policy approaches involving social determinants of health, such as housing, education and transportation.
"Policies that address the social determinants of health have the most impact on the most people," Castrucci told The Nation's Health. "These types of policies also have the added benefit of impacting people's lives further 'upstream' before they are sick."
Public health has made solid policy advances, but many times the public remains unaware, as many involve prevention rather than a medical cure. Among the successes in the U.S. have been regulations for clean drinking water, food safety, clean air and vaccinations.
"Unfortunately, when we think of policy and legislative politics, public health is often associated with just one side of the aisle," Castrucci said. "We have to educate people that public health isn't a side of the aisle; it's the ground on which all aisles are built.
"We need to educate the public — and public health students — that when we think about improving people's health, to not start with the individual but with the community. Policy change is the best medicine for the community."
For more information on the book, visit www.aphabookstore.org.
Copyright The Nation's Health, American Public Health Association