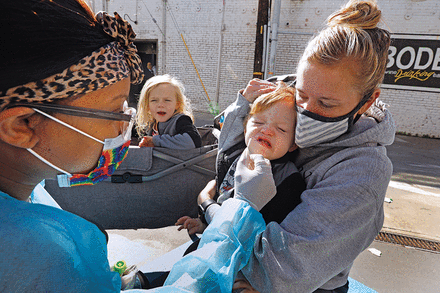 As COVID-19's highly contagious omicron strain led to surges in cases, hospitalizations and deaths in the U.S. early this year, a clear lesson rang out: vaccination against the disease works.
Unvaccinated people continue to be at a much greater risk of serious complications from COVID-19, data from the Centers for Disease Control and Prevention show. As of November, unvaccinated adults were 17 times more likely to be hospitalized for COVID-19 than those who were fully vaccinated, and 20 times more likely to die from the disease.
"Those are significant, serious statistics," said White House spokesperson Jen Psaki during a January press briefing. "The impact for people who are unvaccinated is far more dire."
While that U.S.-wide data was collected before the omicron surge — which began to sweep the U.S. in December and overran hospitals in January — early data from states during the surge confirmed higher COVID-19 deaths and hospitalization rates for people who were unvaccinated.
During the first week of the year in Virginia, for example, unvaccinated people were 25 times more likely to die of COVID-19 than vaccinated people, and about 36 times more likely to be hospitalized because of the disease, the state department of health reported.
Just weeks into the omicron surge in mid-January, 800,000 new cases of COVID-19 were being reported a day, with the omicron strain accounting for the majority of them.
As of Jan. 15, about 209 million people in the U.S. were fully vaccinated against COVID-19 and 38% of them had received their booster shots. Whites accounted for 65% of people who remained unvaccinated against the disease, according to a Kaiser Family Foundation analysis of CDC data.
More than 847,000 people in the U.S. had died of COVID-19 as of Jan. 15. Without a vaccination program, there would have been 1.1 million more U.S. COVID-19 deaths and 10.3 million more hospitalizations by November 2021, according to the Commonwealth Fund.
"Vaccination against COVID-19 is effective," APHA Executive Director Georges Benjamin, MD, told The Nation's Health. "You're much, much less likely to become seriously ill, to be hospitalized and to die if you're vaccinated. The best way to prevent more suffering and loss and to end this pandemic is through vaccination."
For more information on COVID-19 vaccination, visit www.cdc.gov.
Copyright The Nation's Health, American Public Health Association