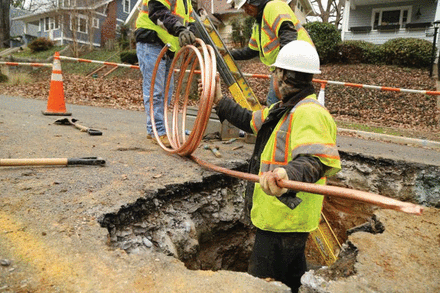 Pipes that deliver lead-contaminated water into millions of U.S. homes could be a thing of the past under a new federal plan.
The Biden administration debuted its strategy to reduce toxic lead exposures this winter, with a goal of replacing all of the nation's lead drinking water pipes in the next decade.
The Lead Pipe and Paint Action Plan, released in December, includes plans to help localities remove and replace lead service lines and paint. It would also close gaps in childhood lead screening, with a particular focus on underserved communities disproportionately impacted by lead exposure.
Up to 10 million U.S. households and 400,000 schools and child care centers get their water via lead service lines, according to the U.S. Environmental Protection Agency. About 24 million housing units — home to 4 million young children — contain significant lead-based paint hazards.
There is no safe blood lead level in children, according to the Centers for Disease Control and Prevention. Lead exposure is tied to brain and nervous system damage and developmental delays, as well as learning and behavioral problems. Exposure can also cause anemia, weak joints and kidney damage. Pregnant women exposed to lead can result in harm to their unborn child.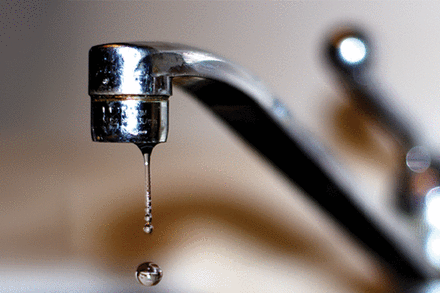 "The bottom line is that there is no reason in the 21st century for why people are still exposed to this substance that was poisoning people back in the 18th century," said Vice President Kamala Harris in announcing the new plan. "But here's the truth… millions of people in our country, many of them children, are still exposed to lead every day."
As part of the plan, EPA said in December it would start developing a new regulation that, "along with other actions, would result in the replacement of all lead services lines as quickly as is feasible."
The agency also announced that the federal Lead and Copper Rule Revisions, which were promulgated during the previous presidential administration, would go into effect. Under the revisions, jurisdictions will be required to create an inventory of lead service lines or prove the absence of lead lines by October 2024.
"The science on lead is settled," said EPA Administrator Michael Regan in a news release. "It is time to remove this risk to support thriving people and vibrant communities."
According to the National League of Cities, communities can tap into a number of federal resources to support inventory work, including funds from the American Rescue Plan Act.
EPA said it would distribute $2.9 billion in funds from a 2021 infrastructure law — the Infrastructure Investment and Jobs Act — to states, tribes and territories for lead service line removal. The money is the first round of funding from the $15 billion the law dedicated to replacing lead drinking water lines.
The infrastructure law also provided an additional $11.7 billion over five years — money that can be used to support lead service line removal — for EPA's Drinking Water State Revolving Fund.
"For far too long, American families from Flint to Houston and across the country have had to live with the uncertainty of not knowing whether the water that comes out of their taps is putting their children's health at risk," said Ramón Cruz, president of the Sierra Club, in a news release about the Biden lead plan. "Removing and replacing toxic lead pipes will protect our families."
For more information, visit www.epa.gov. For more technical guidance on service line removal, visit the Lead Service Line Replacement Collaborative at www.lslr-collaborative.org.
Copyright The Nation's Health, American Public Health Association