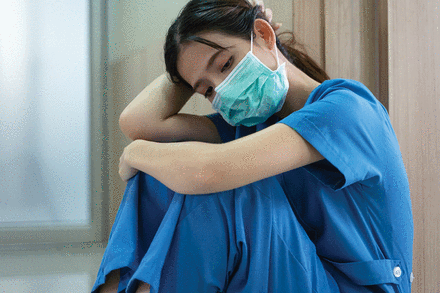 Burnout is driving health care workers away from the field, threatening their personal well-being and endangering the nation's overall health, the U.S. surgeon general warned in May.
In a new advisory, U.S. Surgeon General Vivek Murthy, MD, MBA, issued recommendations to address the growing problem, which had reached crisis levels even before COVID-19 arrived. A 2019 report from the National Academies of Medicine found that up to 54% of nurses and physicians and up to 60% of medical students and residents reported suffering from burnout.
A more recent survey from Mental Health America of 1,100 health workers conducted during the first summer of the pandemic found that 76% reported exhaustion and burnout. The public health workforce is also suffering, with half of employees reporting symptoms of PTSD, according to a March 2022 report. Symptoms of burnout include a high degree of emotional exhaustion and depersonalization and a low sense of personal accomplishment at work.
At the same time, the nation is facing considerable health worker shortages. Researchers project shortages of more than 3 million essential, low-wage health care workers in the next five years and nearly 140,000 physicians by 2033, according to the advisory. More than 500,000 nurses are expected to retire by the of this year.
"Confronting the long-standing drivers of burnout among our health workers must be a top national priority," Murthy said in a news release. "COVID-19 has been a uniquely traumatic experience for the health workforce and for their families, pushing them past their breaking point. Now we owe them a debt of gratitude and action. And if we fail to act, we will place our nation's health at risk."
Murthy's advisory lays out recommendations to address health worker burnout, calling on multiple sectors to act, including health care organizations, health insurers, health technology companies, policymakers, academic institutions and researchers.
Many of the recommendations focus on systemic and workplace change, such as providing living wages, paid sick and family leave, rest breaks, family-friendly policies and educational debt support. It also calls on employers to eliminate punitive polices for seeking out mental health and substance use disorder care; ensure adequate staffing, including surge capacity; and prioritize protecting health providers from workplace violence and harassment.
The advisory also calls on systems to reduce the administrative burden health workers face so they have more time with patients, citing research showing that for every one hour of direct patient care, a primary care provider spends two hours on administrative tasks such as dealing with insurance companies.
"While addressing burnout may include individual-level support, burnout is a distinct workplace phenomenon that primarily calls for a prioritization of systems-oriented, organizational-level solutions," the surgeon general advisory stated.
Other measures include prioritizing "social connection and community" as a core value within health care systems, which the advisory said can help protect against worker burnout, enhance job fulfillment and ultimately, improve patient care. The advisory also recommends investing in public health and the public health workforce, which has its own critical worker shortages.
"Many of the recommendations in this advisory require significant structural change and sustained investment," Murthy said in the advisory's conclusion. "They will take time and require our continued attention and action. But the hope of health workers has endured through far worse. Our efforts must as well."
For more on "Surgeon General's Advisory Addressing Health Worker Burnout," visit www.surgeongeneral.gov.
Copyright The Nation's Health, American Public Health Association