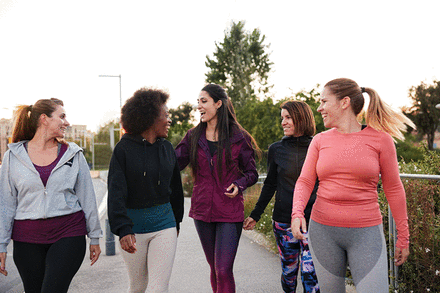 Getting active and having fun together while doing it just got easier, thanks to APHA's Keep It Moving Challenge.
Launched Jan. 1, the free challenge allows people to easily track their movement and stay motivated through April 9, the final day of APHA's National Public Health Week.
Unlike most other activity challenges, APHA's program counts both steps and other types of activities, such as dancing, basketball, rowing and yoga.
To keep participants motivated and having fun, challenge participants can choose a team to join when they sign up. Team members can view how well their group is doing, send messages to one another, plan meet-ups and earn bonus points. Last year, over 1,100 people were part of groups that logged more than 310 million steps through APHA's challenge.
The challenge has three activity levels for participants, with prizes available at all levels. There is also a challenge leaderboard. As of early January, the top three teams were Cope Kansas, Dual Coast Steppers and Tru Grit.
The Dual Coast Steppers team has eight members who live on both U.S. coasts. Team member LaRae Shaw-Meadows, who lives in northern California and in January was fourth on the challenge leaderboard with over 179,000 steps, said she walks before and after work and during breaks.
"I am fiercely competitive," Shaw-Meadows told The Nation's Health. "And I have a new puppy that I work hard at exhausting."
Also taking part in the challenge is the Nashua Division of Public Health and Community Services in New Hampshire.
Being on a team helps people stay motivated, said APHA member Jane Goodman, MS, the division's public health network strategist. Her hope is that the newfound motivation becomes an everyday habit.
"As far as getting motivated, I look at exercise as one of those must-dos every day," Goodman told The Nation's Health. "It is akin to brushing my teeth and taking a shower. I think people should think of it as self-care. I think of it as me-time."
Participants can download the free Keep It Moving Challenge app through their mobile device store to sign up for the challenge.
The activity challenge is a tie-in to NPHW, April 3-9, which has a theme of "Centering and Celebrating Cultures in Health." Every day of NPHW has a topic focus. Monday will be on community; Tuesday, violence prevention; Wednesday, reproductive and sexual health; Thursday, mental health; Friday, rural health; Saturday, accessibility; and Sunday, food and nutrition. The official NPHW toolkit is available with step-by-step event planning tips, sample promotional language and social media shareables. The tools are available in both English and Spanish.
For more information, visit www.nphw.org.
Copyright The Nation's Health, American Public Health Association