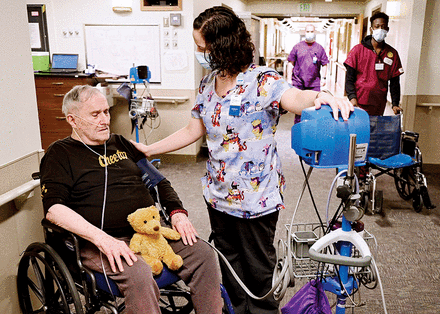 While the COVID-19 pandemic caused damage across the U.S. health care industry, nursing homes were among those harmed the most. Already teetering pre-pandemic, nursing homes saw severe staffing shortages, escalating closures, problems with cash flow, and illness and death among patients as the disease spread.
As Americans live longer and the older adult population grows, the demand for nursing homes is rising. Nearly 27 million people will need long-term care by 2050, according to the U.S. Department of Health and Human Services, compared to 15 million in 2000. But whether the work force will be ready to meet that need is a growing concern.
"Nursing homes need to ensure that they have the bandwidth to care for these higher acuity residents, including up-skilled staff training to enable their teams to care for residents with both chronic and acute conditions," said Lori Porter, LNHA, CNA, co-founder and CEO of the National Association of Health Care Assistants, which represents certified nursing assistants.
Industry leaders say the situation could get even worse as the $9.5 billion in HHS pandemic-era assistance provided to skilled nursing facilities ends. And after a federal emergency measure keeping people on Medicaid ends this month, hundreds of thousands of nursing home residents may lose coverage. That could lead to delayed or no Medicaid payments for already-taxed facilities.
"All long-term care providers are struggling with soaring labor costs and inflation," said Beth Martino, MA, senior vice president of public affairs at American Health Care Association-National Center for Assisted Living. "They cannot absorb additional losses due to delayed Medicaid redeterminations or beneficiaries being found ineligible due to state errors."
Most of the nation's 26,000 nursing homes offer both long-term and short-term care, with the latter usually serving as rehabilitation for seniors after a hospital stay. With the growth of at-home care and assisted living communities, nursing homes tend to take in more low-income seniors covered by Medicaid. And though allocations vary by state, Medicaid reimbursement often falls below actual care cost.
About 60% of nursing home residents rely on Medicaid, which on average reimburses 85% of actual health care costs, according to the Medicaid and CHIP Payment and Access Commission. That means a significant number of nursing homes are losing revenue per patient.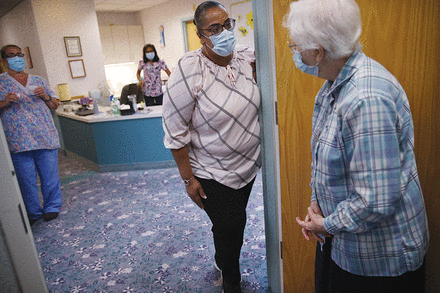 Some states have taken action to raise Medicaid rates. Beginning in January, Pennsylvania nursing homes received a 17.5% increase, thanks to a spending bill passed last year. The bump is expected to save nursing homes $35 a day for each Medicaid patient.
"Medicaid underfunding is one of the systemic issues that makes it difficult for nursing homes to invest in their staff and care services, make enhancements or even keep their doors open," Martino told The Nation's Health.
Staff losses grow during pandemic
Running on tight budgets, long-term care facilities have struggled for years to keep and recruit staff. Then came the COVID-19 pandemic, with the first U.S. outbreak of the disease occurring in a nursing home in Kirkland, Washington.
Low wages, long hours, unsafe working conditions and burnout drove an exodus of staff, which includes registered nurses, licensed practical nurses, certified nursing assistants, health assistants, administrators, cooks and housekeepers.
Nursing homes lost 210,000 jobs from February 2020 to December 2022, according to the U.S Bureau of Labor Statistics. Assisted living facilities lost 4,200 jobs.
In its "State of the Nursing Home Sector" report released in February, AHCA-NCHL said that over 80% of nursing homes have moderate to high staffing shortages, and 465 facilities have closed during the pandemic, including 190 with high ratings from the Centers for Medicare and Medicaid Services.
Nursing home residents are vulnerable to COVID-19 because of their age and underlying medical conditions. As of March, over 164,000 residents have died from the disease, according to data from CMS.
Early in the pandemic, the U.S. Government Accountability Office issued a report saying nursing homes were not doing enough to protect residents. Industry leaders countered that staff lacked access to adequate personal protective equipment and up-to-date information.
The arrival of vaccines changed the game. In December 2020, nursing homes were prioritized for vaccines, with most staff and residents receiving them. From March 2021 to March 2023, weekly deaths nationally among residents rarely topped 400, CMS data shows. Infections dropped by more than 90%.
"The virus continues to mutate into more contagious variants, making it difficult to fully prevent its spread," Martino said. "But our public health response has come a long way since 2020, and we now have the tools to help prevent severe outcomes for our vulnerable population."
At Evangelical Lutheran Good Samaritan Society, a nonprofit organization that operates 150 nursing homes in the upper Midwest, staff is down 15%.
Most of the society's long-term care facilities are in rural locations, which brings its own challenges, said Nathan Schema, president and CEO of the society. Resident incomes are low, so almost all payments come through Medicaid, and staff losses are magnified because of a shortage of qualified workers.
"In a rural community where maybe you're serving 30 or 40 residents, you might only have a handful of nurses on your entire staff," Schema told The Nation's Health. "So even losing one RN or one LPN can be the difference in having a gaping hole, or maybe having to bring in contingent labor from another part of the country."
To attract workers, competitive salaries and an emphasis on positive career rewards are needed to spark recruitment, says the "Care for Our Seniors Act," a white paper by AHCA-NCAL, which represents 14,000 nursing homes and assisted-living communities. Incentives such as tuition reimbursement, tax credits, child care and loan forgiveness are also needed.
Given that CNAs provide much of long-term care, some nursing homes are offering signing bonuses and housing and transportation support, Porter said. CNA apprenticeship programs are also being created.
Other facilities are recruiting from the National Institute of CNA Excellence, which trains CNAs in person-centered care, she said. Workers are credentialed to meet state and federal requirements as a practicing CNA.
But despite the work, overall recruitment is modest. During the last nine months of 2022, only about 3,700 jobs were filled nationally each month. At that pace, staffing would not return to pre-pandemic levels until 2027.
For more on the issues facing U.S. nursing homes, visit www.ahcancal.org.
Copyright The Nation's Health, American Public Health Association