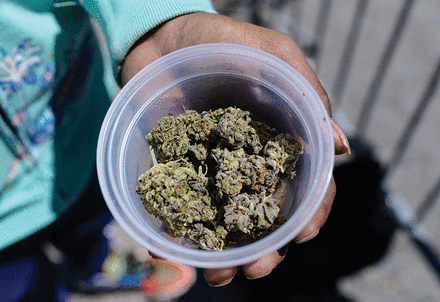 "We're not trying to tell the public not to use. We are recognizing that we want folks to use it safely if they do. As a public health entity, we want to minimize the harm that its use may have."

— Victoria Coykendall
Two years ago, Dawn Berkowitz of the Maryland Department of Health was asked to do something that would have been unthinkable just a few decades earlier.
Maryland was on a trajectory to legalize adult-use, or "recreational," cannabis, and there would be a need to tell people how to safely consume a substance the state had always told people not to use. Digging into her toolkit of lessons learned during two decades in tobacco prevention and control, Berkowitz agreed to start crafting the state's public health education efforts around adult-use cannabis. The head start paid off. In November, Maryland voters overwhelmingly voted to legalize cannabis for adults 21 and older, and the program is expected to go live on July 1.
"Though it will be legal, it is important to relay to the public that this is an intoxicating substance that may affect each individual differently," said Berkowitz, MPH, CHES, deputy executive director of the Maryland Medical Cannabis Commission. "It's important to use and store it safely and responsibly."
To build its public health campaign, Maryland sought advice from the Cannabis Regulators Association, a national nonprofit organization that educates and supports states as they work to implement cannabis policies, regulations and best practices that safeguard public health and promote equity.
"We are also planning to develop point-of-sale messaging to potential new consumers, especially related to edible and consumable products, to tell them to start with a low THC level, and to ensure there is awareness of delayed onset of impairment that could be multiple hours," Berkowitz told The Nation's Health.
Across the country, 21 states and Washington, D.C., have acted to legalize the use of cannabis for adults 21 and older, and several more states are poised to join them in coming years. But because cannabis remains illegal under federal law, health educators find themselves working within a patchwork of state-determined laws. With few resources and lacking federal endorsement, states are turning to each other for advice.
For their part, Maryland workers found an APHA policy brief on regulating legalized cannabis to be helpful for crafting messages, as were recommendations from the Tobacco Control Network. Key topics include driving after consuming, keeping the product locked up and out of reach of children, and not smoking in the home. Maryland also sought guidance from Colorado. As the first state to allow sales of adult-use cannabis, Colorado's work to educate the public is often cited as a model for statewide public awareness and education campaigns.
"Our approach from the beginning has been that if Colorado adults choose to use marijuana, we want to make sure they are using it safely, legally and responsibly," Maria Livingston, MPP, prevention services division communications director for the Colorado Department of Public Health and Environment, told The Nation's Health.
To that end, the agency established its Retail Marijuana Education Program in 2014 to implement statewide campaigns about safe, legal and responsible use. Through its "Responsibility Grows Here" website, Colorado provides materials that discuss the consequences of underage use, offers talking tips for parents and teachers and shares information related to pregnancy and breastfeeding.
Visitors to the website are also introduced to "Meg the Budtender," who dispenses "weed wisdom" about responsible cannabis use in a nonjudgmental manner that resonates in ways that traditional PSAs cannot. Meg's tips cover an array of topics in fresh and relatable language, including advice on the importance of investing in a lockbox to "keep your stash safe from kids, pets or even curious visitors."
Numerous studies, including a February study in Pediatrics, show steady increases in unintentional ingestion of cannabis edibles by children under 6, with the potential for significant toxicity. To address the problem, the Ingham County Health Department in Lansing, Michigan, purchases and distributes lockboxes to safely store cannabis.
"The lockboxes are very popular in our community and a great way to truly showcase how it's easy to safely store your marijuana or other items that need to be safely locked up," health communications specialist Victoria Coykendall, MPA, told The Nation's Health.
The lockboxes — available free at outreach events and health fairs — are part of the department's "Know the Weed Facts" campaign that emphasizes safe storage, dangers associated with driving under the influence of cannabis and risks associated with adolescent use of the drug without a doctor's prescription. The work is funded through a $28,000 state grant that is proportionally distributed to Michigan's 45 local health departments.
"It's truly a public health approach," Coykendall said. "We're not trying to tell the public not to use. We are recognizing that we want folks to use it safely if they do. As a public health entity, we want to minimize the harm that its use may have on our community, understanding that it will be used by our community."
Despite progress at the state level, federal restrictions on cannabis continue to pose barriers to health education, cannabis experts say. In fact, many health professionals are uncomfortable talking about cannabis with their patients, said Paul Armentano, deputy director of the National Organization for the Reform of Marijuana Laws.
"I've seen statistics even as recently as a few years ago that about 25% of health professionals that work for HMOs claim their HMO doesn't even allow them to have the conversation with their patients," Armentano told The Nation's Health. "Who then is having the conversations? Well, it might be some 24-year-old behind the counter with no health education or medical training whatsoever."
Public health educators want adult cannabis users to understand that concentrations of tetrahydrocannabinol, or THC — the part of the cannabis plant that creates the "high" — have grown increasingly more potent in the last 30 years, which has led to an increase in cannabis-related trips to the emergency department. A study published in January in the Journal of the American Geriatrics Society found a sharp increase in the rate of cannabis-related emergency department visits among adults 65 and older in California who use the drug to alleviate chronic pain, anxiety, depression and sleeplessness.
"Asking about cannabis use and providing education about its use should be part of routine medical care for older adults," the study authors concluded.
But studies show that only about 9% of medical schools include cannabis education in their curriculums, and more than 35% of medical school graduates say they are not prepared to answer patient questions about the substance.
"Cannabis has been stigmatized since 1937 with the Marijuana Tax Act, so our country is operating with racially biased drug policy that has a foundation in the 1930s," said Jacquie Cohen Roth, MS, an adjunct professor at the University of Maryland and CEO of CannabizMD, a company that provides support to the cannabis industry.
Cohen Roth is working to create an education program for cannabis dispensary attendants who work behind the counter at dispensaries and have the opportunity to provide important education to consumers. She is also working to craft continuing medical education on cannabis.
"Every health care provider who has prescribing privileges should be required to have a certain number of CME hours focused on cannabis science," Cohen Roth told The Nation's Health. "It's highly likely, as health care providers, that they will have cannabis users in their practice. They can't keep their head in the sand."
Back in Maryland, Berkowitz remains laser-focused on July 1, when sales are expected to begin.
"This is a new legal product, and there are folks who have either never used or maybe not used in decades," she said. "The bottom line is doing this in a way that isn't going to jeopardize public health and safety."
For more information, visit www.cann-ra.org.
Copyright The Nation's Health, American Public Health Association