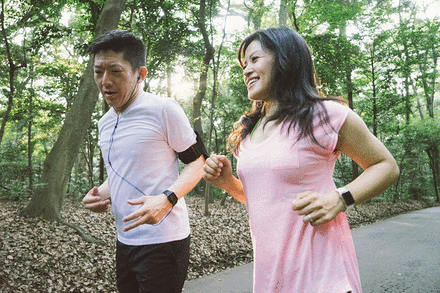 8,000 daily steps cut risk of early death
People who take 8,000 steps a day or more are at lower risk of dying than people walking half that amount, a study published in March in the Journal of the American Medical Association finds.
Researchers used data from the National Health and Nutrition Examination Survey between 2003 and 2006. They examined health records of 4,800 people ages 40 and up who counted their steps seven days a week. Death rates were tracked through 2015 using the National Death Index.
Using 4,000 steps a day as a baseline, researchers compared mortality outcomes with people taking twice as many steps. Those who averaged 8,000 steps a day had 51% lower mortality risk compared with those taking 4,000 steps, which is considered to be a low level of physical activity. Walkers averaging 12,000 steps had 65% lower risk.
"Based on a representative sample of U.S. adults, a greater number of daily steps was significantly associated with lower all-cause mortality," the researchers said.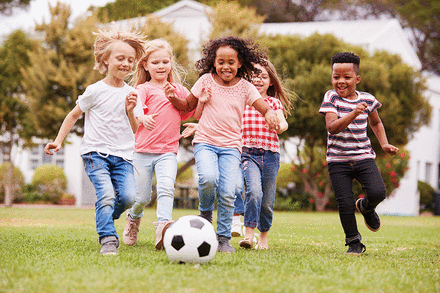 Rental aid improves children's health
Children with asthma in families receiving federal rental assistance show improved respiratory health and are less likely to take an emergency trip to the hospital, a study in the March issue of JAMA Pediatrics finds.
Researchers examined records from the U.S. Department of Housing and Urban Development from 1999 to 2014, focusing on one of three rental assistance programs: public housing, multifamily housing and housing choice vouchers.
The programs offer monetary assistance to low-income families, many of whom hope to leave substandard dwellings that have environmental exposures harmful to children.
The study involved nearly 3,000 adolescents up to age 17 in families who receive or will receive HUD rental assistance. Researchers determined that over a one-year period, children who had an asthma attack within the past 12 months had reduced their risk of a visit to an emergency department by 18.2%. The most significant positive results were for families in public or multifamily housing. The study was unable to determine if asthma attacks had decreased.
"These results may have important implications for the well-being of low-income families and health care system costs," the researchers said.
Kidney issues linked to poor housing
People who experience housing insecurity can be at higher risk of developing kidney problems, according to a study in March in Kidney360.
The study followed about 1,300 white and black adults between 2004 and 2009. They were ages 30 to 64 and lived in various neighborhoods in Baltimore City, Maryland. The participants were in the Healthy Aging in Neighborhoods of Diversity Across the Life Span study.
Of those participants, 405 experienced housing insecurity, defined by researchers as people living in dwellings that have unsafe health conditions, monthly housing costs that strained their budget or both.
Follow-up was done nearly four years later. Researchers found that 16% of the participants had experienced rapid kidney decline and 7% developed albuminuria, a sign of kidney disease. Housing insecurity was associated with a more than three-fold higher risk of albuminuria.
Researchers suggested that people in insecure housing with unsafe conditions can also have an unhealthy lifestyle and lack doctor care. That combined with the stresses of their environment and finances can increase risk of kidney illnesses.
Job instability affects newborn birthweight
Pregnant women who have unstable jobs have a significantly higher risk of giving birth to a low-birthweight baby, a study in January's BMJ Open finds.
Researchers examined data from the National Longitudinal Survey of Youth 1979 and the National Longitudinal Survey of Youth cohort, focusing on workplace descriptions and birth outcomes for almost 2,900 women. The data included work details such as shift regularity, average weekly hours, turnover rates and if health benefits were offered.
They found that pregnant women with unstable jobs had a 48% higher risk of having a low-birthweight infant. Black women had the highest risk.
"This finding suggests that there may be other factors such as racism and discrimination that, along with employment precarity, are influencing birth outcomes for women of color," said senior author Anjum Hajat, PhD, MPH, an assistant professor in epidemiology at the University of Washington's School of Public Health in Seattle.
Sugary drinks, heart disease connected
Drinking more than 12 ounces of sugary drinks a day raises the risk of cardiovascular disease in adults, a study in February in the Journal of the American Heart Association finds.
Data from over 5,900 participants of the Framingham Heart Study between 1991 and 2014 were examined for the study. Researchers compared people who drank each day over 12 ounces of sugary beverages — such as sodas, fruit-flavored drinks and sports drinks — to people in another group who drank one 12-ounce sugary drink a month.
Researchers found that people who consumed at least 12 ounces every day had a 98% higher incidence of reducing their levels of healthful high-density lipoprotein cholesterol. They also had a 53% higher incidence of raising levels of harmful triglycerides, a type of fat. Both factors increase risk of cardiovascular disease.
"Reducing the number of — or eliminating — sugary drink consumption may be one strategy that could help people keep their triglyceride and HDL cholesterol at healthier levels," study lead author Nicola McKeown, PhD, a nutrition epidemiologist at Tufts University, said in a news release. "Water remains the preferred and healthiest beverage."
Seafood parasites rapidly increased over four-decade span, study says
Parasites in raw fish that can make people sick have dramatically increased in recent decades, a study in March in Global Change Biology finds.
Researchers examined 123 papers published between 1967 and 2017 for information on the anisakis parasite. They found a 238-fold increase of the parasite, known as the herring worm, since the 1970s.
When people eat raw or undercooked seafood and swallow a live herring worm, the half-inch-long parasite lodges in the intestine, causing eaters flu-like symptoms for days before it dies. The worm is often called "the sushi parasite" because it is not uncommon to find it in that food.
Food preparers can usually spot and remove the worms before serving food, the researchers said, but diners can also avoid ingestion by slicing seafood and inspecting it for worms.
This is the first study to examine the totality of research on the increase of seafood parasites, according to the scientists. And though the study did not determine why the increase happened, they suggested climate change, increased nutrients from fertilizers and runoff, and growing marine mammal populations could play a role.
Copyright The Nation's Health, American Public Health Association