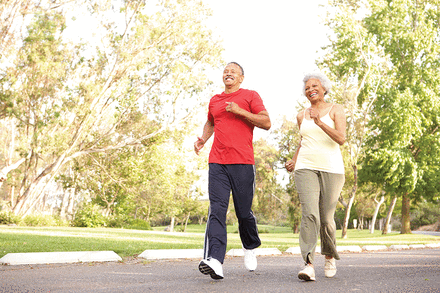 Carter Blakey is deputy director of the Office of Disease Prevention and Health Promotion at the U.S. Department of Health and Human Services. The office manages the Healthy People initiative, which since 1980 has supported health improvements in the U.S. by setting objectives to meet over the next decade, tracking prevention efforts and measuring success. State and local health programs use the objectives as a benchmark to learn how their communities compare and guide their work. On Aug. 18, the office launched Healthy People 2030, which boasts new objectives and emphases.
What are the goals for Healthy People 2030?
Healthy People 2030 has five overarching goals, which is a bit different from the past decade, which had four overarching goals.
We've added a fifth overarching goal that is looking at engaging leadership, key constituents and the public across multiple sectors to take action and design policies that improve the health and well-being for all.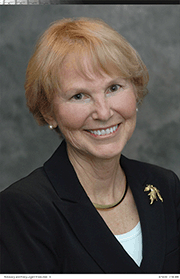 This is in addition to our other overarching goals, which are similar to the past decade. We've added a renewed emphasis on eliminating health disparities and achieving health equity. And we also want to attain health literacy to improve health and well-being for all.
So we've raised the bar, striving to achieve health equity and eliminate disparities by pointing to health literacy as a way to making improvements in those areas.
We've also broadened our emphasis on social determinants of health. We've added the concept of economic environment to that overarching goal. So the 2030 overarching goal is to create social, physical and economic environments that promote attaining full potential for health and well-being for all. We recognize the importance of economic well-being as well as social and physical well-being.
How has COVID-19 changed the initial plan for Healthy People 2030?
As you know, we had planned to launch Healthy People 2030 in March. But as COVID-19 started to spread in the United States, it was clear that we needed to take some time to pause our efforts and consider the implications of launching during a global pandemic. During that time, we reviewed all of our objectives and examined their relevance to COVID-19. We also considered whether or not we needed to add objectives for COVID-19.
What we determined was that Healthy People already included a number of objectives that are intended to help us become more resilient to public health threats like COVID-19. We've developed a curated list of these objectives on our new website. If COVID-19 is a disease that is with us for the long term, it's a possibility that we would add objectives to address it specifically.
What are some of the health achievements of Healthy People since its launch in 1980?
We've actually seen some great improvements and we think Healthy People has helped to highlight and move the nation's health in the right direction.
For example, the death rates of heart disease were over twice what it is today with the first iteration of Healthy People. And the death rate from cancer was nearly 30% higher for the first iteration of Healthy People launched way back in 1980.
We feel that part of why we've made progress in the United States on heart disease and cancer and many other health priorities is because we started to track them with Healthy People.
Since 1980, Healthy People has tracked several objectives related to tobacco use and health outcomes. This has allowed us to see that the number of deaths from lung cancer decrease as we stepped up our efforts to get people to quit smoking, or never start smoking at all.
Before Healthy People, we really didn't have a national framework to track our prevention efforts. We couldn't always tell if what we were doing on a national scale was successful at preventing disease.
How will Healthy People 2030 help reduce health disparities in the face of COVID-19?
Over the next several months, we will start to add health disparities data to our website. We're working with the HHS Office of Minority Health and CDC's National Center for Health Statistics to examine how to analyze and display this data in a way that empowers users to make decisions.
For example, one of our objectives related COVID-19 aims to increase the proportion of adults with broadband internet. Access to broadband internet has been crucial to maintaining work, education and health care for many Americans during the pandemic. Disparities data for this objective will help inform where to target efforts to increase access to broadband.
Many of our objectives related to COVID-19 are developmental or research objectives, meaning that they represent national priorities, but don't yet have baseline data or evidence-based resources that meet the criteria of our core — or measurable — objectives.
How can Healthy People's national data help communities?
Healthy People is a great way to benchmark what's going on in your own community against where you stand with the nation. So you'll have a good idea of whether or not you're lagging behind the nation as a whole, and need to step up your efforts to make improvements.
You relaunched your website, HealthyPeople.gov, on Aug. 18. What's new?
It's a site that is much more intuitive. People will be able to kind of, "make-their-own," let's say, Healthy People 2030, with their own collection of objectives from within the full complement.
The new website features an interface that is brand new for this decade that will automatically retrieve data from CDC's National Center for Health Statistics. Once that data is available, it will be delivered in a much more timely fashion to HealthyPeople.gov.
On the old website, people sometimes noticed a lag time between the data, from when it was released by CDC to when it's up on our Healthy People website. And that lag time should be greatly reduced.
We do hope to do some follow-up webinars after the launch event, just to show people how the website works and provide more detail on the website and the different tools.
Besides a new website, what else is coming this year for Healthy People 2030?
After launch, we'll turn our attention to the continued development of the Leading Health Indicators for Healthy People 2030.
In January 2020, the National Academies of Science, Engineering and Medicine released a report with their recommendations for what should be included in the Healthy People 2030 Leading Health Indicators. Those are a very small collection of objectives taken from the full complement of Healthy People 2030 objectives that are considered to be the areas that could show the greatest promise for improving health, if we were to focus on just a very small number of objectives.
We have evidence-based resources on the website for specific objectives. We have national level baseline data and 10-year targets. Later in the year, we will fully populate the data for those objectives, with all the different demographics laid out for the objectives.
What do you enjoy most about your job?
Oh my gosh. I love my job. And that's because — who could argue with disease prevention, health promotion?
I mean, people want to stay healthy. And these are easy, logical ways to do it. So it's fun.

For more information, visit www.healthypeople.gov.
Copyright The Nation's Health, American Public Health Association