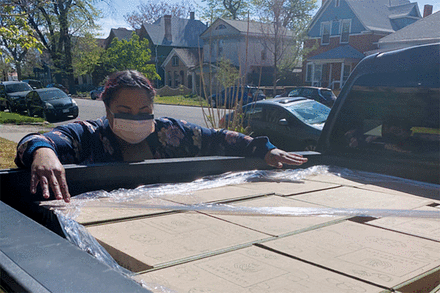 Homelessness has increased in many large cities during the COVID-19 pandemic, including Denver. In recent years, housing affordability in the city became more difficult, and the pandemic made it worse.
To help people who are homeless in Denver — the site of APHA's 2021 Annual Meeting and Expo — APHA's Help Us Help Them campaign will benefit the Metro Denver Homeless Initiative.
Help Us Help Them allows APHA and its Annual Meeting attendees to give back to the host city. The Metro Denver Homeless Initiative, which also partnered with APHA during its 2016 Annual Meeting, coordinates services and housing for people experiencing homelessness.
"We are so incredibly grateful for APHA's continued support," Jamie Rife, EdD, MEd, the initiative's director of communications and development, told The Nation's Health.
Support for the organization remains critical. Since 2016, the number of people who are homeless in the Denver region has increased each year. In a January 2016 single-day count, almost 5,300 people were experiencing homelessness. By 2020, that number had increased to more than 6,100. The count for 2021, which is being finalized, is expected to be even higher, Rife said.
Meanwhile, rents in the area keep rising. At minimum wage, it requires two and a half people to afford a two-bedroom apartment in the Denver region, according to the National Low Income Housing Coalition. Buying a home is out of reach for many.
The COVID-19 pandemic disrupted housing stability and strained homelessness services nationwide. Over 65,000 Denver residents are behind in rent, according to the initiative. The Centers for Disease Control and Prevention's national eviction moratorium, which allowed many people to stay in their homes during the pandemic, was slated to end July 31.
Funds raised through APHA's Help Us Help Them campaign will be used to support the Metro Denver Homeless Initiative's work, which includes move-in assistance, landlord mitigation, coordination for people experiencing housing crises and homelessness prevention. From July 2019 through June 2020, more than 31,000 people accessed services and supports related to homelessness in the Denver area.
"While there is significant uncertainty for many, there is also a historic opportunity to provide lasting impact,"Rife said.
People attending the Annual Meeting in-person in Denver or from home can donate to the campaign as part of the meeting registration process. Attendees who are already registered can log into their records to donate.
For more information on APHA 2021, visit www.apha.org/annual-meeting. For more on the Metro Denver Homeless Initiative, visit www.mdhi.org.
Copyright The Nation's Health, American Public Health Association