For years, the Rhode Island Department of Health has offered free breast and cervical cancer screening to thousands of eligible women. Today, an "urgent notice" greets women visiting the program's Web site: "Coverage for screening and diagnostic services is suspended."
The Rhode Island program has run out of money due to overwhelming demand — a first in the program's 15-year existence. And Rhode Island is not alone. The nation's struggling economy and unemployment rate means more people are turning to their local public health departments for help, even as such departments face their own financial crises in the form of state and local budget cuts.
"This is a sign of the times," Annemarie Beardsworth, spokeswoman for the Rhode Island Department of Health, told The Nation's Health. "With the economy, there are more and more people who don't have the resources to get these necessary services. In Rhode Island, a big portion of those people are turning to public health."
Local stories of overwhelmed, money-strapped public health programs are becoming more common, from temporarily shuttered services to complete eliminations. Before the Rhode Island department was forced to suspend services in March, its Women's Cancer Screening Program had paid for more than 3,400 procedures related to cervical cancer this fiscal year — a 51 percent increase over the program's previous fiscal year — and more than 4,600 breast cancer-related procedures — a 69 percent increase. To compensate for the new wave of demand, program administrators have requested a boost in federal grant funds for the fiscal year that begins in July, Beardsworth said.
Across the country in Ventura County, Calif., increasing numbers of residents hoping to save the money they would normally spend on cigarettes are looking to the local health department to help them quit smoking. The high demand is a win for anti-tobacco efforts, but a potential problem for an already-stretched budget, said Kathryn Cook, program administrator for the tobacco education program at the Ventura County Public Health Department. The county program, which is free for anyone working or living in Ventura County, offers cessation classes, telephone or online counseling, free nicotine replacement products and up to $125 reimbursement for prescription cessation medication. As of March, the tobacco program has clocked a 42 percent increase over the previous fiscal year in participation inquiries, Cook told The Nation's Health. In addition, she noted, requests for the department's tobacco education services, such as its Tobacco Bus of Horrors, which brings an anti-tobacco message into local schools, is also on the rise.
But while demand is up for such services, program funds have either remained level or gone down in the last few years, said Cook, who noted that there was concern the program would run out of nicotine replacement products, but "so far, it looks like we'll do okay."
"There's a lot of juggling going on in California right now," Cook said. "We're not the only ones who are getting squeezed. We're all scrambling to keep our programs going."
Similar economic forces are at work in Washtenaw County, Mich., where a health coverage program for low-income residents not eligible for Medicaid was forced to close enrollment in May 2009 and is still closed today. Known as the Washtenaw Health Plan, the non-profit depends on a mixture of local, state and federal funds, and contracts with community health care providers willing to provide services at low cost. The program is considered "a provider of last resort," according to Ellen Rabinowitz, executive director of Washtenaw Health Plan.
"In the old days, people who left the program did so because they found jobs and health insurance, but that's not happening," Rabinowitz told The Nation's Health. "The percentage of members falling off (from the plan) each month is actually decreasing."
The 8-year-old health plan usually charts a 10 percent to 15 percent growth in enrollment annually, but between 2007 and 2008, enrollment grew by 40 percent, Rabinowitz reported. She said the hope is to reopen limited enrollment by the end of the year. Until then, workers are helping residents find alternative free and low-cost services at hospitals and community clinics.
"It's a patchwork of limited resources, but we're trying to help people access what's out there," she said. "But it's hard. We have to turn people away every day."
Rabinowitz and her fellow health advocates hope the nation's new health reform law, and accompanying $15 billion in public health and prevention funds, will go far in filling such budget, service and insurance gaps, though many warn that the road to recovery is a steep one.
Challenges ahead for public health
Two new reports illustrate the challenges in public health's future.
In March, the National Association of County and City Health Officials released its latest job loss survey, finding that local health departments lost 16,000 jobs in 2009. The numbers mean that about 15 percent of the local public health work force has disappeared in the last two years due to a combination of budget-related cuts, layoffs, position eliminations and regular employee turnover.
Also in March, the Trust for America's Health reported that federal public health spending has remained flat for almost five years, while states have cut nearly $392 million from public health programs in the past year alone, despite increasing demands on the public health system. A 2008 analysis cited in the report found an annual shortfall of $20 billion in local, state and federal funds for critical public health programs.
According to the report, "Shortchanging America's Health," states are expected to make even more cuts in the coming year, meaning public health departments' ability to carry out critical services and maintain safety net services will be further endangered.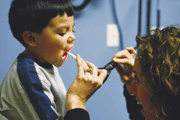 "The inefficiencies of constantly over time having to recreate capacities that had existed but then were lost is a very inefficient way to keep America healthy," APHA member Robert Pestronk, executive director of NACCHO, told The Nation's Health. "From my perspective, a strategy of keeping people healthy and safe and protected in the first place makes much more sense than waiting to fix them once they're broken."
With financial struggle, however, can also come an opportunity for innovation — or as Lillian Shirley, MPH, MPA, RN, described it, readying the public health field for the future. Director of Oregon's Multnomah County Health Department, Shirley was recently featured in the video "Persevering in Tough Budget Times," a part of the Robert Wood Johnson Foundation's Public Health in Action series. The video chronicles Shirley and her colleagues as they work to preserve services in the face of a more than $15 million budget cut and the loss of 50 full-time positions. Such efforts included instituting videophone visits, versus in-person visits, to ensure certain tuberculosis patients are adhering to their treatment regimens. Another tactic was training housing inspectors working in low-income neighborhoods to recognize asthma triggers such as mold — a move that lessened the burden on the health department's environmental health program, Shirley said. In fact, she said, the tactic was a policy improvement, as it enhanced collaboration between the housing and health sectors.
"I think that the public health practice of the future is that we're going to have to advocate for the health of communities, instead of advocating for the health of specific programs," Shirley told The Nation's Health. "When you have a lot of money, we can all retreat to our own corners…in the past, there was a tendency to divide the policy work, assessment, the prevention, the service delivery. The (budget) is forcing us in a good way to realize these are all threads of the same cloth."
Budget cuts are also pushing Multnomah public health workers to renew community partnerships. For example, teen pregnancies are on the rise within the county's Hispanic community, but the department will "never have enough staff" to conduct home visits with every family at risk, said Shirley, an APHA member. In turn, the health department is reaching out to organizations that help youth complete high school, educating them on why integrating teen pregnancy prevention is central to their education goals.
"We're not going to count on funding, but we're not going to abandon our public health goals for the community," Shirley said. "We all need more money, but I'll never have enough money to change things around without the community making it their priority."
For more information on the state of public health funding, visit www.tfah.org or www.naccho.org.
Copyright The Nation's Health, American Public Health Association