Free health tipsheets from The Nation's Health
LATEST ISSUE OF HEALTHY YOU: February/March 2023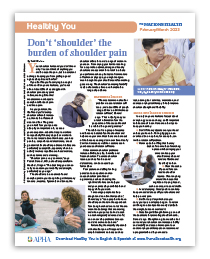 Don't 'shoulder' the burden of shoulder pain
Shoulder pain is common, especially as you age. Learn the best ways to prevent and manage your pain.
Download the latest issue:
• English PDF
• Spanish PDF
• Quick Facts: Easy to print & share

Healthy You FAQs: What is Healthy You? How can I use it? Do I need permission? Read our FAQs
Check out our Healthy You Tear & Share book, with 35 bilingual tear-out tipsheets. A great resource for health departments, clinics and campuses.

Download more free health fact sheets from Healthy You and The Nation's Health: In both English and Spanish
Hang copies of Healthy You on your bulletin board at work, hand them out at health fairs or share them in your community.