Free health tipsheets from The Nation's Health
LATEST ISSUE OF HEALTHY YOU: September 2022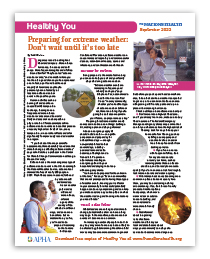 Preparing for extreme weather: Don't wait until it's too late
Dangerous record-breaking heat. Heavier downpours. More intense hurricanes, tornadoes and cold snaps. As climate change worsens our weather, it's more imprtant than ever to be prepared.
Download the latest issue:
• English PDF
• Spanish PDF
• Quick Facts: Easy to print & share

Healthy You FAQs: What is Healthy You? How can I use it? Do I need permission? Read our FAQs
Check out our Healthy You Tear & Share book, with 35 bilingual tear-out tipsheets. A great resource for health departments, clinics and campuses.

Download more free health fact sheets from Healthy You and The Nation's Health: In both English and Spanish
Hang copies of Healthy You on your bulletin board at work, hand them out at health fairs or share them in your community.