APHA members and online subscribers can download PDFs of job pages from recent issues of The Nation's Health. Only the past four careers sections from The Nation's Health are available here. (To access job openings pages from older issues, download a PDF of that entire issue.)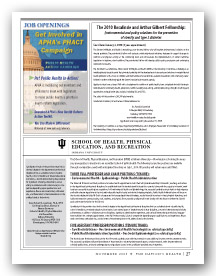 An APHA member password or online subscriber password may be required to access these files. If you need assistance, contact us via our feedback page.
PDFs of recent careers and classifieds:
• April 2019 (PDF)
• February/March 2019 (PDF)
• January 2019 (PDF)
• November/December 2018 (PDF)

APHA's Public Health CareerMart
Looking for more job listings? Visit APHA's Public Health CareerMart online to browse public health job openings from around the country. Search jobs, post a resume or visit the Career Learning Center for job search tips, career coaching, resume critiques and more!

Advertise your job openings in The Nation's Health
Do you have a job opening you want to advertise? The Nation's Health reaches public health job seekers across the nation and world. To view our advertising rates, sizes and deadlines, download our ad brochure from APHA's publications advertising web page. For more information on placing an ad in The Nation's Health, call 202-777-2470 or email our advertising department.

Job openings at APHA
Apply for a job with the American Public Health Association. See what positions are now open.

Internships at The Nation's Health
The Nation's Health accepts interns year-round. Apply for an internship and work at APHA in Washington, D.C.