Sheik Humarr Khan, MBChB, dedicated his life to the care of people suffering from infectious diseases such as AIDS and Lassa fever in Sierra Leone.
So when an outbreak of Ebola began to strangle the West African country, Khan — who was physician-in-charge of the Lassa Fever Program at Sierra Leone's Kenema Government Hospital — was on the front lines, working to save lives with other health workers.
But ultimately it was Ebola that overwhelmed Khan. Khan died from the virus in July at age 39.
Khan's death speaks to the severity of the outbreak and the health risks workers face as they try to control infection across West Africa. The outbreak, which had claimed more than 1,500 lives and infected more than 3,000 as of late August, presents challenges to public health and medical workers who are fighting the deadly infectious disease.
The virus, spread through contact with bodily fluids of infected, symptomatic people, had claimed the lives of more than 120 health workers and infected more than 240 as of Aug. 25, according to the World Health Organization. Workers have experienced high infection rates because of long hours, too few staff members and shortage or improper use of protective equipment, according to WHO. And losing health workers to the disease has made it difficult for WHO to attract more health staff.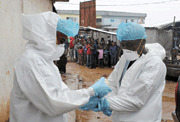 "The fact that so many medical staff have developed the disease increases the level of anxiety," according to an Aug. 25 WHO news release. "In some areas, hospitals are regarded as incubators of infection and are shunned by patients with any kind of ailment, again reducing access to general health care."
With estimates that health workers will spend at least another six months fighting the disease — and predictions from WHO that the number of cases may be much higher than known — the public health community is doing all it can to protect the health workforce.
Health workers for Doctors Without Borders, an international humanitarian nongovernmental organization providing medical care to infected patients and health education, go through two days of training on the specifics of the outbreak, patient care, case management and how to properly get in and get out of protective gear, said Fabienne de Leval, a learning and development coordinator for Doctors Without Borders. As of August, there were 1,200 of the organization's national staff and more than 100 international staff members in West Africa.
"You have to be extremely sure that the person going into the Ebola treatment center is completely covered," de Leval told The Nation's Health. "We have a lot of chlorine solutions. Every time you touch a patient, you have to re-chlorinate your hands. We teach them how to don and doff protective equipment and simulate what it is like to be in a treatment center."
Out in the field, the challenges are "huge," de Leval said. While workers have control of what is going on in Doctors Without Borders' seven treatment centers, it is difficult to control what is happening in surrounding communities. Cultural customs continue to make infection control difficult, especially when it comes to people burying their loved ones. If people are used to hugging, touching and kissing the deceased, they need to refrain, as that is when a body has a high viral load, said Konrad Hayashi, MD, MPH, communications lead for West Africa for the Centers for Disease Control and Prevention's Viral Special Pathogens Branch.
"The feedback from our staff is they do feel protected because they have the capacity to protect themselves, but beyond that it's difficult to control," de Leval said. "Hospitals in Liberia have been shut down completely because health workers have died. I think there is a lot of fear associated, but people have to be sensitized and understand that they do have to come to the treatment centers as soon as they have symptoms."
There is also a concern that Doctors Without Borders staff may be overstretched, de Leval said. International staff are deployed for a maximum of six weeks, then go home to rest for three weeks before potentially going back. It depends on how psychologically ready a worker is to return.
"It's trying," de Leval said. "You're faced with quite some deaths every day because unfortunately there is no cure for Ebola."
For health workers directly involved in treating patients in the outbreak, the level of protection varies by facility and level of support, said Michael Osterholm, PhD, MPH, director of the University of Minnesota's Center for Infectious Disease Research and Policy.
"We had clinics until recently that had no-to-limited basic infection control equipment available — a pair of gloves and that's it," Osterholm told The Nation's Health. "We need to have many more experts on the ground and equipment. NGOs are really tapped out. They've done heroic work, but they can't deal with this situation like they have been."
Also responding to the outbreak are U.S. personnel. Nearly 70 Centers for Disease Control and Prevention workers were overseas across Guinea, Liberia, Nigeria and Sierra Leone as of September. The staffers were working to track the epidemic, provide education, set up labs for Ebola testing and train airport personnel, among other duties.
For their safety, a pre-deployment briefing is required for all CDC workers responding to the outbreak, and workers receive personal protective equipment, said Mary Choi, MD, MPH, medical officer in CDC's Division of Healthcare Quality Promotion.
"We go over the basic science of Ebola, we talk about lab testing, we have someone talk about the current outbreak situation in all the countries," Choi told The Nation's Health. "We tell them if you have any issues or difficulties or you become ill, there's a team leader who is your point of contact."
In late August, a CDC worker was brought back to the U.S. from West Africa after working in proximity to a symptomatic international health worker who tested positive for Ebola. Although the exposure was considered low risk and the U.S. worker did not have symptoms of the disease, a 21-day monitoring period was being observed, as is CDC recommendation for travelers returning from the outbreak countries.
US cases unlikely, but workers prepared
No cases of Ebola had been transmitted in the U.S. as of early September, and such infections are unlikely, health officials say. But U.S. hospitals are getting ready just in case.
When it comes to protecting health care workers at U.S. hospitals, preparation is key. In Atlanta, Emory University Hospital staff have prepared for more than a decade to handle high-profile cases such as the two American Ebola patients — Kent Brantly, MD, and Nancy Writebol — who were treated and discharged at the hospital after being transported from Liberia.
The hospital created a special isolation unit 12 years ago mostly to support neighboring CDC and to care for patients with serious communicable diseases requiring isolation, said Alexander Isakov, MD, MPH, an Emory emergency medicine physician. Since then, isolation unit staff members have conducted exercises with the special ambulance transport unit, including proper donning and doffing of protective equipment and disposal of infectious waste.
"We're very pleased with how everything went, from the transportation to the patients to our team's ability to care for them," Isakov told The Nation's Health. "We have full confidence in our ability to care for such patients while ensuring the safety of the health care workers and everyone else around them. Patients in this unit are completely isolated from other patients and visitors that come to the hospital."
But there may be a public misperception that the needed level of infection control precautions can only be done in a special isolation unit, such as at Emory University, said David Kuhar, MD, health care infection control team lead for CDC's Ebola response. The necessary personal protective equipment — such as gowns, gloves, eye protection, and facemasks — is likely to be on hand at many hospitals because they are used for the delivery of care to patients isolated for other infectious diseases, such as C. difficile or influenza.
Resources are available for U.S. health workers as well. Clinicians can dial in to CDC conference calls to review the latest epidemiology and infection control recommendations related to the outbreak. Additionally, there are resources available on CDC's website that provide step-by-step guidelines on protective equipment and how to manage an infected patient.
"It's important that U.S. hospitals rapidly identify patients who might have Ebola and manage them safely," Kuhar said. "Any U.S. hospital that can isolate a patient in a single patient room is capable of safely managing a patient with Ebola. At the same time, I don't want to underemphasize that it's still important to think ahead and to plan."
For more information, visit www.cdc.gov/ebola.
The CDC Foundation is accepting donations through its Global Disaster Response Fund, www.cdcfoundation.org/globaldisaster, to support CDC workers involved in Ebola infection control and education. For information on donating to Doctors Without Borders, visit www.doctorswithoutborders.org.
Copyright The Nation's Health, American Public Health Association