Third in a series on the role of social determinants of health. Visit www.thenationshealth.org/sdoh for related content.
Home is where the heart is. And, for too many Americans, where the health risks are. Americans spend about 90 percent of their time indoors — two-thirds of that in their own homes.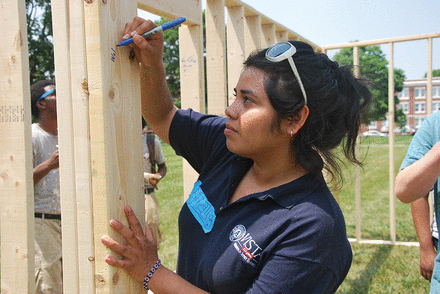 Housing costs make up the majority of most Americans' monthly costs. For homeowners, housing can be a significant part of their equity. And there is a significant emotional investment in a home. So it is no wonder, then, that housing can take a toll on physical health, said Amanda Reddy, MS, director of strategy and impact at the National Center for Healthy Housing.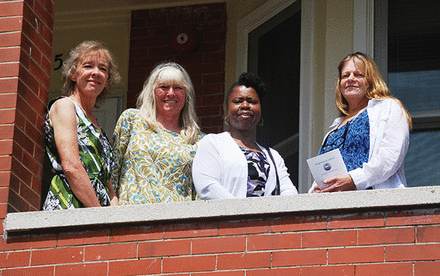 The sheer amount of time and money invested in housing is why it is a strong social determinant of health, one of the environmental and societal factors that affect how healthy a person is. Housing, both in economic and qualitative terms, is listed as an indicator of health in Healthy People 2020, a call on public health to address social determinants of health. Unhealthy housing is a near-guarantee of poor health outcomes — but healthy housing can be a contributing factor in making and keeping a person healthy.
"We are interested in not only how housing contributes to problems, but also in how it can be part of the solutions," Reddy told The Nation's Health.
The National Center for Healthy Housing and APHA, in their joint 2014 National Healthy Housing Standard, set a guideline for what constitutes a healthy home: A dwelling that is clean, safe and sanitary; without hazards or pests; and with safety and security measures in place to maintain occupants' well-being. The U.S. Department of Housing and Urban Development outlines eight things to maintain a healthy home: Keep it dry, clean, safe, well-ventilated, pest-free, contaminant-free, well-maintained and thermally controlled.
"It's housing that supports the health and well-being of the occupants," said Peter Ashley, DrPH, director of the policy and standards division within HUD's Office of Lead Hazard Control and Healthy Homes and an APHA member. "There are different levels beyond that, but to me, that's the most basic level."
And yet, too many homes in the U.S. do not meet these standards, and too many people cannot afford homes that do. Substandard housing affects many Americans' health.
In a 2011 issue brief on healthy housing, the Robert Wood Johnson Foundation reported an estimated 310,000 children ages 1 to 5 have elevated blood lead levels, which can lead to stunted growth, lower IQ, learning difficulties, anemia and other lifelong health issues. The foundation also noted that more than 20 million Americans have asthma, which can be triggered or exacerbated by indoor allergens, damp housing, poor ventilation, dirty carpets and pests.
The 2013 American Housing Survey, a report on housing quality and access, found that about 2 percent of housing units, nearly 2 million dwellings, had severe physical problems — with a lack of plumbing, running water or heat accounting for the majority of cases — from 2005 to 2009. And the Centers for Disease Control and Prevention estimates that while lead-based paint was banned in 1978, more than 24 million homes still have deteriorated lead paint in them. More than 4 million of those are young children's homes.
Objectives to address housing issues in Healthy People 2020 include reducing the proportion of housing units with moderate to severe physical problems from 5.4 percent in 2007 to 4.2 percent by 2020 and improving homes found to have lead-based paint by 10 percent. But it is a battle.
"I think in general, (the problem) has been economic," said David Jacobs, PhD, chief scientist at the National Center for Healthy Housing and an APHA member. "There has been inadequate investment both from the private sector and affordable housing. We continue to have health problems that could be prevented."
The failure to invest costs the U.S.: Multiple studies, including a 2009 Environmental Health Perspectives study, have found that for every dollar invested in lead poisoning prevention, there is a savings of $17 to $221 in future health care costs — a net savings of $181 billion–$269 billion.
For people with low incomes, housing can be a fight between what they can afford, and what they know to be healthy. Carol Payne, MSN, HUD's Baltimore field office director and an APHA member, said she often thinks of one family when she describes the battle for housing that is not only safe, but accessible. One man, recently released from incarceration, received a HUD housing voucher, offering his family affordable housing in the state. He, his wife and their five children could not find an affordable unit large enough in Baltimore's city limits, so they used the voucher in nearby Howard County. It was a lovely home, Payne said, but it was far away, and public transportation did not start early enough for the man to get to his job on time. So he rode his bike to the nearby airport, where each morning he got on a light rail train into the city, before riding again across town to get to his job.
"If you're so lucky to get a voucher and you cannot find a unit in Baltimore city, transportation will become an issue for that family," Payne told The Nation's Health. "Availability and finding the funds to fund vouchers is a critical issue."
Building new equity, overcoming history
Building the best, safest housing in the world means nothing if people cannot access it. But while many major cities are seeing a real estate boom in 2016, those most in need are being left out in the cold. The National Association of Realtors reported that in May, the average cost of a U.S. single-family home was $241,000, while the median family income was $68,759.
Even families and individuals who make a more comfortable living spend more than the 30 percent of their income on housing, a threshold that the U.S. Census Bureau suggests as a standard for housing affordability.
The availability of safe, healthy housing is more than just fighting a housing bubble. There are decades of history that have kept many people from safe and desirable neighborhoods. Redlining, the act of denying people of color access to certain neighborhoods or services, has been part of U.S. history since before the Jim Crow era. Its effects are still felt today — for example, in the segregated neighborhoods of many major U.S. cities — and its roots even lie in some former HUD policies, Payne said. In fact, redlining still happens today, though HUD is fighting the discrimination. In 2015, a HUD secretary-initiated complaint against Associated Bank, N.A., for predatory lending practices and denial of loans for black and Hispanic people resulted in a $200 million settlement. In a news release, HUD Secretary Julián Castro noted "discriminatory lending practices have too often cut off too many credit-worthy families from the opportunities they need to thrive."
Between systemic prejudices and a history that keeps nipping at the heels of many low-income people and people of color, it can be difficult to move up into better housing, or even maintain the status of the housing a person or family currently lives in. Tia Taylor Williams, MPH, CNS, deputy director of APHA's Center for Public Health Policy and Center for School, Health and Education, defined housing equity as the ability to move into a desirable neighborhood, but also the ability of residents to afford to stay in a neighborhood with the confidence that it will maintain the amenities and safety needed for families to thrive.
Without the stability of staying in a consistent home and neighborhood, children's health and education suffers. Ruth Ann Norton, president and CEO of the Green and Healthy Homes Initiative and an APHA member, said Baltimore affordable housing units have a 36 to 40 percent turnover rate. That translates to families fleeing dwellings, leaving furniture, losing security deposits and changing schools, which causes "chaos" for kids, she said.
When families are enrolled in the initiative's programs to improve housing stability, turnover rate drops to 6 percent in affordable housing units, Norton added. Average tenancy jumps to 3.6 years.
The Green and Healthy Homes Initiative is one of a growing number of organizations that are connecting housing with health. By making homes — both market-rate dwellings and affordable and low-income housing — more energy efficient, families are able to thrive. What started as a targeted effort to protest lead exposure has now become a national organization that works in policy and education, providing a comprehensive assessment of the physical health of families as well as the health of the structure they live in. By training housing contractors to make housing more conducive to health, the initiative is bridging the gap between health care and industry, drawing unexpected partners into the world of public health.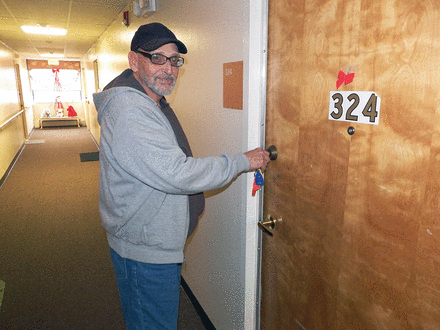 "I call them the new face of health care," Norton said. "They're as important in our intervention as our educators. They actually execute the work that either makes people healthier, or not healthy. And they will make more money. They will be able to do a job for less money because they do it more efficiently; (then) that contractor is more valuable. They make $4,000-$8,000 more a year."
Other organizations are finding that teaming up with public health on housing is good for the bottom line, as well. Julie Trocchio, MS, senior director of community benefit and continuing care for the Catholic Health Association of the United States and APHA member, said that members of the association are finding ways to work with existing housing authorities in their communities to promote better health for the people they serve. The Sisters of Bon Secours, which runs a hospital in Baltimore, invested in building low-income housing in the city after seeing too many children with asthma symptoms in its emergency department.
The association has also been "going upstream," Trocchio said, working with the Internal Revenue Service, American Hospital Association and Association of American Medical Colleges to address health issues before they arise.
"We can be much more effective than…just treating," Trocchio told The Nation's Health. "You can have a clinic for low-income kids with asthma, but if you can get into their apartment buildings and clean up all the asthma triggers, you can make a bigger difference, because they don't get sick in the first place."
HUD is also working with community partners to make housing healthier and safer, while improving the bottom line. As part of his work with the department, Ashley is leading the charge on HUD's Healthy Communities Transformation Initiative, a new approach to improving public health among those living in public and affordable housing.
With Healthy Housing Solutions Inc., HUD is unveiling both a Healthy Communities Index, an open-data source for use to improve local health outcomes, and a Healthy Communities Assessment Tool, a list of metrics people in housing, public health, development and other sectors can use to learn how healthy their communities are, with steps to take to improve rankings. The initiative will define healthy community criteria, support healthy communities research and showcase effective practices for healthy communities.
Ashley said that the tool is flexible enough to allow municipalities to pinpoint specific neighborhoods' needs, and can be used by traditional public health advocates as well as city planners, fire departments — anyone ready to invest in healthier homes.
San Diego and Providence, Rhode Island, have served as pilot cities for the tool, and Ashley said he has been pleased with its success thus far, as universities have used the data for research and community housing improvements.
Addressing social determinants of health is a focus of APHA's growing movement, Generation Public Health. Find out more at www.apha.org/healthiestnation.
To learn more about the healthy communities assessment tool, visit www.hud.gov.
For an infographic on how housing can influence health, visit www.thenationshealth.org/sdoh.
Copyright The Nation's Health, American Public Health Association