When it comes to health, there are many factors that influence how long and how well people will live, from the quality of their education to the cleanliness of their environment. But of all social determinants of health, research shows there is one that is perhaps the most influential: income.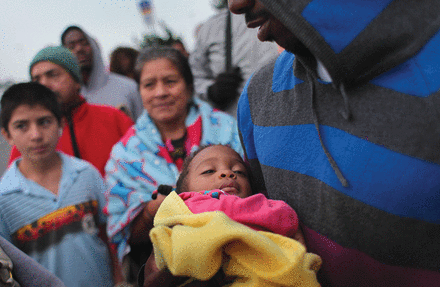 Public health workers have long been witness to the inextricable links between poor health and poverty. Science consistently shows that low incomes are a significant risk factor in disease incidence and severity as well as life expectancy.
For example, in a study published in April in the Journal of the American Medical Association that examined more than 1 billion U.S. tax records from 1999 through 2014, researchers found that higher income was linked with longer life, with differences in life expectancy across income groups increasing over time.
In particular, the study found that the gap in life expectancy between the richest 1 percent and poorest 1 percent was more than 14 years for men and more than a decade for women. Inequality in life expectancy increased as well, with men and women in the top 5 percent of income distribution gaining about three years of life expectancy, while those in the bottom 5 percent gained virtually no additional years of life.
However, the effect of income on health is much more nuanced than the divide between the richest and poorest Americans.
"Research also shows that at all levels of income, our health is affected by economic conditions, so even middle-class and upper-middle-class people are in worse health than richer people," said APHA member Steven Woolf, MD, MPH, director of the Virginia Commonwealth University Center on Society and Health. "We're all in this together — it's not a problem restricted to the very poor."
While higher incomes and wealth are linked to better health within the U.S., their protective nature does not perform as well in a global context. Woolf co-authored a 2013 report from the National Academies of Sciences, Engineering and Medicine that compared Americans' health to counterparts in 16 other high-income nations, finding that Americans typically die sooner and incur higher rates of disease and injury than many of their peers. In fact, the report found that even rich Americans are less healthy than their global counterparts.
Woolf noted that the reasons for such global difference are not entirely clear. But he said one contributor may be the growing gap between the high- and low-income people in the U.S. — otherwise known as income inequality. For instance, the "2015 County Health Rankings" report, which included income inequality measures for the first time, found that the unhealthiest counties also had greater income inequality.
"Unfortunately, I think the public health community is often marginalized in these discussions (about income) because we're not often at the table where these discussions are happening," Woolf told The Nation's Health. "We have to get better at understanding the audience we're talking to and raising awareness of health issues in a frame that makes sense to other sectors."
One of the more obvious ways to address income inequality is by raising the minimum wage, an issue currently at the forefront of national debate and finding success in states and localities across the country. In 2015 alone, 14 cities, counties and states passed a $15 minimum wage. The federal minimum wage still sits at $7.25. And as policy efforts on the minimum wage move forward, so too has the public health science. For instance, in a study published in June in APHA's American Journal of Public Health, researchers found that if New York City's minimum wage had been $15 between 2008 and 2012, 2,800 to 5,500 premature deaths could have been averted, with the majority of such prevented deaths realized in low-income communities.
U.S. income inequality has been increasing for decades, and there are large wage gaps by gender, race and ethnicity, according to the Pew Research Center. Hispanic men earned $14 an hour in 2015, compared to $15 an hour for black men and $21 an hour for white men. Women's wages lag behind men across the board, both when compared to white men and men in their own racial and ethnic groups.
Income inequality also persists by occupation. While retail sales workers and cashiers account for the largest occupations in the U.S., at 4.6 million and 3.5 million people, respectively, they are also low-paying jobs, according to the Bureau of Labor Statistics. As of May 2015, retail sales workers earned $26,340 annually and cashiers earned $20,990. Fast food and counter workers, another popular occupation, earned just $19,820 a year. The largest occupation with an above-average wage was registered nursing, in which workers earned $71,000.
"Many people think the top three determinants are education, occupation and income," said APHA member J. Paul Leigh, PhD, a professor of health economics at the University of California-Davis. "Over the past 40 years, median years of schooling for Americans have been increasing. Occupational injuries and diseases have been decreasing. But wages have been stagnant, and for those with only a high school education or less, inflation-adjusted wages have been dropping. Income inequality has been getting much worse. So these are good reasons to now focus on wages and incomes."
Leigh noted that people's health is affected by where they fall along the income gradient. For instance, he pointed to the landmark Whitehall studies first published in 1978 that followed British civil servants over many years. Led by Michael Marmot, PhD, MPH, MBBS, chair of the World Health Organization Commission on Social Determinants of Health, the studies found a person's relative risk of poor health and disease increased as socio-economic status decreased.
In the Journal of Occupational and Environmental Medicine in May, Leigh said that low wages should be considered a psychosocial occupational health hazard.
"I believe income inequality rivals smoking and obesity in terms of its effects on overall health," Leigh told The Nation's Health. "We need researchers in public health to take a deeper look at the role of wages on health. And then, hopefully, advocates can use those studies to improve conditions."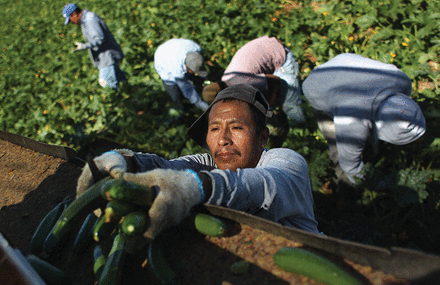 Innovative programs expand opportunities
Public health agencies around the nation recognize the connection between income and health, and they are supporting work to expand economic and job opportunities. One example is the Food Innovation Network, which is benefiting resident Sheelan Shamdeen in Des Moines, Washington.
Twenty years ago, Shamdeen and her family fled for their lives from their home in the Kurdistan Region of northern Iraq. They eventually settled in Washington, where Shamdeen now works part-time at a community college helping fellow refugees and immigrants learn computer skills. But her real dream is to launch a business, Sooz Veen Catering, which is Kurdish for "promise and love."
"Starting a business will make another income for our household. It will be better for me and my sister and my mom," Shamdeen told The Nation's Health. "But it's not only to bring income…it's also to improve yourself and be more independent and to bring your food and your culture to the people."
But the process of turning her idea into a reality is a complicated one, even for people experienced in navigating the bureaucracy of opening a new business. Fortunately, Shamdeen may soon realize her dream with help from the Food Innovation Network, an effort to narrow health and economic opportunity disparities by supporting entrepreneurship in the local food sector.
The Food Innovation Network began through Global to Local, an initiative founded in 2010 with the help of Public Health-Seattle and King County. The initiative pilots community health and economic development strategies in two of King County's most underserved communities: SeaTac and Tukwila. While the county is one of the wealthiest regions in the nation, SeaTac and Tukwila are home to high poverty and mortality rates, said Kara Martin, MUP, the network's program manager.
In 2012, Global to Local outreach workers asked residents what would help alleviate the problems they faced. And Martin said a common theme quickly rose to the top: food.
Residents talked about their desire to open their own food businesses, but they did not have the tools or knowledge to make it happen. Years later, that feedback has grown into a new effort to establish a food business incubator that will include commercial kitchen space where local entrepreneurs can test and develop ideas as well as offer training and support services, such as workshops on creating a business plan, branding and securing a loan. Martin said the permanent kitchen will be up and running by 2018 in 2,800 square feet of space at a local YMCA. Until then, the Food Innovation Network will rent a temporary space to begin piloting the incubator.
"Access to income is going to allow them to access other resources, whether it's food or health care — just having that additional income is going to improve their health," Martin told The Nation's Health.
Also in Washington, Public Health-Seattle and King County is part of a new countywide effort known as Communities of Opportunity. Launched in 2015 in partnership with the Seattle Foundation, the initiative is providing investments to help organizations expand efforts in regions with the greatest health, housing and economic inequities.
For example, Betsy Jones, MSW, MBA, health and human potential policy advisor for King County, said that when Safeway decided to open a new grocery store in the White Center neighborhood of Seattle, where nearly a quarter of residents live in poverty, Communities of Opportunity advocates worked together with the company to open hiring to local residents first.
Creating economic conditions that lift people out of poverty and narrow income inequality is not in the traditional sphere of public health practice, but many agencies, such as the Alameda County Public Health Department in California, are successfully staking a claim.
In 2008, the agency published "Life and Death from Unnatural Causes: Health and Social Inequity in Alameda County," which highlighted the central roles of poverty, stagnant wages and income inequality in people's health. Since then, said Sandi Galvez, MSW, the agency's director of Health Equity, Policy and Planning, the department has been working to engage community decision-makers on health-promoting economic policy. For example, developers must often create community benefit agreements to get a project approved by local policymakers.
Because such agreements offer a key opportunity to improve economic determinants underpinning health, Galvez said the public health department is currently working with local planning officials to create and implement healthy development guidelines, which will include standards on living wages and equitable access to job opportunities.
Beyond policy, the public health department also helps promote more direct economic opportunity. For instance, for the past two years, the agency has partnered with residents to coordinate a monthly street market in the Castlemont neighborhood of East Oakland where local entrepreneurs can sell their crafts and services. About one in every four Castlemont residents and one in three of its children live in poverty.
While expanding income opportunity is somewhat new for public health, mitigating the effects of poverty through support and safety net services is a longtime tradition.
Such practices are alive and well in Baltimore, where more than 80 percent of children qualify for free or reduced-priced lunch and on any given day, thousands are homeless, said Baltimore City Health Commissioner Leana Wen, MD, MSc. To help level the playing field so all children, regardless of family income, are healthy enough to learn, the Baltimore City Health Department brings preventive and basic health services directly to kids, running school health suites in all of the city's public schools and providing services to more than 84,000 students.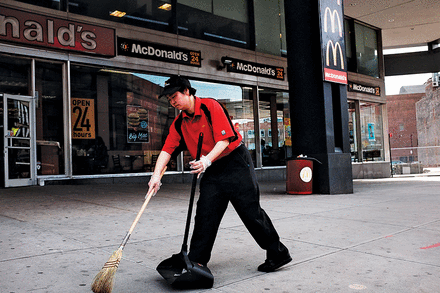 One of the department's newest school-based health initiatives is Vision for Baltimore, which launched in May to ensure access to glasses for elementary and middle school students.
Wen noted that while Medicaid covers services for low-income families, acquiring care still requires a caregiver to take time off work to visit a provider, which for many low-income and hourly wage workers means choosing between much-needed income and their child's well-being. Instead, Vision For Baltimore will bring vision screening and free eyeglasses directly to kids who need it most.
"We must call out the problems we see, the injustices we see, the structural racism and income inequality," Wen told The Nation's Health. "It's changing the conversation that's key to what we do."
Addressing social determinants of health is a focus of APHA's growing movement, Generation Public Health. Find out more at www.apha.org/healthiestnation.
For more information on income and health, visit www.cdc.gov/socialdeterminants.
For more information on social determinants of health, including infographics, visit www.thenationshealth.org/sdoh.
Copyright The Nation's Health, American Public Health Association