In 2013, Cuba had just two cases of babies born with HIV. Two years later, global health agencies declared that the island nation had become the first country to eliminate mother-to-child transmission of the disease.
"It proved that we can win these battles," said Massimo Ghidinelli, MD, unit chief for HIV, hepatitis, tuberculosis and sexually transmitted infections at the Pan American Health Organization. "It showed us that political commitment is essential, but that the context in which these interventions are implemented are equally essential."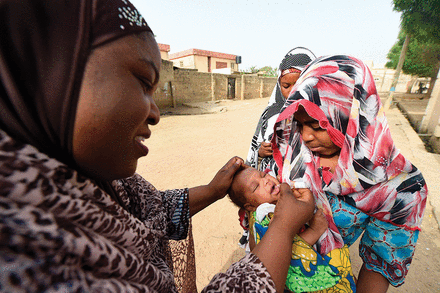 Each year, according to the World Health Organization, about 1.4 million women with HIV become pregnant. If their HIV infection goes untreated, they have an upward of 45 percent chance of transmitting the virus to their babies during pregnancy, childbirth or breastfeeding. If they and their children receive antiretroviral treatment, that risk drops to about 1 percent.
In 2010, PAHO member states decided to maximize that intervention with a new initiative to eliminate mother-to-child HIV transmission in the region. Five years later in 2015, such disease transmission in Latin America and the Caribbean had declined by 55 percent, with Cuba the first to be validated for eliminating mother-to-child transmission of both HIV and syphilis. Last year, WHO announced that Thailand, Belarus and Armenia had eliminated mother-to-child HIV transmission as well.
Cuba achieved the designation — defined as 2 percent or less of babies born to HIV-positive women becoming infected with HIV — through a combination of actions, such as ensuring early and equitable access to prenatal care, HIV testing and HIV treatment as well as integrating HIV services into maternal and child health care. Ghidinelli noted that Cuba's exact elimination strategy may not be entirely replicable, as the nation's universal health system undoubtedly helped make elimination a reality. However, he said Cuba's strategy can be tailored to thrive in different health systems and achieve similar life-saving goals.
"It's been a huge high-impact achievement, because it really galvanized society at all different levels," Ghidinelli told The Nation's Health. "We haven't yet won the war on the HIV epidemic, but we are making huge progress."
Within global efforts to eradicate and eliminate infectious diseases, work to prevent HIV has made significant strides, but also faces considerable challenges. The same is true for a number of diseases — even those for which preventive technologies and strategies are well proven and practiced. Global health officials consider a disease eradicated if a pathogen is permanently eliminated and its worldwide prevalence is zero; disease elimination means achieving zero incidence in a given area, while guarding against re-emergence.
To date, the world has eradicated one human disease, smallpox, and one animal disease, rinderpest. Elimination work is proving successful, too. For example, 41 countries have eliminated maternal and neonatal tetanus. The Americas recently became the first region to eliminate measles. And three countries — Mexico, Oman and Morocco — have been validated for eliminating trachoma, the leading infectious cause of blindness. But the path to the kind of eradication the world achieved with smallpox is a tricky one, fraught with barriers that a new drug or vaccine cannot always fix.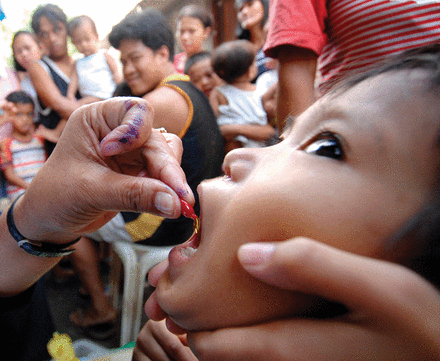 "Advances in vaccine science in the 20th century were really extraordinary, and it gave us an opportunity to protect people far beyond anything we'd had in the past," Matt Zahn, MD, chair of the Infectious Diseases Society of America's Public Health Committee and medical director of epidemiology and assessment at the Orange County Health Care Agency in California, told The Nation's Health. "But I think we are reaching a point where we're running up against some basic social issues."
Vaccine-preventable diseases may be more emblematic of those issues than most. Even though vaccines represent one of the most potent means for eliminating diseases in the public health toolbox — and have prevented millions of premature deaths — their long-term impact is also dependent on supportive public policy and effective communication.
Measles, for example, was officially declared eliminated in the U.S. in 2000, meaning that there has been an absence of continuous measles transmission for 12 months or more in a specific area, according to the Centers for Disease Control and Prevention. That designation could be threatened, however, as the U.S. has experienced at least one measles outbreak every year, with transmission fueled by gaps in vaccine uptake. Just this summer, Minnesota experienced an outbreak of 79 measles cases, with the vast majority of cases occurring in unvaccinated children.
"I've always thought that one of the problems is that the public health community is a victim of its own success," Dyann Wirth, PhD, chair of the Department of Immunology and Infectious Diseases at the Harvard T.H. Chan School of Public Health, told The Nation's Health. "Many people living today, most parents of young children today, have never even seen anyone with measles or polio or mumps. They don't remember why there was such a push for vaccines in the first place."
Wirth said in many ways, sustaining and growing measles elimination is more of a messaging challenge than a technical one. In a 2016 study in the American Journal of Epidemiology, researchers examining data from National Immunization Survey found that more than 12 percent of U.S. children and adolescents were susceptible to measles for reasons that include being unvaccinated. The study noted that even a slight decline in the current measles immunization rate — which was at nearly 95 percent coverage among kindergartners in 2015-2016 — could lead to more than 1 million additional kids becoming susceptible to the disease.
Another vaccine-preventable disease, polio, is increasingly close to eradication. Global case counts have fallen from about 350,000 in 1988 to just 37 reported cases in 2016. In 2017 so far, there have been eight reported cases of wild poliovirus, all in Pakistan and Afghanistan. Carol Pandak, EdD, director of the PolioPlus campaign at Rotary International, which began its first vaccine drives against polio in the late 1970s, said the virus is mainly contained to areas of conflict and remote geography, which means that the remaining polio cases are also the most difficult kind to prevent.
"But we're still closer than ever to eradication," Pandak told The Nation's Health, noting that achieving more than 99 percent polio reduction took the sustained efforts of millions of workers over more than three decades.
In recent years, Pandak said a key strategy has been engaging community-based polio vaccinators, as "people want to know and trust the people who are giving their children vaccines." Rotary International has been leading efforts to mobilize thousands of community-based vaccinators who not only deliver polio vaccines, but also help families access a variety of health interventions over the long term. Packaging the polio vaccine with other health services and supporting health workers already embedded in a community, Pandak said, will be critical to maintaining polio immunization coverage in many parts of the world.
And while polio's official eradication will mark a massive milestone in public health history, it does not mark the end of eradication efforts. Immunization campaigns will have to continue, as will surveillance for wild poliovirus circulating in the environment. Pandak said work is also underway to ensure that any research facilities that retain the virus after eradication have necessary containment protocols in place.
At the recent Rotary International Convention in Atlanta, donors and nations committed more than $1 billion to get polio cases down to zero worldwide.
"When we first started this work in 1979, everyone knew someone who had been affected by polio," Pandak said. "Now, we're on the brink of eradication."
Of course, not all disease elimination efforts have the help of a vaccine. For example, the latest version of the National HIV/AIDS Strategy for the U.S., released in 2015, calls for reducing new HIV infections, increasing access to HIV care, reducing HIV-related disparities and creating a more coordinated national responses to the epidemic. The overall vision of the strategy is that HIV infection will become a rare occurrence in the U.S., which was home to more than 37,000 new HIV cases in 2014, down from more than 45,000 in 2008.
Researchers in a May study in the American Journal of Preventive Medicine found that the U.S. could reach a critical tipping point toward ending the HIV/AIDS epidemic if it met certain goals. In particular, they found that the U.S. could achieve a 46 percent reduction in HIV incidence by 2020 and a nearly 70 percent reduction by 2025 if it implemented an aggressive framework to ensure that by 2025, 95 percent of people were aware of their HIV status, 95 percent of those diagnosed with HIV were in care, and 95 percent achieved viral suppression.
APHA member David Holtgrave, PhD, who co-authored the study and is chair of the Department of Health, Behavior and Society at the Johns Hopkins Bloomberg School of Public Health, said meeting that 95/95/95 framework could reduce the annual number of new HIV infections to 12,000 — "a major epidemiological milestone" that would mark the first time annual HIV infection numbers would be lower than the number of HIV-related deaths.
Reaching those goals, however, will take sustained coordination across multiple health and social sectors, adequate funding and supportive public policy — all of which are far from certain.
"Research for a (HIV) vaccine needs to continue, but even with the tools available to us now, I think we can reach these goals if we have the will," Holtgrave told The Nation's Health. "The efforts we've taken so far really did change the course of the HIV epidemic, which is why we can't afford to take our foot off the throttle now."
Zahn noted that in the face of steep challenges, public health can always find encouragement in its history.
"Remember, much of what we've achieved so far had not been thought possible," Zahn said.
For more on Rotary International's work on polio eradication, visit www.rotary.org.
Copyright The Nation's Health, American Public Health Association