Public health workers and planners often overlap in their goals: promoting safety, enhancing accessibility and evaluating the impact of the built environment on community health and well-being. But despite the common ground, public health and planning do not regularly work together.
"Planners care about healthy communities and are thinking about healthy, vibrant places, but don't always have the lens of health as their first step," APHA member Elizabeth Hartig, MA, project associate at the American Planning Association, told The Nation's Health.
Conversely, a planner is not necessarily the first person someone in public health would contact about identifying food deserts or encouraging active transportation among community members, even though such outside expertise could be useful.
Thanks to a partnership between APHA and the American Planning Association that was funded by the Centers for Disease Control and Prevention, experts in public health and planning across the country now have a deeper understanding of how each side plays a role in creating healthy communities.
During APHA's 2017 Annual Meeting and Expo, a group of planners shared their experiences with Plan4Health, a program that funded cross-sector partnerships between public health and planning professionals in communities throughout the U.S. The program, which wrapped up in 2017, supported 35 coalitions in 27 states, providing grants for initiatives that highlighted the intersection of public health and planning. From urban trails and pedestrian plans to food pantries and food affordability, coalitions in the three-year project showcased the link between public health and the built environment.
At the heart of the program were APHA's affiliated state and regional public health associations. The Affiliates worked closely with APA chapters and other partner organizations in the coalitions to integrate public health into the program.
"The cross-sector collaboration between public health, planning and other sectors was key to this initiative's success," Rosa Riley, APHA's program manager of Affiliate affairs told The Nation's Health. "It was these connections and new partnerships that created avenues for coalitions to focus on the areas of physical activity and nutrition."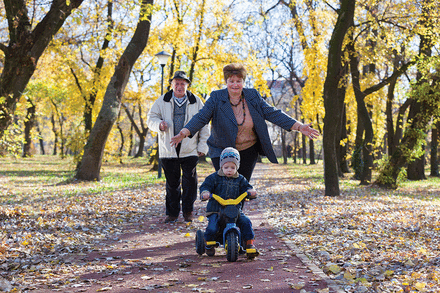 One of those partnerships, the Centralina Health Solutions Coalition in Charlotte, North Carolina, sought to bolster physical activity in the Mecklenburg County Public Health Priority Area — a community of mostly black residents who are older and have lower incomes compared with the overall county.
To determine the barriers to physical activity in Mecklenburg County, the coalition used a community needs assessment as well as several audits. The coalition looked at the ease of walking and biking for residents, access to parks and existing and potential shared-use agreements within the community to increase opportunities for physical activity.
Coalition members, including the Mecklenburg County Health Department, Charlotte Department of Transportation and Charlotte Area Transit System, learned how they could work together to solve problems affecting people's health and wellness, said Katherine Hebert, MCRP, healthy community design specialist for the Centralina Council of Governments.
Input from residents was especially valuable, she said. Herbert's advice is to "Go in there with grace and the willingness to help and…allow them to shape the work and shape the conversation," she told The Nation's Health. "Let the neighborhoods tell you what it is that they need."
For some Plan4Health participants, the public health-planning crossover was a new experience.
"My interaction with public health officials in my line of work was pretty nominal. It was almost nonexistent," Allara Gutcher, AICP, who was project manager of the Florida coalition and faciliatated its stakeholder roundtable, told The Nation's Health. "What this project did was help me understand what our common goals were so that we can...collaborate better."
Florida's coalition took part in Planners4Health, an offshoot of Plan4Health with the goal of incorporating a public health perspective into the American Planning Association as a whole. The Florida Planners4Health project conducted a survey of planners and public health workers to learn about their experience working with each other and found that only about 30 percent of public health professionals had collaborated with planners and vice versa.
The coalition decided that the best way to connect experts across the state would be to create a website, Gutcher said. When it goes live, public health workers will be able to access the profiles and contact information of state planners who can offer their relevant expertise for initiatives focused on community health.
The American Planning Association's Louisiana chapter also laid the groundwork for improved collaboration between public health and planning professionals with its Planners4Health grant.
While Louisiana has a strong public health infrastructure, it does not generally cross over to the planning sector, according to Fred Neal, AICP, who was project manager for Louisiana's Planners4Health project. In Louisiana, a coastal state that saw the devastation of Hurricane Katrina and is experiencing the effects of climate change, conversations about planning and land use need to take place within a public health framework, he said. The coalition focused on breaking down silos across sectors to determine where land use issues needed a greater public health focus. Through a health and planning assessment, roundtable with stakeholders and other conversations, the state's Planners4Health project pinpointed areas for further education and exploration, particularly issues of health equity and environmental health as they relate to land use.
Advocacy was a key component of the Louisiana Planners4Health Project, Neal said, noting how the coalition worked closely with the state department of health to discuss the influence of planning on health policy. A task force will continue advocacy efforts with the Louisiana chapter of the American Planning Association. The coalition now has a game plan to grow conversations around public health and planning and bring the groups together in a way that had previously not been possible, he said.
In Georgia, Healthy Savannah Inc. has existed for a decade, but the coalition of more than 100 public and private agencies used a Plan4Health grant to expand its reach and help more Savannah residents access healthy food and lead more active lifestyles. Such goals are imperative in Chatham County, Savannah, where 27 percent of adults are obese and 20 percent lack access to a reliable source of food, according to city data. Chatham County also has many black, low-income and elderly residents who face poorer health outcomes than their neighbors.
At the center of Healthy Savannah's Plan4Health project was its food needs assessment, which helped the coalition determine the factors preventing underserved residents from accessing nutritious, affordable food. Efforts to increase access to healthy food were grounded in an approach that promoted health in all policies, said APHA member Whitney Shephard, MSCE, MSCE, board member of the Georgia Planning Association.
"What I really tried to focus on is making sure that the communities where we see the greatest need are integral to the work that we're doing…because they know the challenges better than anyone," she told The Nation's Health.
A food needs assessment showed how planning is essential to healthy food access. For example, mixed-use development that includes grocery stores stocked with nutritious food is essential for healthy neighborhoods. But even if such development exists, people cannot get to the grocery store if roads are not safe. Community members also need physical activity, which is why Healthy Savannah supports public access to facilities such as school gyms.
Healthy Savannah has the advantage of building upon existing relationships with community members. The coalition has built trust with Chatham County residents through years of interaction, from informal conversations to neighborhood association meetings. With Plan4Health, the coalition has further underscored the importance of incorporating perspectives from both public health and planning within the community.
While grant funding for Plan4Health and Planners4Health has officially ended, the public health workers, planners and community stakeholders who participated in the initiative have the footing to continue their cross-sector work. It is a lesson that other public health and planning professionals can take to heart, the participants said. They encouraged public health professionals to get to know the planners in their communities and be open to opportunities to work together.
"I can't say enough about how rewarding it is to do this work and realize that health makes the case for good planning and that planning really can promote good health," Shephard said.
For more information, visit www.plan4health.us.
Copyright The Nation's Health, American Public Health Association