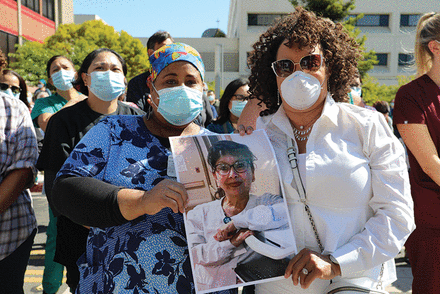 Thousands of U.S. health workers have died from COVID-19 after contracting it on the job, including public health workers. Journalists from Kaiser Health News and The Guardian are working to make sure those deaths are counted.
Lost on the Frontline is a year-old project offering the most comprehensive count of U.S health care worker deaths from COVID-19. As of mid-February, the project had documented over 3,500 lives lost. It offers not only numbers but also personal stories of those who died and investigative reporting on risks health workers are facing.
About 67% of U.S. health workers who have died from COVID-19 were from minority populations, Lost on the Frontline finds. Nurses and support staff account for the most deaths. And more than half of those who have died were under age 60. Christina Jewett, a senior correspondent for Kaiser Health News, talks about the project's online interactive database, worker safety and what more might be done.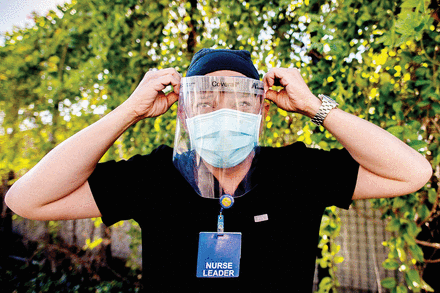 What's the purpose of Lost on the Frontline?
It's meant to memorialize the lives of people who knew the danger they were facing but ran into the proverbial fire anyway and paid the ultimate price. It seeks to humanize victims of this terrible virus for the public, and perhaps give them a reason to avoid spreading it.
It tries to fill a gap in government data, to examine the unique risks workers face and what the government response to those risks have been. We hope to raise awareness about a major area of occupational safety risk and inspire further study and focus on health worker safety.
How does the Lost on the Frontline team gather its information?
We have two recent college graduates who trawl the web every day for new cases, looking at social media, obituary sites, GoFundMe, union memorial sites and other sources. We pull data from the Centers for Medicare and Medicaid Services and the Occupational Safety and Health Administration.
Our numbers aren't perfect, especially since not every state reports the number of health care workers who die and we know the Centers for Disease Control and Prevention data is a vast undercount. We know we're missing hundreds of cases, but we've currently tracked about 2,000 more than CDC.
What other gaps in government tracking have you found?
We used our own data — compared to complaints to OSHA about personal protective equipment — to discover dozens of instances where workers had decried PPE problems at hospitals days or weeks before a death there. Harvard researchers later discovered that a spike in work-safety complaints to OSHA predicted a local spike in deaths 16 days later. We also discovered that OSHA left the rules on reporting deaths so vague that many employers chose not to, even if there was an outbreak in their workplace.
What trends do you see in the data?
We've seen alarming lapses in PPE for those in home health, nursing homes, behavioral and substance abuse care, as well as in small practices. The medical supply chain caters to those who buy supplies by the ton, like hospitals. For those outside that chain, it's been very challenging. We asked the families of more than 300 workers about PPE concerns, and about one-third said a loved one expressed concerns before their death. Tragically, about three-quarters of those were workers of color.
Have conditions and tracking improved?
Well, we don't know definitely that deaths have decreased. They moved to states where workers have less voice and where families may see shame and stigma related to a COVID death. We need a more clear-cut, uniform and accurate way to count these deaths. U.S. Department of Health and Human Services officials recently asked the National Academy of Sciences to write a rapid expert review on what it would take to better track health care worker deaths, so something better may be on the horizon.
What more could be done to save lives?
We need more research to help understand why health care workers are getting sick, and why workers of color are dying at the highest rates. You see studies about outbreaks related to people singing or shouting. Yet health care workers are expected to go into small, enclosed rooms with coughing patients to turn them, bathe them, brush their teeth — all in a surgical mask. Is that deadly? Seems risky to me, but there are still many who prefer to say health workers, by and large, got COVID in the community. Ultimately, there's very little research going down to the level of detail I'd like to see.
To access Lost on the Frontline stories and the database of confirmed U.S. health worker deaths, visit www.khn.org/lost-on-the-frontline.
Share the story of a lost health worker
Lost on the Frontline is seeking information about health workers who have died from COVID-19. From doctors and nursing home staff to hospital cleaners and mental health counselors, the project is working to document the range of health workers who are losing their lives during the pandemic. Submissions are accepted at bit.ly/lostonfrontline.
Copyright The Nation's Health, American Public Health Association