The rate of Americans without health insurance held steady in 2010, according to new data from the U.S. Census Bureau, but with nearly 50 million people uninsured, the rate is nothing to celebrate, public health leaders say.
All told, about 16.3 percent of Americans did not have health insurance in 2010, which translates to 13 million more people without health insurance in 2010 than 2000, said Sara Collins, PhD, vice president for the Commonwealth Fund's Program on Affordable Health Insurance.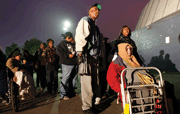 In addition, the nation's official poverty rate in 2010 climbed to 15.1 percent, up from 14.3 percent in 2009, according to the Census Bureau, marking the third consecutive annual increase in the poverty rate.
While the uninsurance rate increased slightly, the change was not statistically significant, Census Bureau officials said in September, though it translates into as many as 900,000 additional people being uninsured between 2009 and 2010, said Kathleen Stoll, director of health policy at Families USA.
"The jump (in uninsurance) was not as big as we thought we might see," Stoll told The Nation's Health. "One of the reasons for that is because Medicaid and the Children's Health Insurance Program were there to help."
The census found a decrease in the percentage of people covered by employment-based health insurance, from 56.1 percent to 55.3 percent, a decline of about 1.5 million people. At the same time, a higher percentage of people were covered by government insurance such as Medicare or Medicaid, showing the importance of those safety net services, health officials said.
Between 2009 and 2010, the percentage of people covered by private health insurance dropped from 64.5 percent to 64 percent.
APHA Interim Executive Director Alan Baker called the high uninsurance rate "a tragic situation exacerbated by slow economic growth, a high rate of unemployment and a broken health system that is still not meeting the health needs of our nation."
Though the increase in the uninsurance rate was not statistically significant, it is important to look at the real numbers, said Andy Hyman, JD, team director and senior program officer at the Robert Wood Johnson Foundation.
"We have 50 million Americans who are uninsured," Hyman said. "And the evidence is very clear that if you're uninsured you're going to live sicker and you're going to die younger. Not only are there consequences to the individual, there's a consequence to families, there's a consequence to entire communities."
Economists and other analysts are trying to figure out why there was such a small change in the uninsurance rate between 2009 and 2010, as generally insurance coverage rates and uninsurance track with the economy, Hyman said. Even more interesting is the fact that while there was not a significant increase in uninsurance, there was a statistically significant increase in people living in poverty, Hyman said, and those two factors usually go together.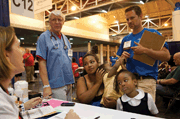 It is possible that the people who have lost their jobs did not have health insurance to begin with, Hyman said, or that businesses are cutting wages so they do not have to cut health care. A third theory is what Hyman called "perhaps the one good story in the census numbers."
According to the Census Bureau, there was a 2 percent decrease in uninsurance among people ages 18–24. Some of that decrease can likely be attributed to the part of the Affordable Care Act that went into effect last year that allows people up to age 26 to stay on their parents' policies, Hyman said.
Respite from the continually high uninsurance figures from year to year could come in 2014, when the Affordable Care Act will require people to carry insurance and will create affordable options for those not covered by an employer to buy insurance, Stoll said.
"The Affordable Care Act will do a lot to help bend the curve in the cost of care," she said, as it will slow the rate at which the cost of health care is increasing.
Studies have shown that if the curve is reduced 1 percent per year for 10 years, that will save $1 trillion, Stoll said.
According to Collins, of the people without health insurance in 2009, the Affordable Care Act will make 24 million more people eligible for Medicaid and 21 million people eligible for subsidized health insurance coverage through the health insurance exchanges that will be created in accordance with the law.
Hyman said his organization has also seen some slow changes in another area where the census figures showed problems: the insurance rate for children in poverty. Children living in poverty in 2010 had a 15.4 percent uninsurance rate, while all children had an uninsurance rate of 9.8 percent. That translates to 7 million children who are among the uninsured, about 4.3 million of whom are eligible for coverage through Medicaid and the Children's Health Insurance Program.
According to a Robert Wood Johnson Foundation report, participation in public insurance programs is slowly increasing. Fifteen states and the District of Columbia achieved participation rates of 90 percent or higher in 2009. Three states — Texas, California and Florida — accounted for nearly 40 percent of the remaining eligible but uninsured children.
"Income, Poverty and Health Insurance Coverage in the United States: 2010" is available online at www.census.gov.
Copyright The Nation's Health, American Public Health Association