Typical patients at the Neighborhood Services Organization dental clinic in Oklahoma City initially visit because of oral health emergencies. However, they keep coming back after discovering that the clinic offers affordable dental care.
"When people do find us, they tend to stay on as regular patients," said Laura Gutierrez, dental clinic manager. "It's not that they didn't know (oral health) was important, it's that they couldn't afford it before."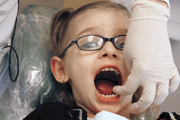 The clinic, which accepts patients ages 8 and older, offers a full range of reduced-price dental services, such as preventive cleanings for $50 or extractions for $60. The clinic's three dental chairs are always full and in demand, Gutierrez said. Last year, clinic staff performed more than 7,000 procedures and cared for more than 1,300 patients, the majority of whom had no dental insurance. Gutierrez said she hopes the Affordable Care Act will expand opportunities for affordable dental insurance, but she said she is not counting on it.
"People get insurance but still can't afford the copays," she said. "That's why a clinic like ours is still going to see a need."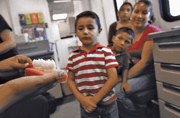 Even though millions of Americans are joining the ranks of the insured and gaining access to affordable health care, access to oral health care is still expected to lag, especially among adults. Under the health reform law, pediatric dental coverage is considered an essential benefit that must be offered within the state and federal health insurance marketplaces. However, adult dental coverage is not an essential benefit. And depending on the state, pediatric coverage could be a mixed bag as well.
As an essential benefit, pediatric dental coverage is either offered as part of an overall health insurance package or as a stand-alone plan. Each state exchange is different, with some offering a mix of integrated and stand-alone plans and others offering only one or the other. The Affordable Care Act also places limits on out-of-pocket pediatric dental expenses and eliminates annual or lifetime coverage limits.
On the surface, designating pediatric dental coverage as an essential benefit seems like a significant victory, especially as tooth decay is the most common chronic illness affecting American children. But after a closer examination of the law's fine print, some advocates are reining in their celebrations. Overall, children got a better deal than adults in terms of oral health access, said Colin Reusch, MPA, senior policy analyst at the Children's Dental Health Project, however there are still some major gaps.
For example, Reusch said, if a family is shopping for insurance within a marketplace that only offers stand-alone pediatric dental plans, members could purchase a medical insurance plan, forgo the stand-alone dental plan and still be in compliance with the Affordable Care Act's individual mandate. So while pediatric dental coverage is an essential benefit, it is not necessarily a required purchase and parents can opt out, Reusch noted.
However, some states are trying to tip the scales in favor of children's oral health. For instance, Washington and Nevada require that parents buy pediatric dental coverage and in Connecticut, all health insurance plans must include pediatric dental coverage.
Reusch noted that while the American Dental Association estimated that 8.7 million kids would gain dental coverage through the Affordable Care Act, "we really don't know what will happen."
"The bottom line is if kids have coverage, they are much more likely to get the care they need and if they get into care early, they're much less likely to experience cavities," Reusch told The Nation's Health. "It's a net positive no matter how you look at it."
According to the National Center for Health Statistics, 4 million U.S. children had unmet dental needs in 2012 because their families could not afford dental care. Twenty-eight percent of uninsured children had no dental visits for more than two years — including kids who never had a visit at all. Only 10 percent of children with Medicaid or private health insurance had gone that long without a dental visit.
Like many aspects of the Affordable Care Act, the magnitude of the law's impact will depend on the state. In Florida, which ranks last in providing dental care to low-income kids, oral health may not get the boost advocates were hoping for, said Frank Catalanotto, DMD, chair of Oral Health Florida and a professor in the Department of Community Dentistry and Behavioral Sciences at the University of Florida. In Florida, where there is little governmental support for the Affordable Care Act and residents will be limited to the federal marketplace and its pediatric dental coverage loopholes, little could change, Catalanotto said. Florida's Medicaid program only covers emergency dental care for adults, and even though all Medicaid programs cover dental care for kids, Florida's reimbursement rates are so low that few dentists take Medicaid patients.
"Kids in Florida will continue to suffer," Catalanotto told The Nation's Health.
Catalanotto noted that in 2010 in Florida, $88 million was spent treating children and adults in hospital emergency rooms for preventable dental conditions.
By contrast, in Washington state, the rate of untreated tooth decay among low-income preschoolers dropped by half between 2005 and 2010, and the state's Medicaid program provides enhanced payments to providers willing to see low-income children, said Diane Oakes, MPH, MSW, deputy director of the Washington Dental Service Foundation.
In addition, state lawmakers recently reinstated adult Medicaid dental benefits to coincide with the program's eligibility expansion, which means 700,000 adults will gain dental coverage, Oakes said. Now, work turns toward making sure those newly insured adults can find a dentist.
Oakes also noted that even though more adults and children will gain dental coverage, publicly supported programs, such as school-based efforts that screen for and treat oral health problems, will still be needed.
"Those programs that go out into the community are critical to improving overall health," Oakes told The Nation's Health.
In fact, the Affordable Care Act specifically addresses public health-based oral health efforts, such as directing the Centers for Disease Control and Prevention to expand the school-based dental sealant program and authorizing a five-year public health campaign to promote oral health.
Unfortunately, federal policymakers have not provided the funding to bring the measures to fruition. Christine Wood, RDH, executive director of the Association of State and Territorial Dental Directors and an APHA member, said she is concerned that organizations that support school sealant programs will pull back under the belief that all kids will now be covered by either Medicaid or private insurance.
"Even for kids who are covered by Medicaid, their parents may not be in a position to take time off work and go to a Medicaid provider," Wood said. "Being able to provide those services in school and to all kids is still a high priority."
Wood said the Affordable Care Act's oral health provisions are a "step in the right direction, but there's still going to be people who will need population-based public health services."
Back in Oklahoma, where about half the adult population does not have dental coverage, Terrisa Singleton said she does not expect the Affordable Care Act to have "any impact for adults in a positive way." As the director of Delta Dental of Oklahoma Oral Health Foundation, which provides funding support for the dental clinic at the Neighborhood Services Organization in Oklahoma City, Singleton said she predicts adult demand for affordable dental care access will remain the same or even increase.
"Adults have no remedy through the (Affordable Care Act)," she said. "This is not the savior we had hoped for. We have to continue our efforts to bring affordable dental care to the people who need it."
For more information on oral health and the Affordable Care Act, visit www.cdhp.org or www.oralhealthwatch.org.
Copyright The Nation's Health, American Public Health Association