In its 20th year as the organizer of National Public Health Week, APHA could have easily rested on its laurels and examined two decades of success. But instead, this year, APHA looked forward, to how it could achieve this year's theme and goal: "Healthiest Nation 2030."
Over a single week, April 6-12, APHA worked with almost 360 national, state, local and federal partners, and led the way for more than 400 events to be held nationwide. Thousands of people were involved in a week that celebrates the best of what public health has achieved, and envisions what work must still be done to create the healthiest nation in one generation.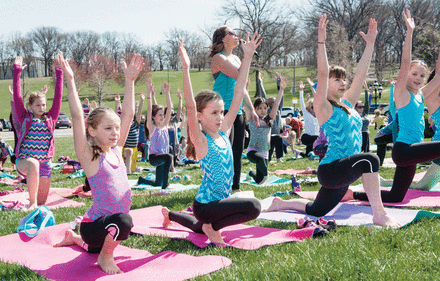 In the aftermath of the week, APHA was pleased with the results of NPHW, said Susan Polan, PhD, APHA's associate executive director of public affairs and advocacy.
"This year's National Public Health Week was another great success," Polan told The Nation's Health. "At events all over the country, including here at APHA, public health advocates from all sectors really came together behind the week's theme. The idea behind 'Healthiest Nation 2030' really requires all of us to dig in and do more, and this year's efforts really show how important public health is to so many people."
That success was recognized by both President Barack Obama and the U.S. Senate.
Obama issued a presidential proclamation in support of NPHW on April 6, citing Ebola, climate change, childhood nutrition and exercise and insurance coverage as public health issues that have seen successes, but still require action. The proclamation was the first from a U.S. president since 1995.
"Public health is the foundation for a brighter tomorrow," Obama stated in his proclamation. "When we invest in the safety and well-being of all Americans, we enrich our communities, bolster our economy, and strengthen our nation. During National Public Health Week, we recognize public health professionals and all who care for the welfare of others, and we recommit to doing everything within our power to build a world where every child can enjoy the limitless possibilities of a healthy life."
On April 13, the Senate approved S. Res. 133, a resolution "supporting the goals and ideals of National Public Health Week." The resolution was introduced by Sen. Tom Udall, D-N.M., and was passed with unanimous consent.
The resolution urged Americans to learn about the public health system, recognized the work of public health professionals and encouraged "increased efforts and resources to improve the health of people in the United States to create the healthiest nation in one generation."
The Senate was urged along by APHA members and constituents, who sent more than 830 emails encouraging the Senate NPHW resolution.
While individuals, schools, departments of public health and others hosted their own events for NPHW, APHA hosted several events throughout the week, both in Washington, D.C., and across the country.
Kicking off the week was a forum at the Kaiser Family Foundation. APHA's "Raising the Grade" forum, which aired live on the Web, brought together keynote speaker Gail Christopher, DN, vice president for policy and senior advisor at the W.K. Kellogg Foundation, with panelists Tom Farley, MD, MPH, CEO of the Public Good Projects; APHA member Linda Goler Blount, MPH, president and CEO of Black Women's Health Imperative; and APHA member Soma Stout, MD, MS, executive external lead for health improvement at the Institute for Healthcare Improvement. APHA President Shiriki Kumanyika, PhD, MPH, served as the event's moderator. The live webcast drew more than 1,100 views.
Christopher praised APHA for its ambitious goal of building the healthiest nation in one generation. But she also noted that the U.S. and public health advocates have a long way to go before that goal is achieved, particularly when addressing disparities, inequalities and biases.
"We simply have to put this work right into the heart of our agenda for change," Christopher said.
The full forum can be viewed online at bit.ly/NPHWforum.
APHA also traveled to Emory University for a panel discussion held in partnership with the Centers for Disease Control and Prevention and the Emory chapter of the Georgia Public Health Association. The April 7 presentation discussed campus sexual assault prevention at Emory, and provided an overview of the challenges of campus sexual assault. It also highlighted prevention efforts, said Mighty Fine, MPH, deputy director of APHA's Center for Professional Development, Public Health Systems and Partnerships.
"The campus sexual assault panel provided public health students and professionals with an insight and perspective of the challenges faced on college campuses and what's being done to address this issue," Fine said. "It will require a multifaceted approach to fully address the scope of sexual violence."
NPHW activities draw attention online
APHA celebrated the success of its fifth annual NPHW Twitter chat. Held April 8, the live conversation focused on collaborations needed to become the healthiest nation. Once the event was over, almost 1,400 advocates took part, including CDC and Surgeon General Vivek Murthy, MD, MPH, sharing nearly 5,000 tweets with the #NPHWchat hashtag and causing the hashtag to trend nationally on Twitter.
APHA held its second NPHW Faceoff on Facebook. Pitting eight NPHW events against each other in a bracket-style friendly competition, APHA Facebook fans voted for the event that they liked best, with Missouri's Caldwell County Health Department taking top honors. The faceoff garnered more than 1,200 likes and 360 shares.
The Association also held an online contest this year. "We Can Do Better" asked participants to show how they used social media to highlight their events. Nearly 90 people submitted entries via email, Facebook, Twitter and Instagram.
Winners included:
Jerry Zee, PharmD, CPH, an APHA member who submitted a photo of the Monrovia Medical Unit survival wall in Liberia for health care workers who overcame Ebola infections;

Speak GW, a George Washington University student event photo that promoted eating disorder awareness and help-seeking; and

the William Sansum Diabetes Center, which included a photo of a participant managing blood glucose levels while hiking.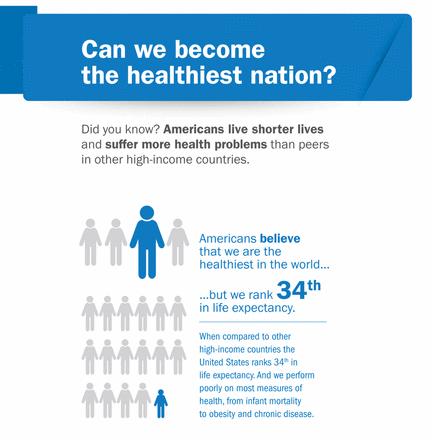 APHA also asked people to sign APHA's Healthiest Nation pledge and a promise to take small steps to lead to "a healthy me" and "a healthy we." Thousands of people signed the pledge during NPHW.
Advocates are also encouraged to read and share a new infographic developed by APHA for NPHW. The graphic, "Can We Become the Healthiest Nation?" points to steps the U.S. can take to improve lives, including focusing on prevention, improving nutrition and making health care accessible to all. The graphic is available at bit.ly/NPHWgraphic.
Also during NPHW, APHA member groups hosted webinars. APHA Component Affairs Coordinator Caitlin Sarlo said that APHA encouraged Sections to co-host webinars with other APHA member groups. Because of the collaboration, Sarlo said, there was greater participation in the webinars.
The Vision Care and Oral Health Sections hosted a webinar on diabetes, while the Alcohol, Tobacco and Other Drugs and International Health Sections hosted a webinar on substance abuse. The Health Communication Working Group of the Public Health Education and Health Promotion Section and the Community Health Planning and Policy Development Section webinar focused on obesity and diabetes.
Additionally in observance of National Public Health Week, APHA's Chiropractic Health Care Section distributed an evidence-based flier that its members developed about the global burden of spine pain, which ranks sixth in overall global disease burden. The flier was offered in English and Spanish and attracted endorsements from a number of organizations, including the American Chiropractic Association and World Federation of Chiropractic. Throughout NPHW, more than 260 people pledged to spread the word on spine pain. The Section plans to expand the initiative to include additional languages as well as educate the public on ways to prevent spine pain.
NPHW 2016 will be held April 4-10. For more information on this year's events or future NPHW celebrations, visit www.nphw.org.
Copyright The Nation's Health, American Public Health Association