Earlier this year, Doctors Without Borders wanted to reopen a clinic in southern Syria that had been destroyed during bombings. In response, local residents came out to protest — with health facilities being intentionally attacked, they feared that a new clinic would make the community a target for more violence.
"This kind of bombing targets the last spaces of humanity in war," Marine Buissonniere, senior coordinator at Doctors Without Borders, told The Nation's Health. "Clearly, in certain areas, it's about making life impossible for people. When the medical infrastructure is destroyed and it's completely or partially out of service, it not only disrupts the emergency services people need most, it also destroys the routine services…You're losing in the span of a few seconds what had made survival possible in areas where conflict had ravaged everything."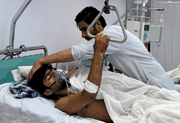 In the first few months of 2016 alone, Doctors Without Borders reported that 17 health facilities had been bombed in Syria, including six that the organization supported. Buissonniere said that across conflict zones in places like Syria, Afghanistan, Yemen and South Sudan, health and hospital facilities are being "targeted at an alarming rate." But with such little historical data on attacks against health care in emergencies, Buissonniere refrained from saying whether that "alarming rate" represents a trend on the rise or whether it reflects a dismal status quo. In fact, no one can say for sure whether violations of medical neutrality in conflict — a breach of international law, regardless — are going up or down because until just recently, few attempts had been made to collect comprehensive data.
The World Health Organization recently published a report detailing findings from its first project to consolidate and analyze data on attacks on health care during emergencies. Released in May and based on data gathered between January 2014 and December 2015, WHO's "Attacks on Health Care" reported 594 attacks on health care that resulted in 959 deaths and 1,561 injuries in 19 countries experiencing emergencies. According to the report, more than half of the attacks were against health care facilities and another quarter were against health care workers. In 62 percent of the attacks, health facilities and workers were intentionally targeted, WHO found. By far, Syria was home to the most attacks on health care in emergencies — during the two-year study period, WHO reported 228 such attacks in Syria. The West Bank and Gaza Strip came in second, with 53 health care attacks in 2014-2015.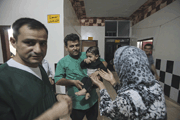 The WHO report is based on data from a number of open sources, including the Aid Worker Security Database, the Council on Foreign Relations and Physicians for Human Rights. And while such organizations have historically gathered data on health care attacks during emergencies, the WHO effort is a new attempt to standardize such reporting and consolidate the information into a single publicly available source. The WHO effort followed a landmark resolution passed by the United Nations General Assembly in December 2014 that for the first time recognized the severity of attacks on health workers, facilities and patients; called on states to abide by humanitarian law; and singled out WHO's critical role in gathering related data.
"It's not just understanding the number of attacks," said APHA member Leonard Rubenstein, JD, LLM, director of the program on human rights, health and conflict at the Center for Public Health and Human Rights within the Johns Hopkins Bloomberg School of Public Health. "In this realm, context is crucially important — what's happening in Syria is different than what's happening in Yemen, which is different than South Sudan and the West Bank. We're still at a very primitive stage of understanding the dynamics and motivations behind these attacks."
While the WHO work represents progress in consolidating such data, it is not alone in tracking such attacks. In 2012, Rubenstein founded the Safeguarding Health in Conflict coalition, a group of nongovernmental organizations working to protect health care during conflict and civil unrest, monitor attacks on health care and promote accountability for perpetrators. In May, the coalition released "No Protection, No Respect," which reported that during 2015 and early 2016, intentional or indiscriminate attacks on health care killed medical workers and patients and destroyed medical infrastructure in 19 countries.
In describing the problem, the coalition report offered a horrifying picture of health care under attack. For instance, in Afghanistan, Iraq, Libya, Syria and Yemen, hospitals have been subject to aerial bombing and ground-launched explosives; in Syria, 27 percent of health workers killed in 2015 were shot, executed or tortured to death; and in the Democratic Republic of the Congo, seven patients and a nurse were murdered inside a clinic. Rubenstein said the absence of international accountability for such acts — especially the "utter impunity" with which attacks are happening in Syria — is creating a global environment in which armed forces believe they can violate international law and the neutrality of care without punishment.
"The only way to stop this is with an ultimatum that there will be consequences if these kinds of attacks continue," he told The Nation's Health.
The impacts of intentional attacks on health care go far beyond a lack of services for those injured in conflict. Such attacks also wipe out services for everyday health issues, from prenatal care to asthma care, and scare local residents from seeking out needed medical services, said APHA member Susannah Sirkin, MEd, director of international policy and partnerships at Physicians for Human Rights. Sirkin said Physicians for Human Rights has been tracking attacks on health workers for three decades, but not in a comprehensive way.
In addition to supporting WHO's new role in data collection, Sirkin said Physicians for Human Rights is also calling on U.N. officials to request that governments begin reporting such attacks. The request, she said, can be tied to implementation of a new U.N. Security Council resolution unanimously adopted in May that reaffirms protections for health workers, hospitals, clinics, the sick and wounded in war zones. Sirkin noted that aside from illustrating the scope of the problem, richer data could pinpoint emergent situations before they become normalized.
However, better data has little effect without accompanying action. On that front, Sirkin said there has to be a "robust and immediate" response by the international community when humanitarian norms are violated. She added that the U.S. missed an opportunity to lead by example when military officials decided to conduct an internal investigation, as opposed to an independent one, into an October 2015 U.S. airstrike that hit a Doctors Without Borders hospital in Kunduz, Afghanistan, killing health workers and patients. A Pentagon investigation into the bombing described the attack as "human error."
"The U.S. needs to decide whether it's sending the right signal to the world on how we should hold leaders and perpetrators accountable, even in the case of a so-called mistake," Sirkin said. "This is not only a legal issue, but a moral issue and one that should cause all of us to feel a pang of conscience. There's a reason these types of crimes in their extremes are called a crime against humanity."
For more information on protecting health care during emergencies, visit www.safeguardinghealth.org. For the recent WHO report, visit www.who.int.
Copyright The Nation's Health, American Public Health Association