With some DeKalb County, Illinois, residents living in areas marked by limited access to grocery stores with fresh produce, staff at DeKalb County Community Gardens decided to bring the food directly to the people.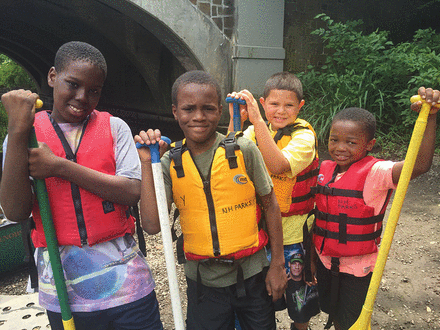 After piloting Grow Mobile, a traveling van to bring fruits and vegetables to underserved county areas in 2015, gardens director Dan Kenney and community partners applied for opportunities to expand by creating a traveling health oasis of fresh food, nutrition education and health services.
They found one in the Healthiest Cities & Counties Challenge.
A partnership of APHA, Aetna Foundation and the National Association of Counties in collaboration with CEOs for Cities, the challenge encourages cities, counties and federally recognized tribes to form community partnerships to solve issues related to social determinants of health, such as access to healthy food, for a chance to win prize money.
"Approximately 90 percent of the factors affecting risk of premature death exist outside of a doctor's office or hospital," Mark Bertolini, Aetna chair and CEO said in a Sept. 15 news release. "The Healthiest Cities & Counties Challenge supports communities that are working to address and improve these factors and build a healthier world, community by community."
DeKalb's Grow Mobile and Health Oasis Caravan program is one of 50 challenge finalists chosen for $10,000 in seed money each for community-based projects that improve public health in areas such as nutrition, physical activity and reducing tobacco use. Communities across the nation applied this year to be part of the challenge.
The 50 finalists encompass large cities — such as Miami; Richmond, Virginia; and Anchorage, Alaska — and smaller ones such as Avondale, Arizona, and Perris, California. The finalists include over 20 counties around the nation.
The community projects are varied, from a Kansas City, Missouri, effort to develop a youth and family violence prevention plan to lower crime, to a Des Moines, Iowa, push to help low-income families reduce asthma triggers and create healthier homes.
Health workers in Illinois are particularly grateful for the challenge seed money. For over a year, Illinois lawmakers failed to pass a state budget, which paralyzed the funding of many public services, including public health departments.
"This is huge for our effort in DeKalb County because unlike other states, we don't have any backing from our state to make projects like this possible," said Kenney, whose multiple program partners include the DeKalb County Health Department and Northern Illinois University.
Rewards from the challenge do not stop with the $10,000 seed money. Programs that show the most measurable change in health outcomes in two years, according to a Healthiest Cities & Counties Challenge expert panel, have the chance to win from $25,000 to $500,000, depending on their population size. A total of $1.5 million will be awarded by the challenge's end.
In addition to money, APHA and other challenge partners will provide technical assistance to the 50 finalists, such as guidance on how to work with other sectors, said Susan Polan, PhD, APHA's associate executive director of public affairs and advocacy.
"Once the two-year period ends, the relationship won't go away," Polan told The Nation's Health. "The goal is to help them move forward with sustainable change in their community."
All applicants will also have access to an online learning network where they can learn about project work and share best practices. The intent is to have a wealth of health and well-being strategies that other health advocates can emulate in their own communities.
In New Haven, Connecticut, one of the 50 finalist communities, leaders of the New Haven Asthma Alliance hope their initiatives, such as an effort to provide school public health nurses access to electronic health records of students, will be a best practice to share in the future.
"We just have a substantially higher rate of asthma in New Haven than the rest of Connecticut," Maria Damiani, director of maternal and child health at the City of New Haven Department of Health, told The Nation's Health. "There are huge racial and ethnic disparities as well. Our children are exposed to smoking daily. We thought that if we coordinated this effort really well and had access to the electronic health records at the hospitals that we'd be able to track these children a lot better."
The alliance hopes to continue programs such as Camp Easy Breezy — A Camp for Kids with Asthma, a partnership with the City of New Haven's Department of Parks, Recreation and Trees. Piloted this summer, over 20 children with asthma enrolled in the camp, through which information about asthma triggers, smoke-free homes and medication went home to parents.
Because resources for public health entities are scarce, being one of the 50 finalists is an opportunity to leverage any future success to gain even more assistance to keep programs such as the camp going, Damiani said.
Challenge partners kept the community health conversation going throughout the fall. A live discussion "Healthy Cities, Healthy Towns: An Atlantic Forum" held in September in Washington, D.C., featured experts such as APHA Executive Director Georges Benjamin, MD, who talked about evidence-based work that has improved the health of communities across the U.S.
An Oct. 6 Twitter chat hosted by APHA was scheduled to discuss what communities across the U.S. must do to tackle health equity and examples of how some of the 50 finalists are accomplishing that goal.
"We know that efforts to address these social determinants of health are necessary to create health equity, and that's why we're so excited for our 50 cities, counties and tribes," Benjamin said in the news release. "Their innovative work is leading to better health in their own world and beyond."
For more information about the Healthiest Cities & Counties Challenge and the finalists' projects, visit www.healthiestcities.org.
Copyright The Nation's Health, American Public Health Association