Shaking up a traditional exercise routine can make working out more rewarding, and certainly more fun, as the Lerner Center for Public Health Promotion at Syracuse University demonstrated this year for National Public Health Week.
The center collaborated with Pet Partners of Central New York, a local chapter of a national organization that offers animal-assisted therapy and activities with the help of people-animal volunteer teams. Each Monday in April, dogs from the organization joined members of the Syracuse community for a Monday Mile walk throughout Onondaga County.
"We need to look into different, alternative methods of public health and not just rely on the traditional ones," center fellow Guillermo Guasp Pérez told The Nation's Health.
Dogs are not an unusual component of public health, according to Amy Slutzky, PhD, MSLIS, of Pet Partners of Central New York. The organization's mission "to improve human health and well-being through the human-animal bond" is closely tied to public health, Slutzky told The Nation's Health.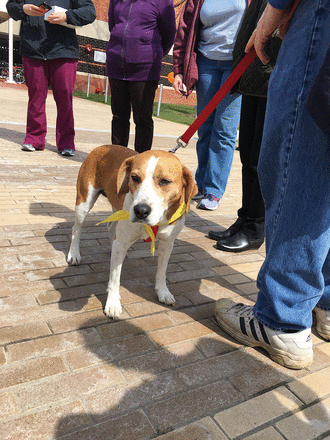 Research has shown that being around dogs has numerous advantages for humans, such as lowering people's blood pressure and heart rate. Dogs also make excellent workout partners.
"There's no doubt that people with animals, particularly with dogs, get more exercise," Slutzky said, noting that they act "kind of like a personal trainer — the dog doesn't leave you alone."
But dog ownership is not necessary to reap the benefits of animal-assisted interventions. Just a few minutes interacting with a dog can improve human health, Slutzky said.
Pérez said the Monday Mile walks with dogs garnered a lot of positive feedback, as well as interest in getting involved with Pet Partners. For people who do not typically enjoy walking, having a furry companion by their side may have been an incentive to get moving.
"It takes off a little bit of the difficult commitment that it represents for some people to do Monday Mile walks," Pérez said.
For more information on Pet Partners, visit www.petpartners.org.
Copyright The Nation's Health, American Public Health Association