Arthur Johns' doctors were worried. He weighed 479 pounds, had diabetes, high blood pressure and high cholesterol. He took multiple medications each day to control his chronic ailments.
That was four years ago. These days, Johns, 54, works out at a gym five days a week and eats healthy meals. The 6-foot, 2-inch Mecklenburg County, North Carolina, resident has lost more than 200 pounds, and he is off his medications, he said.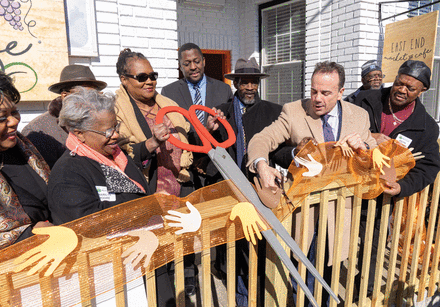 "I owe it to the Lord and Village HeartBEAT," Johns told The Nation's Health.
On Feb. 12, APHA and partners announced that Village HeartBEAT, an initiative of the Mecklenburg County Health Department, had won the Healthiest Cities & Counties Challenge for communities with populations over 250,000. In the category of populations between 65,000 and 250,000, the winner was the Coalition United to Reach Equity in Bridgeport, Connecticut.
Village HeartBEAT received $500,000 toward its project, and CURE received $250,000.
"While every community faces unique health issues, we know a lot can be accomplished when cities and counties join forces," said APHA Executive Director Georges Benjamin, MD. "All health is local, and APHA is looking forward to seeing what can be accomplished when these challenge communities are empowered."
The Healthiest Cities & Counties Challenge was created through a partnership of the Aetna Foundation, APHA and the National Association of Counties. A two-year, $1.5 million competition, the challenge involved 50 projects across the U.S. that developed programs to improve measurable health outcomes and promote health and wellness, equity, partnerships and social interaction in their communities.
At the halfway point last year, the Aetna Foundation announced that 10 of the most promising programs would each receive Spotlight Awards of $25,000 to fund their projects.
"Creative funding approaches are required to move innovation forward," Pattie MacRae, executive director of corporate public involvement at the Aetna Foundation, told The Nation's Health. "We recognize the potential of letting community residents develop homegrown solutions to the problems that affect their health, and the design of the challenge reflects that belief."
Begun three years ago, Village HeartBEAT, which stands for Building Education Accountability Together, strives to build healthy lifestyles. The project focuses on Charlotte, North Carolina's low-income black communities, where there are high rates of smoking, obesity and metabolic syndrome.
In these communities, church leaders carry a lot of authority, and organizers wondered what would happen if pastors used their authority to help congregants get healthy. Thus was laid the cornerstone of Village HeartBEAT, which currently has over 20 participating churches with a goal of adding about 40 more, Marques Fitch, vice president of health strategies at the American Health Association, told The Nation's Health. One of those churches is Charlotte's Moore's Sanctuary AME Zion, which Arthur Johns attends.
Participating churches are building walking paths, serving healthy foods in community kitchens, hosting physical activity events and declaring their premises tobacco-free, Cheryl Emanuel, MS, senior health manager in the office of community engagement at the Mecklenburg County Health Department, told The Nation's Health.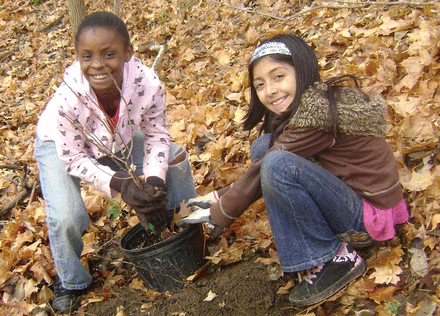 "We are trying to create a framework where health is a shared value," Emanuel said.
Among the church leaders making a difference is Bishop Wade Ferguson of Fifteenth Street Church of God, where the community kitchen serves healthy meals with plenty of fruits and vegetables. Ferguson works out at a gym most mornings and is an avid cycler.
"You have to lead from the front," he told The Nation's Health.
Along with churches, Mecklenburg County Park and Recreation and various health organizations such as the YMCA are participating by offering safe spaces to exercise.
The second winning project in the Healthiest Cities & Counties Challenge also utilizes churches and other local organizations. The East End Neighborhood Revitalization Zone in Bridgeport, Connecticut, formed after three residents of Bridgeport's poverty-stricken East End — Deborah Thomas-Sims, Kristin duBay Horton and Deborah Cavines — met for coffee.
Many East End community members suffer from chronic illnesses related to obesity and inactivity. That is in part because residents, who are predominately black and Hispanic, do not have dedicated exercise space, and they do not have local grocery stores to shop at. So they buy at convenience stores, which do not stock a lot of nutritious options, Sims, vice president of the East End project, told The Nation's Health.
The women decided to establish a market and cafe to offer healthy food options and exercise space. Soon after, a dilapidated 1,500-square-foot building was donated by the Bridgeport Neighborhood Trust, Sims said. A major renovation by community volunteers and organizations followed.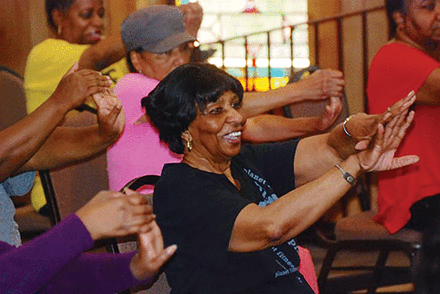 Thirty neighborhood churches were asked to encourage their congregants to spend $10 a week in the East End Pop-Up Market and Cafe, which is 90 percent complete, Sims said. The cafe will offer prepackaged healthy meals, and some of the building will be dedicated to physical activities.
A jobs program is also part of the East End project. Organizers plan to hire four teenagers from the Project Longevity Program, a Connecticut initiative of police agencies and community groups that helps local youth stay away from gun violence by broadening their experiences.
"The market is really about changing lives on the East End," Sims said.
Thousands of disadvantaged communities such as the East End of Bridgeport exist, Sims said, and there are thousands of community members across the country who want to uplift their neighborhoods.
Organizers hope the market and cafe will be self-sustaining — without grant support — within three years.
Eight other projects were finalists in the Healthiest Cities & Counties Challenge. The Aetna Foundation awarded $50,000 to each finalist with populations over 250,000, and $25,000 to each finalist in the smaller population category.
One of the finalists receiving $50,000 was Louisville Metro Parks and Recreation's West Louisville Outdoor Recreation Initiative. The program has brought nature-based education to urban neighborhoods, offering outdoor activities designed to build healthier lifestyles and community in 12 disadvantaged Louisville neighborhoods.
Families are taking part in biking, archery and hiking in Louisville parks and canoeing on the Ohio River, Bennett Knox of Louisville Metro Parks and Recreation told The Nation's Health. Some of the teenagers have assumed leadership roles, which can help them on the job market, he said.
Plans are to complete an outdoor learning center in Louisville's Shawnee Park that will host recreation and exercise activities. The center's opening is scheduled for 2021.
"We want to improve health outcomes for youth that they can take into adulthood," Bennett said.
Another finalist, this one earning $25,000, is a Kansas City, Kansas, project led by the Wyandotte County Department of Parks and Recreation.
People in Wyandotte County are among the unhealthiest in Kansas, having illnesses and diseases related to unhealthful diets and inactivity. Lack of investment in many neighborhoods has led to a lack of sidewalks, bike routes, walking trails and parks, Janell Friesen, a project organizer, told The Nation's Health.
The project, called Healthy Community Corridor, centered around a 4.5-mile bike way connecting 12 neighborhoods. Other improvements were a hard-surface walking trail, lighting in gathering areas and formation in five parks of walking groups and community events.
The goal is to have "outdoor spaces that are safe, easy to access and inviting, where residents can enjoy being active in their community and connecting with neighbors," Friesen said.
Other challenge finalists have also made progress in their communities:
The Danville-Pittsylvania County United Fund's Health Collaborative works to create healthy living policies in a region on the border of Virginia and North Carolina. The collaborative has changed the conversation on health in the Dan River Region, bringing together people from across the area.

The Chatham Health Alliance works to decrease obesity in Chatham County, North Carolina. The alliance is part of the county's 25-year Comprehensive Plan to track community health trends and promote collaboration and resource sharing to achieve a healthy, equitable community for all.

The Waco-McLennan County Public Health District in Texas has used a data-driven approach to increase healthy eating, relying on a vegetable prescription service and a coalition of established partners to reach the people most in need.

The Camden SMART Initiative in Camden, New Jersey, has enabled the community to institute creative solutions in green infrastructure, addressing hazardous urban flooding from extreme rainfall and bringing attention to environmental justice. SMART stands for Stormwater Management and Resource Training.

The Hillsborough Metropolitan Planning Organization in Hillsborough County, Florida, created a web-based Health Atlas, mapping health and transportation indicators to identify gaps in food access and walkability.

Live Healthy Little Havana in Miami has taken a holistic approach to establishing a trusting community. Organizers are creating access to health services, making streets safer for pedestrians and working with police to reduce crime.
For more information on the challenge and the 50 projects, visit www.healthiestcities.org.
Copyright The Nation's Health, American Public Health Association