In San Antonio, Texas, leaders understand the importance of policy to protecting and improving the public's health.
Elected officials and health workers in the south Texas city regularly collaborate on policies. For example, San Antonio Mayor Ron Nirenberg, MA, and Colleen Bridger, MPH, PhD, director of the San Antonio Metropolitan Health District, were successful in passing an ordinance that raised the legal age limit to buy tobacco products in San Antonio to 21. Some strategizing was necessary to make it happen, but the effort showed that working together on public health policy pays off: The Tobacco 21 initiative was enforced beginning Oct. 1.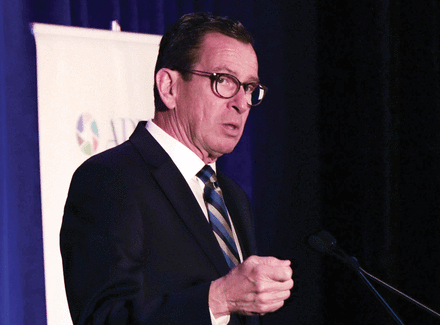 Those and other lessons were shared at APHA's Policy Action Institute on Feb. 6 in Washington, D.C. The event, "Public Health Under Siege: Improving Policy in Turbulent Times," was attended by about 350 people, who heard speakers discuss ways to turn a health plan into policy at a local or national level. Among the speakers were Henry Waxman, JD, who served in the House of Representatives for 40 years; Dannell Malloy, JD, a former governor of Connecticut; Leana Wen, MD, MSc, president of Planned Parenthood; and Rep. Nancy Pelosi, D-Calif., the speaker of the House of Representatives.
Improving public health policy involves many factors, the speakers said. Among them is tenacity, working well with others, garnering support from the public and advocating for plans based on data and science.
"When people ask what the solutions are to so many of our problems, I always say the same thing: 'Science, science, science,'" Pelosi told the audience. "And when they say you must make a choice between faith and science, I say, 'Science is the answer to our prayers.'"
Turning science and research into policy can also mean bucking what is popular at the moment and doing what is right, Malloy, Waxman and Mary Gavin, MS, chief of police of Falls Church, Virginia, said.
"You can't worry about popularity when talking about gun control," Gavin said on her topic of expertise.
The event marked the first public details of a federal proposal to end HIV transmission in the U.S. by 2030, announced by President Donald Trump during the State of the Union the previous night. Brett Giroir, MD, assistant secretary for health at the U.S. Department of Health and Human Services, which oversees the plan, told the gathering that the science and strategy are in place to make it happen.
But the process is not always smooth when it comes to policy changes.
Pelosi lamented the yearslong federal battle to stop detractors from picking apart the Affordable Care Act. But she also said that by keeping to the data and science of how the law has helped people, public opinion has shifted in the act's favor.
"Ten thousand health events were held across the country (in support of the ACA)," Pelosi told the audience. "Those events give us hope. When people know their presence is important, anything is possible."
Waxman, a champion of many public health policies during his decades in Congress, said banning smoking in public places took years to ramp up. The key to policy success was constantly presenting science-based evidence of the health dangers of smoking and second-hand smoke, he said. It paid off Feb. 25, 1990, when cigarettes were banned on most domestic flights longer than six hours. Today, many states ban smoking in all indoor public places.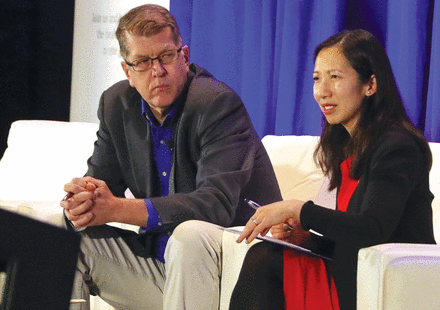 "Be persistent," Waxman told the audience. "You have to stay with an issue, look at it with a broad context," and have a "relentless focus on science."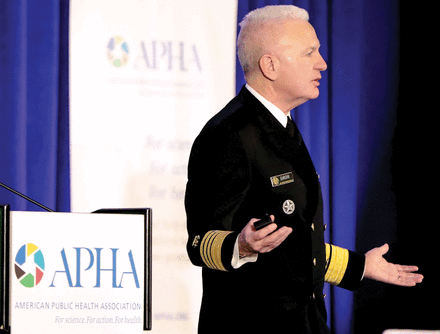 A leitmotif at the event: The time to act is now. Boris Lushniak, MD, MPH, dean of the University of Maryland School of Public Health, listed the 10 most important public health achievements of the 20th century. He energized the crowd by saying the top 10 public health achievements for the 21st century are now underway.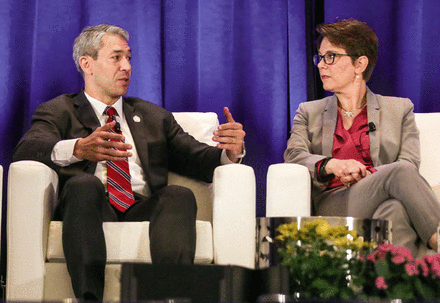 Jason Kirkpatrick, a nursing student and member of the American Journal of Public Health 2019 Think Tank, said the dean gave an exhilarating send-off.
"We need to ask ourselves, 'What do we want on that list?'" he told The Nation's Health.
For APHA member Monica McLemore, PhD, MPH, RN, an assistant professor at the University of California-San Francisco, the event was uplifting.
"Despite the fact that public health policy is under siege, there are ways to fight back," she told The Nation's Health.
For more on the institute, which APHA plans to make an annual event, visit www.apha.org/policy-action-institute.
Copyright The Nation's Health, American Public Health Association