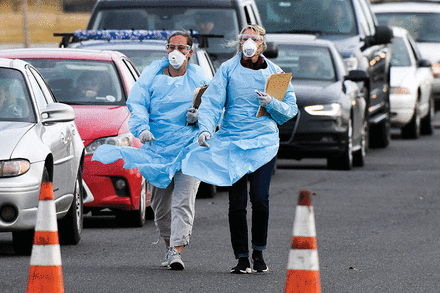 Forty miles from the state capital, Jackson County, West Virginia, is home to about 29,000 people and 25 hospital beds. Like much of the state, the rural county is reeling from the opioid epidemic.
That vulnerability was top of mind as the county readied for the arrival of COVID-19, according to Wendy Staats, emergency preparedness coordinator at the Jackson County Health Department.
In the weeks before West Virginia confirmed its first case of novel coronavirus on March 17, the county agency activated a range of outreach and preparedness efforts, such as working with local school officials to send fact sheets home with students, partnering with senior centers to educate older residents about social distancing, and hosting its first Facebook Live forum to take questions from the community.
Emergency hospital sites and stockpiles of medical supplies were readied to care for a surge of patients — plans put in motion more than a decade ago when U.S. pandemic planning took on new urgency in the wake of the H5N1 influenza outbreak.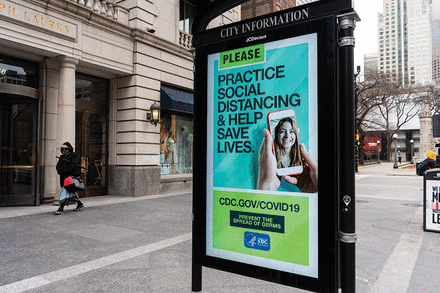 But the ongoing opioid crisis and its aftermath present special challenges for the county, Staats said. For example, the opioid epidemic has left many more older and vulnerable residents raising their grand-children, which could impact their risk of exposure to the novel coronavirus.
Diseases that typically accompany high rates of injection drug use, such as HIV and hepatitis C, put people at greater risk of complications from COVID-19. And the opioid epidemic has left many people without stable housing and a permanent address, which makes isolation and quarantine especially difficult. To help bridge those gaps, Staats said the agency is depending on the trust it has built up through its syringe services program to keep vulnerable residents educated and engaged in the community's COVID-19 response.
"We're a close-knit community and so there's not a lot of panic when a crisis happens," Staats, an APHA member, told The Nation's Health in March. "We're starting to get an influx of calls, but it's nothing we didn't expect. Right now, we're just taking it one day at a time."
As of March 24, the number of confirmed U.S. cases of COVID-19 had topped 54,000, with infections in every state, Washington, D.C., Puerto Rico, Guam and the U.S. Virgin Islands. There had been almost 740 deaths. Delays had put diagnostic and surveillance testing dangerously behind, frontline health workers were running out of protective equipment and surge capacity, and hospitals were bracing for a crush of patients.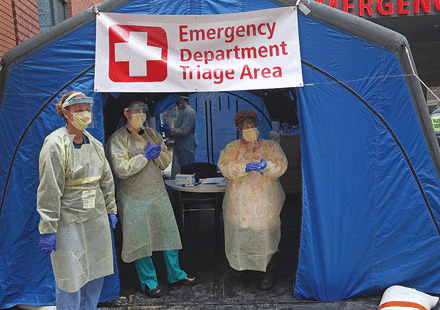 Across the country, residents were urged to stay home, as schools, workplaces and non-essential businesses shut down. Government estimates released March 13, the same day President Donald Trump declared a national emergency, warned that the pandemic could last 18 months or longer.
Inside the nation's health departments, officials activated their emergency response plans, tracing and tracking potential infections, educating the public on prevention and the importance of staying home and physical distancing, working with providers to get people tested, reaching out to vulnerable populations and settings, and leading decisionmaking on closures and mitigation efforts to slow the virus' spread.
But years of underfunding and workforce losses mean public health capacity is simply not as robust as it needs to be — a serious vulnerability that health advocates have been warning about for years.
Since 2008, local health departments have lost more than 56,300 jobs, and essential emergency preparedness funding that flows from the Centers for Disease Control and Prevention declined by more than a third between fiscal years 2002 and 2017. In the most recent federal budget proposal, released in February, the White House recommended cutting public health preparedness and response by more than $25 million.
"What happens is that you just don't have a deep bench waiting there to be activated — you're starting from a place of deficit," said Adriane Casalotti, MPH, MSW, chief of government and public affairs at the National Association of County and City Health Officials, which activated an incident command structure to support local health agencies. "At a local level, health departments don't have a pile of dollars waiting to be activated."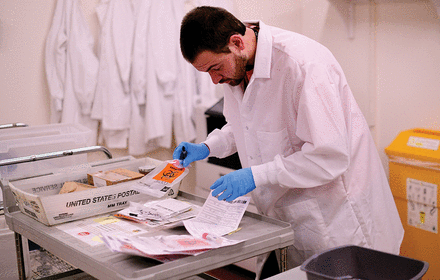 On March 6, federal lawmakers authorized $8.3 billion in emergency funding for states, localities, territories and tribes. On March 11, CDC announced that $560 million of that funding would be awarded in an initial round to state and local jurisdictions. Initially, the Trump administration proposed taking emergency funds from other important public health line items, such as immunization and environmental health programs. But thanks to the work of public health advocates, the final emergency funding law did not include that proposal, ensuring any shifted funds get replenished.
"Depleting other areas of public health doesn't help us as a nation," NACCHO's Casalotti told The Nation's Health in March. "Response will always be complicated, so we need to do everything we can not to add to that burden, and it's difficult to do that when there's a lot of mixed messages. The more everyone can be on the same page and clear and honest, the better we're able to focus on the things we need to do at the local level."
Federal emergency funds are "essential and lifesaving," said John Auerbach, MBA, president and CEO of Trust for America's Health, in March. State and local resources are not enough on their own to combat COVID-19, he said.
"The public health system is frayed at the edges right now from underfunding," said Auerbach, an APHA member. "There have clearly been other factors here that impeded the early response (to COVID-19). We should have been doing widespread testing much earlier. There should have been national messaging much earlier...But this is another reminder that we are not serving the public well when we only pay attention to public health during a tragic event."
Pandemic shows gaps in safety net
The pandemic is also exposing and exploiting glaring social and economic inequities, such as gaps in paid sick leave, health coverage, wages and access to clean water, issues that public health advocates have long warned pose a threat to the nation's health security. At every level of government, policymakers are working to mitigate those gaps — such as extending paid sick leave to some workers, halting evictions, re-opening insurance enrollment and ensuring free COVID-19 testing — but shortfalls remain.
"This crisis brings into crystal-clear focus that the social determinants of health and the inequities we see, as well as social factors like racism and poverty, are creating the foundations for resiliency or risk," said APHA member Carlene Pavlos, MTS, executive director of the Massachusetts Public Health Association. "We are only as safe and prepared as our most marginalized communities."
In March, the APHA-affiliated association convened an Emergency Task Force on Coronavirus and Equity that quickly issued actionable steps that state lawmakers could take to protect residents disproportionately at risk from and affected by COVID-19 and its economic consequences.
The task force included stakeholders from across vulnerable communities, including those representing immigrants, low-wage workers, food service providers, health care providers and people who are homeless or have disabilities.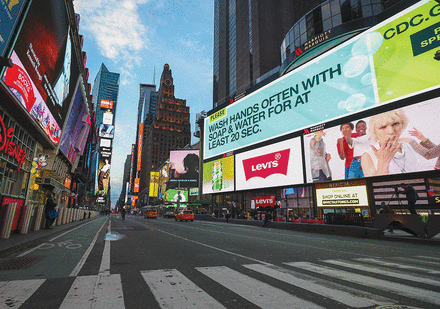 "We can respond in a way that builds public health and community resilience, and healthy, equitable communities for the long term," Pavlos told The Nation's Health.
In Missouri, APHA member Rex Archer, MD, MPH, director of health at the Kansas City Health Department, said knowledge of how to effectively respond to health emergencies gets better every year, but the shrinking local health workforce is a barrier.
"It's like our brain has expanded in knowing what to do, while our arms and legs are getting cut off," Archer told The Nation's Health.
In mid-March, Archer said the majority of his agency's COVID-19 testing requests had been denied based on CDC's testing criteria. There were no resources available to do surveillance testing in the city, he said.
Communication challenges had been steep as well, Archer told The Nation's Health, noting that the agency initially was "hammered" with calls from providers and residents reacting to false information coming out of the White House that anyone could access COVID-19 testing.
Echoing Pavlos, he said the pandemic is a stark reminder that health equity is key to health security. As of March 18, Missouri had confirmed 24 cases.
"Shame on all of us if we go through this crisis and don't get mandatory sick leave for our population," Archer said. "Shame on all of us if we don't solve the issue of health care access. Shame on all of us if we can't figure out how to feed folks living paycheck to paycheck. We need to face these issues."
For COVID-19 public health resources and updated situation reports from CDC, visit www.cdc.gov/coronavirus. For COVID-19 resources from APHA, visit www.apha.org/coronavirus and www.aphagetready.org.
Copyright The Nation's Health, American Public Health Association