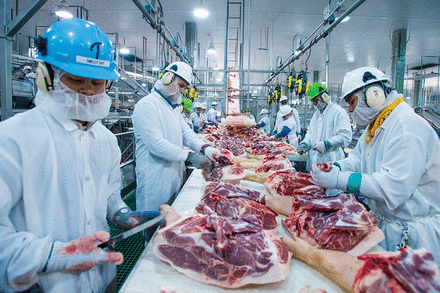 Coordinated work against COVID-19 between health officials in northern Utah and a local meatpacking plant began in early March — before any confirmed cases in the area. By the end of May, at least 287 of the plant's employees had been infected.
"But we believe the actual number of cases linked to the facility is likely higher," Josh Greer, public information officer at Bear River Health Department in Logan, Utah, told The Nation's Health in June. "Trying to trace each case is becoming less and less realistic."
Typical working conditions inside meatpacking plants make the perfect setting for coronavirus spread. Employees work close together; they breathe heavily while doing physically intense, high-speed labor, which makes it harder to consistently wear face coverings; the plants are cold, which may affect how well the virus survives; and workers often lack access to paid sick leave.
Nationwide, as of late June, infections tied to meatpacking facilities had climbed to nearly 28,000 cases and 100 deaths across 250 plants, according to the Food and Environment Reporting Network, which is mapping COVID-19 outbreaks in the food system.
Greer said health staff worked closely with the JBS beef plant in Hyrum, Utah, as it readied for COVID-19. He said the plant reported a number of preventive measures, such as temperature screenings, face shields, increased sanitation and plastic dividers between workers on the processing line to keep people safe. But none of it kept the virus away. Near the end of May, local COVID-19 case numbers suddenly rose, prompting a mass testing event at the Hyrum plant. Of the almost 1,000 workers screened, about a third were positive.
Without enough resources to contain the outbreak on its own, Greer said the Bear River Health Department quickly recruited staff from other local health agencies to help with disease investigation and tracing. The Centers for Disease Control and Prevention also stationed a team at the health department. But the challenges are steep, Greer said in June, and the caseload is overwhelming.
"This has been an experience like none other," he said.
Across the U.S., fewer than one-third of workers can do their jobs from home, putting the rest of the labor force at higher risk of COVID-19 and underscoring the critical role of workplace safety in preventing spread. There is no way to know exactly how many U.S. COVID-19 infections are due to workplace exposures, though some sectors — such as health care, food processing, meatpacking, agriculture, public transit, retail and sanitation — face higher risks and are hotspots for infection.
On June 25, United Food and Commercial Workers International Union reported that 238 of its members — workers in the grocery, meatpacking, food processing and health care industries — had died from COVID-19 and about 29,000 had been infected or exposed in the pandemic's first 100 days. In response, the union called for reinstating hazard pay in all states where COVID-19 is rising, mandating masks in public and creating a national registry where all employers with more than 1,000 workers have to regularly release data on COVID-19 illnesses, deaths and exposures.
Despite pleas from APHA and other advocates, the U.S. Occupational Safety and Health Administration had failed to issue an emergency safety standard for COVID-19 as of early July, relegating worker safety to a patchwork of state systems and voluntary guidance. A June report from the Department of Labor's Office of Inspector General found that "unless proper precautions are taken, avoidable COVID-19 infections and deaths may occur" as more people return to work.
"In many ways, workplace exposures have become the fulcrum of the epidemic," said APHA member David Michaels, PhD, MPH, who served as OSHA's longest-serving administrator from 2009 to 2017 and is now a professor at the George Washington University Milken Institute School of Public Health. "This is an unprecedented worker safety crisis."
There is no existing OSHA rule that comprehensively addresses an employer's duty to protect workers from airborne infectious disease. The agency has issued guidance for employers — such as it did for meatpacking plants in April — but the recommendations are not mandatory. And while an emergency OSHA rule would not eliminate COVID-19 risks, Michaels said it could still make a difference, despite OSHA's severely limited enforcement resources.
"If OSHA moved quickly and issued some high-profile, high-penalty citations, that would send a very strong message to employers," Michaels said, citing a recent study that found one OSHA news release about violations yielded compliance equal to more than 200 inspections.
In May, AFL-CIO sued OSHA to compel it to issue a temporary emergency COVID-19 rule that would require employers to develop COVID-19 safety plans. A court ruled against the union in June, and it promptly filed for a rehearing, said APHA member Rebecca Reindel, MPH, MS, director of occupational safety and health at AFL-CIO.
Many essential workers who face the highest COVID-19 risks also have the fewest labor protections and face the biggest barriers to speaking up about safety, Reindel said. A recent survey from the National Employment Law Project found that Black workers were twice as likely as white workers to report that they or a fellow employee may have been punished or fired for speaking up about COVID-19 risks at work.
"Right now, workplace safety and public safety are so interconnected," she told The Nation's Health. "If workers aren't protected, then everyone's at risk."
In some cases, state labor agencies are stepping into the gap. In April, for example, Oregon OSHA issued a temporary COVID-19 rule for agricultural operations after farmworker and health advocates petitioned the agency. The rule went into effect in June and focuses on field sanitation, labor housing and transportation, said Aaron Corvin, a spokesperson for Oregon OSHA. Nationwide, as of June 23, about 2,700 farmworkers had tested positive for COVID-19 and two had died, according to the Food and Environment Reporting Network.
Corvin noted that in the initial days of the pandemic, Oregon OSHA received more than 2,000 complaints related to COVID-19 within two weeks. In usual times, the agency receives that many in a year, he said.
"Our main message is that employers have to be making these modifications," Corvin said. "You can't be doing business as usual."
In Utah, the Bear River Health Department is working with a local university to house meatpacking workers who cannot isolate at home, and partnering with trusted community members to distribute health information and overcome language and cultural barriers. Greer said any attempt to shut the plant down would be a "huge battle."
"But if things went south," he said, "we'd work to do what's right."
For more on worker safety and COVID-19, visit www.coshnetwork.org/coronavirus.
Copyright The Nation's Health, American Public Health Association