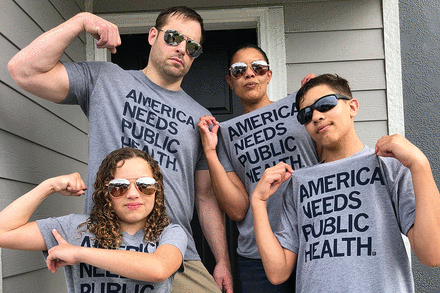 Iowa uses T-shirts to promote health
For organizations such as the Iowa Public Health Association, the COVID-19 pandemic has been a dire call to action. It also disrupted the association's annual meeting, cutting critically needed revenue for the APHA Affiliate.
To help replace the missing funds, the Iowa association partnered with a local print shop on a T-shirt fundraiser. Sold in three colors, the shirts boldly share the message that "America Needs Public Health."
As of July, IPHA had printed over 250 shirts, with more orders coming in regularly.
"Our members have loved the shirt," Lina Tucker Reinders, MPH, IPHA executive director, told The Nation's Health. "The proceeds of the T-shirt sales will help fill those gaps and allow us to continue our work on important issues like health equity coalition building, immunization advocacy and professional development for our members."
The Iowa organization has advocated for evidence-based public health policy from the onset of the pandemic. In April, Reinders published an op-ed in The Des Moines Register calling for state leaders to include Blacks and Hispanics, who are disproportionately impacted by COVID-19, in policy conversations.
To purchase a T-shirt, visit bit.ly/iowashirt. For more on the Iowa association and its work, visit www.iowapha.org.
Mid-Atlantic partners thrive with webinars
While physical distancing has uprooted countless well-laid plans, an embrace of technology has opened doors to others.
Such is the case for the new Mid-Atlantic Regional Public Health Partnership formed by the Delaware, Maryland and Pennsylvania Public Health associations.
At APHA's 2019 Annual Meeting and Expo in Philadelphia, the three associations made tentative plans for a joint annual conference. However, the proposal was derailed because of the COVID-19 pandemic.
"We quickly pivoted from planning an in-person conference in the fall to talking about how we could come together and find a way to talk across state lines," Tim Gibbs, MPH, executive director of the Delaware Academy of Medicine-Delaware Public Health Association, told The Nation's Health. "We settled on a weekly (webinar) where we have covered a myriad of topics."
The webinars have covered topics such as racial health equity in the wake of the police killing of George Floyd and the importance of data collection as COVID-19 cases surged this summer.
The series has been successful in bringing together a range of diverse voices across state lines, Gibbs said.
"We are now completely unfettered by geographic limitations," said Gibbs, who is an APHA member. "And each state, each county and city has taken different approaches to tackling these problems, so the opportunity for us to conveniently come together is extraordinarily valuable."
For more information on the series, visit www.delamed.org.
Kansas association celebrated 100 years
The Kansas Public Health Association is marking 100 years of service in the Sunflower State this year.
Created in 1920, the organization was founded by public health pioneer Samuel Crumbine, who took bold stands against the spread of infectious disease, such as condemning the use of group "pest houses" for people with communicable disease. He also crusaded against food and drug companies that promoted false curative claims and helped invent the fly-swatter as a way to combat typhoid.
Since Crumbine's early-20th century work, the Kansas association has fought to continue his legacy by tackling modern public health issues.
"When it comes to the important public health work over the past 50 years or so, you have to consider work on the reduction of tobacco use," KPHA President Daniel Craig, MS, told The Nation's Health. "And while we have had big wins, such as on a clean indoor air ordinance, we're now fighting to prevent losing another generation to tobacco because of e-cigarettes."
The Kansas organization was born at the tail of the 1918 Spanish Flu pandemic and celebrated its 100th birthday at the onset of COVID-19.
"The greatest challenges we face open the door to the greatest opportunities," said Craig, who is an APHA member. "We had to cancel our conference on our 100th anniversary, but now we're planning virtual events that will allow us the opportunity to reach people all over the state."
For more information, visit www.kpha.us.
Copyright The Nation's Health, American Public Health Association