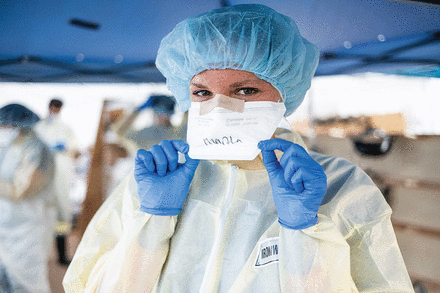 The COVID-19 pandemic is killing the very people who are working to save lives and stop the outbreak, with more than 1,000 U.S. medical and health staff felled by the disease as of late August, a new tracking project finds.
The data comes from Lost on the Frontline, a project launched in the spring by Kaiser Health News and The Guardian to document every U.S. health care worker who dies of COVID-19. The database — which includes doctors, nurses, paramedics, hospital custodians, administrative staff and nursing home workers — is considered the most comprehensive account of COVID-19 deaths among U.S. health care workers in the country.
Among the 167 worker deaths independently confirmed by reporters in August, 62% were people of color, 31% were reported to have had inadequate personal protective equipment, about one-third were born outside the U.S., and about 38% were nurses.
In general, front-line health care workers have a higher risk of reporting a positive COVID-19 test than the general population, but not all workers face the same risk. In a study published in July in The Lancet Public Health, researchers examined self-reported data submitted in March and April to the COVID Symptom Study smartphone app, which had over 2 million participants in the U.S. and U.K.
They found that prevalence of COVID-19 was about 2,700 cases per 100,000 front-line health care workers, compared to about 240 cases per 100,000 people in the general community. The highest infection rates were reported in New York, New Jersey and Louisiana and in areas around London and the Midlands in the U.K. About 20% of front-line health care workers reported at least one COVID-19 symptom, compared to about 14% of the general population. Fatigue, loss of smell or taste, and hoarse voice were frequent symptoms.
Researchers also found that Black, Asian and ethnic minority health care workers faced a higher risk of COVID-19 than their white peers. Adequate PPE was a risk factor as well, with front-line workers who reported having to reuse PPE at higher COVID-19 risk than those who reported having sufficient PPE, according to the study. Non-white front-line workers more frequently reported having to reuse PPE or having inadequate access to PPE.
"Ensuring the adequate allocation of PPE is important to aleviate structural inequities in COVID-19 risk," the study stated. "However, because infection risk was increased even with adequate PPE, our results suggest the need to ensure proper use of PPE and adherence to other infection control measures."
One such measure is face masks. In a July study in the Journal of the American Medical Association, researchers studied the impact of a mandatory face mask rule at Mass General Brigham, which in March began requiring everyone working at the hospital to wear a surgical mask. The study examined COVID-19 infection rates among health care workers at the Boston health system, which includes 12 hospitals and 78,000 employees, before and after the universal face mask rule. Of the 9,850 workers tested for COVID-19 over the study period in March and April, nearly 1,300 were positive.
Researchers found that before the mask policy was put in place, the COVID-19 positivity rate had increased exponentially, from 0% to 21%, with cases doubling every few days. But after the mask rule, the positivity rate among the system's health care workers declined from 15% to 11%, even as cases were going up in the wider community.
"These results support universal masking as part of a multipronged, infection-reduction strategy in health care settings," said study co-author Deepak Bhatt, MD, MPH, executive director of Interventional Cardiovascular Programs at Brigham and Women's Hospital Heart and Vascular Center, in a news release. "While we studied health care workers, the results also apply to other situations in which social distancing is not possible. For those who have been waiting for data before adopting the practice, this paper makes it clear: Masks work."
For more information on the two health worker studies, visit www.jamanetwork.com and www.thelancet.com. For more on Lost on the Frontline project, visit www.khn.org/lost-on-the-frontline.
Copyright The Nation's Health, American Public Health Association