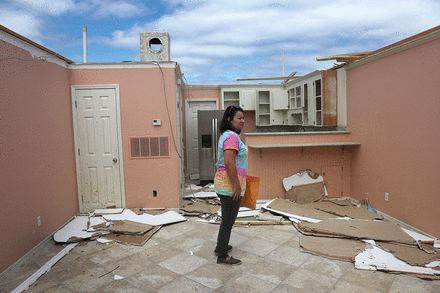 In California, Jeni Miller's son keeps an emergency backpack by the door. His phone is always with him, just in case he needs to quickly flee the state's wildfires, which have worsened this year because of growing heat and drought.
In Florida, where Miller is helping her father, they are grateful that the catastrophic flooding from Hurricane Sally missed their town. But more slow-moving, intense storms are on the way, fueled by warming temperatures from climate change.
"We have talked a lot about policy," Miller, PhD, chair of APHA's Environment Section, told The Nation's Health. "But this is about people's lives and well-being. We sometimes can think of the environment as if it's somehow separate from us. This is our home."
Under the Trump administration, the U.S. has reversed numerous environmental policies aimed to reduce the harms of climate change. The nation's formal withdrawal from the Paris climate agreement this November will be another big blow to progress.
The 2015 agreement, which involves almost all of the world's nations, strengthens global commitments to fight climate change. Countries are working to keep the global temperature rise below 2 degrees Celsius above pre-industrial levels. The world is already on pace to fail at limiting a global temperature increase of 1.5 degrees Celsius, a stricter goal of the agreement. Researchers predict there is a 25% chance that threshold will be crossed by 2025.
America's decision to exit the Paris agreement is a mistake on several levels, according to Peter Orris, MD, MPH, who was in Paris for the 2015 agreement signing.
"The U.S., as a global economic leader moving toward renewable energy, sets a vitally important example for the rest of the world," he told The Nation's Health. "And our exit from the agreement and adopting anti-science policies sets an equally awful example for other countries to do the same."
Rising global temperatures are already contributing to extreme weather, such as worsening hurricanes and droughts. People in low-income and minority communities are being disproportionately harmed by those effects.
"It's important that we recognize the synergism that worsening climate change has on health, especially recognizing the disproportionate impact on Black and brown communities," he said.
In practice, the U.S. government has been ignoring the obligations of the Paris agreement since the 2017 withdrawal announcement. But the formal Nov. 4 exit still matters, Miller said.
"The fight against (environmental) progress has really felt like a death by 1,000 cuts," Miller said. "Every time you turn around, something else is being taken apart. But the withdrawal from the Paris agreement is a massive, visible and highly damaging blow."
The U.S. government's failure to lead on climate change influences how local and state policymakers approach the issue. Some are creating their own responses, said Surili Patel, MS, director of APHA's Center for Climate, Health and Equity.
"Many city, county and state governments have admirably carried on, trying to hit emissions targets, but without national goals and regulations, we're left with a scattershot approach that's going to leave us coming up short," Patel told The Nation's Health. "
A coalition of U.S. leaders — We Are Still In — has tried to fill the gap. The group was created after the U.S. announced its departure from the Paris agreement, allowing supporters to work together. A joint declaration of support was signed by nearly 4,000 leaders, including mayors, county executives and CEOS.
We Are Still In has made environmental pledges at international summits in the U.S. government's absence, but the nation's formal exit will sideline America's role in the fight against climate change, Miller said.
"Local leadership can only take us so far without federal guidance, and individual action is a must — specifically exercising the right to vote," Patel said.
Most people in the U.S. recognize that climate change is affecting their communities, according to a June Pew Research Center poll. People living near coasts — where storms and wildfires this year have devastated communities — are more likely to acknowledge the reality of climate change, regardless of political affiliation.
"The shining light in this darkness is that we have established a broad agreement among leaders and the general public that climate change is real, it's getting worse and it is past time to transition to renewable energy sources," Orris said. "But we need federal leadership."
If politics change and the U.S. decides to rejoin the Paris climate agreement, it can do so easily. It could apply for readmission and be formally reentered within 30 days.
For more, visit www.wearestillin.com.
Copyright The Nation's Health, American Public Health Association