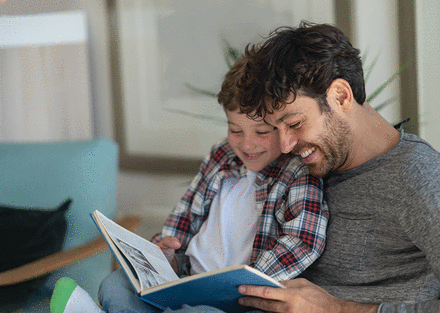 Environmental responsibility is something that needs to be understood and passed on to future generations, including from parent to child. But talking to children about climate change without causing anxiety or fear can be challenging.
APHA's ECO Bookworms club is helping parents and caregivers discuss climate change with children in a fun and informative way. Launched in 2020 by APHA's Center for Climate, Health and Equity, the book club features age-appropriate volumes with a hopeful message and can-do spirit.
"When you focus on ideas of hope and positive action, it allows you to start talking about these important ideas with children at a young age," Surili Patel, MS, director of the center, told The Nation's Health.

Each month, ECO Bookworms organizers choose engaging environmental books for children ages 8 and younger, focusing on topics such as protecting rainforests and climate advocacy. Special care is given to make sure the chosen books are available at public libraries and that they promote and reflect diversity.
Patel was inspired to start the book club because her own children enjoyed environmentally conscious books written for their age group. One of ECO Bookworms' recent book selections was "Sofia Valdez, Future Prez" by Andrea Beaty, a story about a young girl who takes on the task of convincing City Hall to turn a trash area into a park. The award-winning book was written for children ages 5-7.
Books on serious topics help kids recognize problems while also giving them tools to solve them, according to Deborah Diesen, author of "The Pout-Pout Fish Cleans Up the Ocean," the book club's first selection.
"Children's books that provide clear information in an engaging way are a great entry point for kids to think about and explore big ideas and important topics," Diesen told The Nation's Health.
New book selections are released on the second Tuesday of the month on APHA's website and its Facebook page. To get kids thinking about what they have read and spur conversation, each month's book includes discussion questions. For example, for September's book pick, "Buried Sunlight: How Fossil Fuels Have Changed the Earth," kids were asked to think about where the electricity they use comes from.
Recommendations from previous months of the book club are available on APHA's website as well.
Fueled by positive feedback from participating parents, ECO Bookworms will continue through this year.
Patel said the goal is to grow the club by partnering with other organizations and teaming up with another of the center's projects, the Tiny Climate Chronicles, which collects 100-word stories on personal experiences of climate change. Organizers are hoping to collect stories from book club members and their children.
For more information on ECO Bookworms, visit bit.ly/ecobookworms.
Copyright The Nation's Health, American Public Health Association