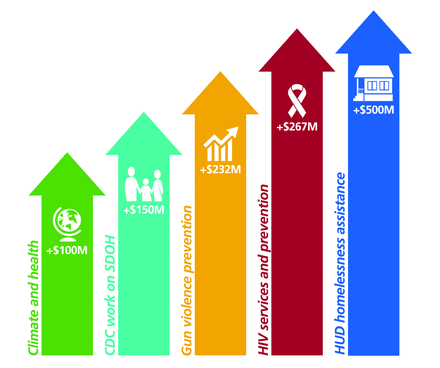 The nation's public health system will get significant, sorely needed funding bumps if recommendations in President Joe Biden's budget proposal are accepted by Congress.
In April, the White House Office of Management and Budget released Biden's discretionary federal budget request for fiscal year 2022, calling for a $1.6 billion increase for the Centers for Disease Control and Prevention. If approved, the request would bring CDC's overall funding to $8.7 billion and represent the largest increase in the agency's budget in nearly 20 years. The president's budget also calls for substantial funding increases to address a number of public health priorities, including gun violence, maternal mortality, health disparities, opioid addiction and climate change.
According to the budget document, the additional CDC funds would be used to improve core public health capacities in states and territories, modernize public health data systems, train new epidemiologists and other public health workers, and build global capacity to respond to future health threats. Overall, Biden's budget proposal requests $131.7 billion in discretionary funding for the U.S. Department of Health and Human Services, representing a more than 23% boost from fiscal year 2021 levels.
"This is a really critical and long-overdue investment for CDC, especially when we've just seen first hand what happens when we underinvest in public health," said Erin Will Morton, MA, executive director of the Coalition for Health Funding, which includes APHA. "This is a step in the right direction. But, hopefully, it's just the first step to annual, sustained increases — what we really need is long-term sustainability."
The budget document, which was submitted to Congress April 9, provides a broad view of Biden's budget priorities, with a more detailed, program-specific version to follow. While the presidential budget is usually submitted in February each year, the proposal comes in later months when there is a presidential change, such as this year.
The Biden budget proposal calls for doubling funding for gun violence prevention research at CDC and the National Institutes of Health; a $100 million increase for CDC's climate and health program, which is currently funded at $10 million; and $153 million to support CDC's work on social determinants of health, representing a $150 million increase over fiscal year 2021 levels. The proposal also requests $200 million to address U.S. maternal mortality rates, which disproportionately impact Black women.
The White House is also calling for $10.7 billion — an increase of $3.9 billion — to confront the opioid addiction and overdose crisis, which has worsened during the pandemic. An increase of $267 million is requested to support efforts to prevent new HIV infections, increase access to HIV treatment and prevention, and ensure equitable access to HIV services. Biden's budget request also more than doubles funds for the Community Mental Health Services Block Grant, which would bring the program's funding level to $1.6 billion.
"I believe that this budget represents an overdue investment in the health of all Americans," said APHA Executive Director Georges Benjamin, MD, in a news release. "We appreciate its renewed focus on a number of public health priorities that have been overlooked for some time."
Biden's proposal only covers discretionary funding levels and does not account for additional monies from the Affordable Care Act's Prevention and Public Health Fund, the nation's first mandatory funding stream dedicated to public health that has since become a critical source of support, providing up to 12% of CDC's total program funding.
"This is a step in the right direction. But, hopefully, it's just the first step to annual, sustained increases — what we really need is long-term sustainability."

— Erin Will Morton
While the ACA fund was intended to provide supplemental public health funding, it has often been used to supplant discretionary funding instead. Dara Lieberman, MPP, director of government relations at Trust for America's Health, said if Biden's CDC funding request is realized and coupled with more support from the Prevention and Public Health Fund, CDC's fiscal year 2022 budget could approach the $10 billion mark. That figure is what advocates such as TFAH and APHA have called for.
She noted that because much of CDC's budget is distributed out to states and localities, Biden's budget request would also be a critical boost for health departments nationwide.
"I remain really concerned that state budgets will continue to hurt over the next few years as we recover, and that puts local public health budgets at risk," Lieberman told The Nation's Health. "So having a strong CDC means having a stronger state and local public health system as well."
Other notable health-related funding increases in Biden's budget proposal include a more than 21% increase for the U.S. Environmental Protection Agency, including funds to address climate change and reduce greenhouse gas emissions, as well as $936 million for a new EPA initiative to advance environmental justice in historically neglected communities.
The Biden budget "marks a return to science-based public health policies," according to the Environmental Defense Fund, which praised the proposal's $1.2 billion for climate resilience, among other measures.
"It prioritizes investments in clean energy research and development, advances electrification of our transportation fleet, and ensures critical environmental protections to help bridge the gap in communities that are impacted first and worst by air pollution," Elizabeth Gore, the fund's senior vice president for political affairs, said in a news release.
At the U.S. Department of Agriculture, the budget requests $6.7 billion — $1 billion more than current levels — for nutritional programs such as the Special Supplemental Nutrition Program for Women, Infants and Children. At the U.S. Department of Housing and Urban Development, Biden proposed $3.5 billion — an increase of $500 million — for homeless assistance grants, and more than $30 billion — a boost of $5.4 billion over 2021 — to help low-income families with housing assistance. And at the Department of Justice, the budget calls for nearly doubling funds for programs that address violence against women and ensure equitable access to services.
Also, within HHS, the Biden budget proposes an increase of $2.2 billion for the Indian Health Service; an increase of $2.8 billion for HHS' early care and education programs, which would expand access to affordable child care; a funding increase of more than 18% for the Title X family planning program; and a 24% increase for the HHS Office for Civil Rights, which is charged with protecting civil rights in health care.
Morton, of the Coalition for Health Funding, said it was "encouraging" that the brief budget proposal specifically called out modernizing public health data systems and training more workers, which are indications the White House is taking seriously the need to strengthen public health infrastructure. But she said even if Biden's proposal comes to fruition, the chronically underfunded public health system still needs long-term investment. She pointed to a U.S. Senate bill reintroduced earlier this year — the Public Health Infrastructure Saves Lives Act — that would dedicate $4.5 billion annually to build and maintain the nation's public health system at every level.
"I think we have a huge opportunity to get ourselves out of this cycle of emergency funding," she told The Nation's Health. "We're costing ourselves so much more money by not making these upfront, sustained investments in public health."
For more information on the budget proposal, visit www.whitehouse.gov/omb.
Copyright The Nation's Health, American Public Health Association