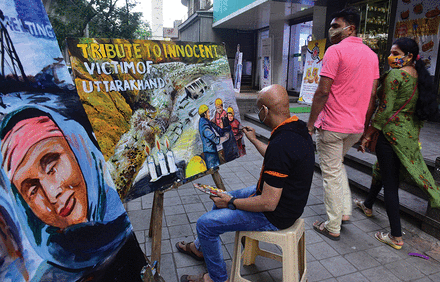 In February, a chunk of glacier broke off in the Himalayas, causing a landslide that dammed a river. The dam burst, sending a torrent of water into the Dhauliganga River valley in Uttarakhand, India, destroying villages, bridges and two power plants. Over 200 people were killed.
The tragedy highlighted the dangers to human life of melting and shifting glaciers in the wake of climate change. And while the main circumstance of the Uttarakhand event, namely a landslide blocking a river, is statistically rare, other disasters involving glaciers are not uncommon and have taken thousands of lives globally.
When glaciers melt and recede, they leave behind hollows that puddle into lakes banked by debris and soft sediment, called glacial lakes. The banks are easily breached, causing floods. Over 1,300 floods and at least 12,000 deaths have been caused by the natural events in recent decades, according to a global assessment by the University of Leeds published in 2016 in Global and Planetary Change. The Himalaya, Karakoram and Kindukush mountain ranges in central Asia and the Andes in South America are the deadliest regions involving melting glaciers.
In Uttarakhand in 2013, glacial floods contributed to thousands of deaths from heavy rains as glacial lakes burst and swept down river valleys. Climate change in Peru's Cordillera Blanca mountain range has caused an incalculable number of glacial floods and avalanches, said Mark Carey, PhD, author of "In the Shadow of Melting Glaciers: Climate Change and Andean Society." Since 1941, an estimated 25,000 Peruvians have been killed.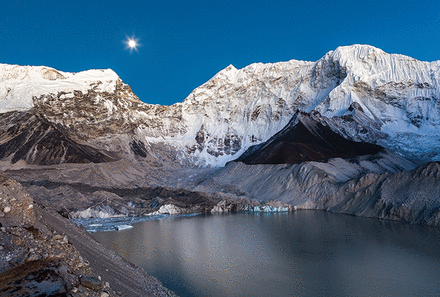 Glacier floods typically occur in low-income countries with unstable governments, said Carey, a history professor at the University of Oregon in Eugene who studies the history of glaciology. In Peru, highland residents, low on the social hierarchy, typically make their livings as day laborers. Government attempts to relocate them fail because many villagers are culturally attached to the region and view the government with suspicion.
Most highland villages have no hospitals and receive electricity through hydropower, which can be swept away in floods, as happened in Uttarakhand in February. Drinking water and food access are compromised in the aftermath.
Science can play a role in reducing loss of life from glacier floods, said Samar Minallah, MSe, a PhD candidate in climate and space sciences at the University of Michigan who studies glaciology in the Himalayan region.
"These are natural events that humans cannot always prevent," Minallah told The Nation's Health. "But understanding the processes behind them will explain the frequency and intensity of the events and identify the more vulnerable valleys. This will directly shape the policy and management interventions."
Minallah said some Himalayan villages are installing warning systems, offering residents up to several hours to seek higher ground. Regulations that keep people from building on flood plains should also be enforced, he said.
Keeping glacial lakes in check can also be beneficial. In Peru's Cordillera Blanca, residents have drained over 30 such lakes. Delegations from Peru have traveled to Nepal, India, to teach glacial lake management, Carey said. Draining efforts are crude — picks, shovels and small machinery are used to channel water out of a lake — but an effective way to mitigate flooding.
"They probably have prevented dozens of outburst floods and saved thousands of lives," Carey said.
While risk to the world's coastal residents from climate change has received a lot of study, less attention has been given to the impact of glacier melt on highlanders, Carey said.
"This is about food supplies, this is about freshwater access, this is about electricity," he said. "These are the fundamentals needed to live not just a good life, but to survive."
For more information on climate change and human health, visit www.apha.org/climate.
Copyright The Nation's Health, American Public Health Association