Typically over the summer months, we see an increase in gun violence in the U.S. With shootings skyrocketing this year, there is serious concern about what is ahead.
According to Gun Violence Archive, in the first six months of 2021, there had been almost 300 U.S. mass shootings. Of the almost 9,350 deaths attributed to gun violence, over 130 were children ages 11 and under, and more than 570 were ages 12 to 17.
Friends and family frequently ask me about the violence in my home city of Chicago, as news outlets often report on shootings. But while the city's violence is often cited by politicians, Chicago ranks 31st per capita among U.S. cities for violent crime, according to 2019 data from the FBI.
No state has gone without gun-related deaths this year. There have been almost three times as many gun deaths in 2021 in California than there are in Illinois, and more than twice as many in Texas.
Only five other countries in the entire world have higher numbers of gun-related deaths than the U.S.: Colombia, Brazil, Guatemala, Venezuela and Honduras.
None of these data points are new. And yet year after year, the numbers go up along with thoughts and prayers for the families of the victims.
The multiplicity of factors that create and foster violence are now better understood. Several evidence-based strategies to reduce it have been implemented around the country. Much work is still needed to address the structural inequities that generate violence, from the legacy of red-lining policies to the lack of timely access to culturally and linguistically appropriate mental health services.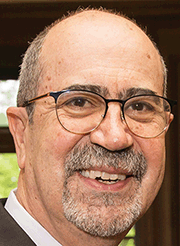 However, conversations usually come to a halt when we talk about adopting sensible policies to end gun violence. Despite overwhelming public support for proposals that include universal background checks, safety training and restricting access to assault weapons and large-capacity magazines, this remains an unattained goal. And while these conversations alone will not resolve the epidemic of gun violence, it is disingenuous to think that we will be able to make significant and sustainable progress without having them.
The month of August, when Congress is on its summer break, provides a good opportunity to contact your elected officials at their home offices. We can share information to help them understand the impact of gun violence in their districts, provide examples of approaches that have been successful across the country, and let them know how you, their constituents, feel about this issue.
I urge you to visit APHA's website for resources. Among them, you will find APHA's recently published book, "Gun Violence Prevention: A Public Health Approach," co-edited by Linda Degutis, DrPH, MSN, and Howard Spivak, MD. An impressive array of co-authors discuss the many layers of this problem and offer multiple perspectives for addressing gun violence through a public health lens.
José Ramón Fernández-Peña, MD, MPA president{at}apha.org
Copyright The Nation's Health, American Public Health Association