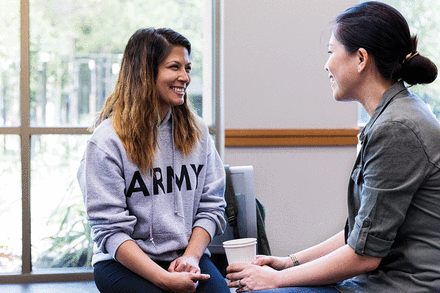 With over 18 million military veterans in the U.S., many with physical and mental health challenges, their health is an important public health issue.
To help support the needs of veterans, APHA's Vietnam Caucus transformed itself last year into the APHA Veterans Caucus. Founded in 1990, the Caucus served as a public health voice for veterans who served in the Vietnam War and their families. However, as the number of U.S. conflicts and veterans grew, leaders saw a demand for a larger focus.
"As time has gone on, the need for a broader, more diverse idea of what public health should be doing for veterans has grown," said Fran Atkinson, MSM, APHA's deputy director of membership.
The reorganized Veterans Caucus introduced itself to members at APHA's 2020 Annual Meeting and Expo. Its formation has been many years in the making.
"There are systemic problems with access to medical and mental health care that still need attention, but as the priorities of public health as a whole have evolved, so has our work for veterans," Atkinson told The Nation's Health.
Because veterans face numerous health challenges, barriers to care are an urgent problem. Veterans may experience injuries that are atypical among the general population, including lasting harm from chemical exposure and disability caused by weapons of war. Without an efficient system for dedicated care, pain is prolonged, increasing odds of developing mental health strain or addiction on top of their physical injuries.
A long-standing consequence of failing to meet medical and mental health needs of veterans is suicide. Suicide risk is more than 20% higher among veterans, particularly among those ages 18 to 29. More than two-thirds of male veterans who take take their own lives do so using firearms, according to 2016 data from the U.S. Department of Veterans Affairs' Office of Suicide Prevention. The APHA Caucus will continue to make suicide prevention a focus, but it will also incorporate issues of race and gender that align with equity priorities of public health as a whole.
At APHA's 2021 Annual Meeting and Expo, to be held in Denver in October, the Veterans Caucus will host two sessions that exemplify its commitment to speaking for a diversity of veterans' issues. Session 3141.1 on Oct. 25 will explore health among women veterans, while session 4281.1 on Oct. 26 will focus on race-based trauma and mental health and veterans.
For more on the Caucus and APHA's other member groups, visit www.apha.org/apha-communities.
Copyright The Nation's Health, American Public Health Association