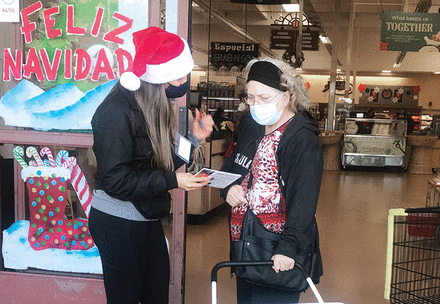 "It was a real opportunity to work together and find ways to address challenges that are common across many communities, yet unique within each community."

— Brittany Perrotte
Eight miles south of San Diego, the city of Chula Vista sits in one of the richest regions of the nation. With a median annual household income of about $90,000, Chula Vista's scenic views, outdoor coffee shops and museums make it a highly desirable place to live.
But despite the city's relative affluence, pockets of poverty exist, especially in Chula Vista's largely Hispanic western region. Residents there face inequities in terms of lower incomes, lower quantity and quality of public resources such as parks and sidewalks, and fewer healthy food options.
For decades, public health professionals across San Diego County, where Chula Vista is located, have worked to bring community members and cross-sector partners together to improve health equity. In July 2020, their work got a boost. The San Diego County Childhood Obesity Initiative — facilitated by the University of California-San Diego Center for Community Health at the Altman Clinical and Translational Research Institute — was one of 20 organizations to be awarded $100,000 over a two-year period to participate in the Healthiest Cities & Counties Challenge.
The initiative, funded by the Aetna Foundation and led in partnership with APHA, the National Association of Counties and Healthy Places by Design, provided funding, training and guidance to help 10 cities and 10 counties reduce health disparities by addressing key barriers to accessing food and health services. The grant initiative itself is now winding down, but the grantees' work is gearing up, thanks to successful efforts to shift power to community residents and build authentic community engagement and multisector partnerships.
Team-led projects in 11 states have worked to reduce stigma around mental illness and food insecurity, support food access in rural areas, engage with local farmers, address food needs in child care centers, establish food policy councils, recruit community health workers, address student choice and nutritional needs in schools, and more.
"As the grant comes to an end, what stands out more than anything is the importance of relationships to achieving increased access to foods that support healthy eating patterns and improved access to health services," APHA staff member Brittany Perrotte, MPH, the Healthiest Cities & Counties Challenge project director, told The Nation's Health.
The initiative's success can be attributed in part to the grant's flexible model, Perrotte said, noting that participants were free to take the lead on how best to address their communities' unique priorities.
"It was a real opportunity to work together and find ways to address challenges that are common across many communities yet unique within each community," Perrotte said.
That flexibility proved even more beneficial when the COVID-19 pandemic hit, as participants were forced to pivot their work. Despite the rapidly changing circumstances, teams were able to move forward and meet their goals, according to Amy Clark, lead director of community impact and philanthropic partnerships for CVS Health, the parent company of Aetna.
"Our vision was to provide flexible funding that could accelerate or strengthen multi-sector partnerships that were already underway," Clark told The Nation's Health. "Little did we know how important the flexibility and the strong partnerships would prove in the face of COVID-19."
The pandemic also brought food insecurity into the national spotlight. In Chula Vista, for example, the pandemic increased awareness of food access initiatives and paved the way for additional pandemic-driven funding.
As part of its work for the initiative, the Chula Vista team built partnerships across sectors and engaged nonprofit organizations and partners across city and county governments to ensure that the community's priorities moved forward.
The team also recruited 13 residents to serve as community leaders. After completing a resident leadership academy, the resident leaders fanned out into the community to determine where the needs were greatest. A Photo- Voice project and a community needs assessment found concerns related to food security and access to healthy foods and desire for a community garden.
To help address needs, the Chula Vista team recruited hundreds of community residents into the ¡Más Fresco! More Fresh Program at Northgate González Market in Chula Vista. The program provides financial incentives to California's CalFresh food assistance recipients when they purchase qualifying fresh fruits and vegetables with their electronic benefit transfer cards. The program has since expanded to offer the incentives at more than 40 Northgate Gonzalez Markets throughout Southern California. Buoyed by the ¡Más Fresco! program's success, the challenge team went to the San Diego County Board of Supervisors for funding to expand the food security program.
"Lo and behold, we got $3 million," Joseph Prickitt, MS, RD, associate director of the Center for Community Health at the University of California-San Diego, told The Nation's Health. He noted that the funds will be used to provide home-delivered boxes of farm-fresh produce to nearly 1,000 Chula Vista households every month for three years.
Those who do not receive the produce boxes will receive an additional $50 in CalFresh benefits each month for three years to buy healthy foods at more than 125 grocery stores in the Chula Vista area.
Through its community partnerships and resident leaders, the Chula Vista team is also working to secure funding to bring a community garden to the city.
"There are 60 parks in Chula Vista, but only one community garden, and it's not even a public garden, it's a private community garden," Prickitt said.
To that end, the team is working with the board of supervisors to secure funding for a community garden site in the city's Lauderbach Park.
Across the country, the city of Wheeling, West Virginia, is also celebrating successes gained through the Healthiest Cities & Counties Challenge. Aiming to improve the health of Wheeling's youth and families, the team is revitalizing 30 acres of a 60-acre abandoned hillside to establish "Edible Mountain."
"The name 'Edible Mountain' comes from the fact that we believe that our outside should be forageable," Rosemary Ketchum, chief operations officer for the Edible Mountain Project, told The Nation's Health. "We should be able to eat what exists on our hillsides."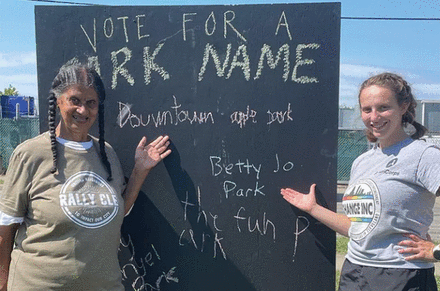 Located within walking distance of most of Wheeling's urban core, the space will be the largest municipal park in the state and will offer creative recreation and increased access to local food, physical fitness and social connection, she said.
The hillside is the former home of a low-income housing community built after World War II and demolished in the 1990s due to instability of the land caused by years of coal mining. Last year, the project was awarded a $3.2 million abandoned mine lands grant to shore up the hillside and begin the first phase of development. The project also received a $75,000 Educational Foundation of America grant.
Ninety percent of Wheeling's residents are white. Black residents make up only 8% of the population, and many of them lost their homes in the 1990s due to the unstable hillside. Because of that displacement — as well as the region's history of redlining and systemic racism — racial justice is at the forefront of the Edible Mountain project.
"We want to acknowledge the systemic and generational trauma that occurred there," Ketchum said. "Many families with decades of memories no longer had that land, no longer could feel like they were in their home space."
Another unique aspect of the Wheeling initiative is its inclusion of youth as thought partners. Edible Mountain's steering committee includes two children, ages 12 and 13, who live in the community and have a formal vote along with the 11 adult members.
In addition, children ages 5 and older are encouraged to attend community stakeholder meetings to share their ideas about what Edible Mountain should offer in terms of creative and healthy activities. The children have proposed a splash pad on the mountain, a hiking trail, a rope swing and a petting zoo with animals that are local to the area.
Bringing kids to the table and listening to their ideas can be very insightful, Ketchum said.
Throughout the two years of the most recent round of the Healthiest Cities & Counties Challenge, organizers and participants have been sharing progress and lessons learned through a peer learning network facilitated by Healthy Places by Design. The project website and blog share reports, photos and videos from teams that can be used to motivate other communities that want to do similar work. APHA plans to launch a storytelling map later this year that shares successes from the past two years.
"The progress that the 20 challenge communities have made over the past two years is inspiring," Clark said.
For more on the Healthiest Cities & Counties Challenge, visit www.healthiestcities.org.
Copyright The Nation's Health, American Public Health Association