"If we don't have good strong public policy to protect and preserve our trees and enhance our canopy, we're never going to get where we need to be."

— Cindi Sullivan
Extreme heat has claimed more lives in the U.S. than any other weather-related climate risk. Yet unlike climate-driven sea level rise, wildfires or drought, strategies for addressing rising temperatures lag. Only 4% of city climate assessment plans take on extreme heat, a study in Environmental Science & Policy finds.
But there are exceptions. Some cites have created programs and passed progressive policies. And increasingly, actions by city leaders are addressing inequities in heat risks.
"Extreme heat is the deadliest climate-related weather impact in the U.S.," Katherine Catalano, MS, deputy director of APHA's Center for Climate, Health and Equity, told The Nation's Health. "Cities need to invest in every solution possible to reduce temperatures, particularly in communities of color that are suffering the worst of this crisis."
Public health has an important role to play in bringing about heat equity and preventing heat-related illnesses, according to Ladd Keith, PhD, an assistant professor in the School of Landscape Architecture and Planning at the University of Arizona.
"You really can't even start to understand how to address heat without cooperation from the public health sector," Keith told The Nation's Health. "Every project I've worked on so far for heat planning has had a public health component, which has been interesting and makes extreme heat different than other climate risks."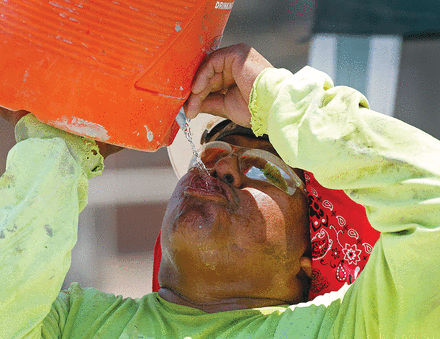 As temperatures rise, some city areas become lit furnaces, especially during the summer. Urban infrastructure absorbs and re-emits heat into the atmosphere, pushing up temperatures in cities. The hottest areas typically are low-income neighborhoods populated by people of color.
Systemic racism, unfair city zoning laws, low socioeconomic status and exclusion from city political processes have meant that underserved neighborhoods often receive meager funds for development, including for green parks and tree canopies, which produce shade and lower temperatures through evaporative cooling and are a key heat-reduction strategy in cities.
"Historic practices such as segregation and redlining, which led to underinvestment in neighborhoods of color, led to communities of color and low-income populations living in neighborhoods with less green space and higher concentrations of large building complexes made of dense, heat-absorbing materials," according to a February report from the Urban Institute. In another study from 2020 of 108 U.S. urban areas, 94% of redlined communities had higher surface temperatures — sometimes as much as 13 degrees higher — than non-redlined communities.
Meanwhile, low-income residents many times do not have home air conditioning or other ways to cool down on the hottest days, noted the Urban Institute report, "Centering Equity to Address Extreme Heat: Preparing Communities for Hotter Days."
Treeless streets, seas of pavement and lack of green spaces are major contributors to what is known as "heat islands" — urbanized areas that experience higher temperatures than outlying areas. Leafy trees and green spaces cool the atmosphere and lower temperatures through a process called evapotranspiration, and trees also provide shade, reducing direct sunlight onto heat-absorbing paved roads and parking lots.
But bringing urban forestry and other heat resiliency strategies to underserved neighborhoods can be challenging. Residents may lack internet connections, missing out on heat alerts and information on cooling centers, as well as surveys where they can report their needs. Language barriers sometimes also exist.
The Urban Institute report recommends that city officials and environmental advocates visit neighborhoods at risk for high heat in person, have conversations with residents and include them in interventions. Having local voices in the decisionmaking process is paramount.
"At the core of environmental justice organizing is the belief that those who directly experience injustice are best suited to develop meaningful, relevant and transformative solutions," Candice Kim, MPH, project director of Moving Forward Network, an environmental advocacy group, told The Nation's Health.
City leaders leading toward change
Over the last 10 years, Boston has experienced its hottest days on record. In August, the city hit 97 degrees, its highest temperature since 1928. Redlined neighborhoods bear the brunt of extreme heat, with temperatures 7.5 degrees hotter during the day compared to greener neighborhoods, according to the Boston Heat Resilience Plan published in April. Redlined communities have 20% less green space and 40% less tree cover.
In preparing the heat resiliency plan, city organizers met with residents, using translators when needed. They asked practical questions: How often do you use your air conditioner? Where do you go to keep cool? How do you receive weather updates?
Solutions in the Boston plan are comprehensive, involving infrastructure, land planning, smart growth and policy. Plans for redlined neighborhoods include pop-up heat relief stands, expansion of city-run cooling centers, expansion of emergency heat alerts, zoning revisions and development of green space and tree cover.
Throughout the plan's 350 pages, equity is a constant theme.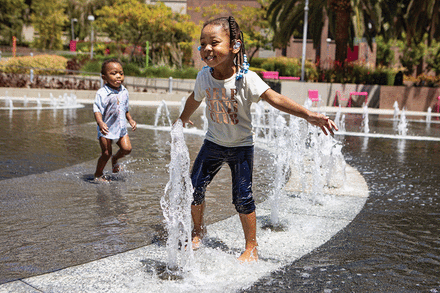 "By centering people and personal experiences alongside policies focused on infrastructure and buildings, we can deliver a wider range of strategies that can better address individual and systemic injustice and inequity," the report said.
Further south, Louisville, Kentucky, sits in the Ohio Valley, which in summer holds in heat like a blanket. In 2012, the city got a wakeup call that drove it to action. An influential study out of Georgia Tech University found that Louisville was warming faster than any other city in the nation. Compared to its suburbs, city center temperatures were rising 1.67 degrees each decade, nearly twice that of Phoenix, the second hottest U.S. city, according to the study. Nearly 40 residents die annually from heat-related causes.
Following the study's publication, Louisville hired its first director of sustainability, its first urban forester and a tree commissioner. The city has transformed heat-absorbing parking lots into green areas; embraced cool pavement and cool roofs, which apply a lighter coat to dark surfaces to reduce heat absorption; and planted tens of thousands of trees.
Attention is placed on equity. A recent local study found that Louisville neighborhoods redlined in the 1930s have 22% tree cover, compared with 49% for wealthier, predominately white neighborhoods.
Trees- Louisville, a local environmental group, has planted 18,000 trees, focusing on marginalized communities. The environ- mental group has also replaced paved parking lots with green spaces and community gardens.
An important strategy is to include residents when planting on easements, said Cindi Sullivan, executive director of TreesLouisville. Residents are given choices of tree species and plant locations, and all conversations are in person. Planting trees on easements near homes without discussing it with residents can be perceived negatively.
TreesLouisville is also involved in policy advocacy, calling on elected leaders to prioritize and fund city forestry work.
"If we don't have good strong public policy to protect and preserve our trees and enhance our canopy, we're never going to get where we need to be," Sullivan told The Nation's Health.
Kansas City made the top 10 of hottest urban heat islands in a 2014 report from Climate Central, a nonprofit news group. The report found that the city's urban center was on average 4.6 degrees hotter than outlying areas during the decade analyzed.
Kansas City is struggling to stay at 31% tree coverage, about 10% below the optimum recommended for the city by the American Forest Association. Disease, invasive pests, and climate-driven floods and drought stress trees and shorten life, adding to the difficulty of building an urban forest there.
The hottest Kansas City neighborhoods are low-canopy communities on the East Side with majority Black populations, a 2021 report by the Mid-America Regional Council found. Since 2016, Bridging the Gap, a local environmental group, has planted 3,800 trees in the neighborhoods. It also provides energy and water efficiency devices to reduce monthly utility bills, which can be especially high during hot summers.
With COVID-19 cases receding, organizers have been able to return to going door-to-door in East Side communities to talk about trees, utility bills and climate resilience.
"It's amazing the difference we get when we actually knock on the door and speak to a person," Sarah Crowder, senior program manager at Heartland Tree Alliance and Green Stewards, a Bridging the Gap partner, told The Nation's Health.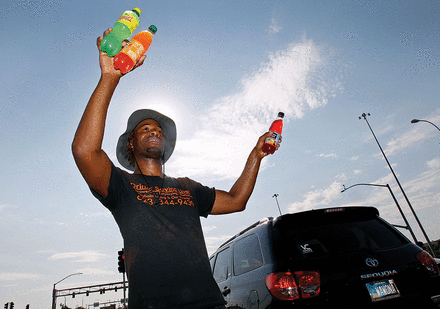 In August, a draft of Kansas City's Climate Protection and Resiliency Plan was sent to its City Council. It offers a section on climate justice for vulnerable communities. Several climate action sections cover emissions reduction, energy, food security, climate-ready buildings and natural systems — the latter addressing the importance of urban forestry in low-canopy communities.
One such low-canopy community is Phoenix, Arizona, which in summer can soar to more than 115 degrees — so simmering that airplanes at the international airport cannot achieve lift. Everyone is at risk when temperatures are so high, but people in underserved neighborhoods are most in danger.
"Those communities face systematic inequities, including lack of access to indoor cooling, poor housing quality and lack of access to health care," Keith said. "And so the systematic inequities make the heat severity much worse when both of those things are compounded together."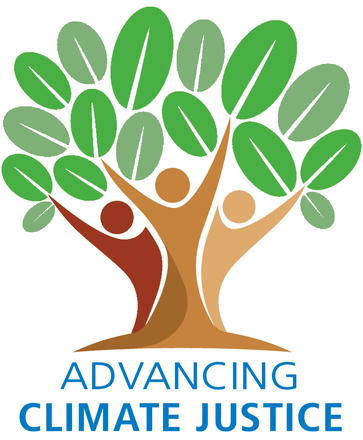 Phoenix's desert weather does not support lush, leafy trees, and the city only has 15% canopy cover. Moreover, a years-long drought makes it tough for officials to adequately water the city's existing greenery. Both factors make urban forestry a nominal part of the city's climate plan.
Even so, Phoenix is considered a leader in heat management. Zoning ordinances mandate at least 50% shade in downtown public spaces, most of which are art-style shade structures. It also has a Heat Relief Network, created in 2005, that offers real-time maps of cooling centers, water stations and heat-related medical information. Cool roofs have been installed for decades.
Last year, Phoenix opened the Office of Heat Response and Mitigation, the first publicly funded office addressing heat in a U.S. city. Equity is a strong focus through its public health arm.
"The office will do heat mitigation, which has traditionally been on the urban planning and architecture side. But they'll also look at heat management, which has traditionally been public health and emergency management," said Keith, an advisor to the agency. "The office brings together those traditionally siloed areas."
Phoenix is also piloting cool pavement — a reflective road surface that can help keep heat down— and continues to pursue its goal of covering a quarter of Phoenix with trees. Both are examples of Smart Surfaces, or reflective, porous, green or other surfaces that help reduce urban temperatures and aid with stormwater management.
"Extreme urban heat is awakening everyone to the reality of the climate crisis and the need to protect our communities and planet," said Greg Kats, CEO and founder of the APHA- supported Smart Surfaces Coalition, in an August news release announcing a new guidebook on heat reduction strategies.
The guide shows how smart surfaces "can reshape urban surfaces to make them cooler, less likely to flood, healthier, more equitable and more livable" — a strategy Arizona leaders are endorsing.
Arizona is also part of Building Resilience Against Climate Effects, funded by the Centers for Disease Control and Prevention. BRACE provides a framework for guiding 16 states and two cities on strategies and programs to reduce climate-caused health harms.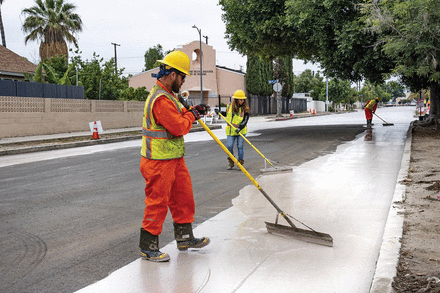 Keith, who is part of Arizona BRACE, said the program is bringing heat strategies used in Maricopa County to underserved communities across the state, using heat emergency messaging, cool pavements and cooling centers. But he is realistic about the progress so far: Heat-related deaths in Phoenix increased by 62% over one year, from almost 200 in 2019 to 323 in 2020, according to the Maricopa County Department of Public Health.
"We have more work to do not just to mitigate the heat in the built environment, but also to manage heat and improve public health outcomes," he said.
For the Urban Institute report, visit www.urban.org. For the new "Smart Surfaces Guide," visit www.smartsurfacescoalition.org. Learn more about climate change and environmental justice at www.apha.org/climate.
Copyright The Nation's Health, American Public Health Association