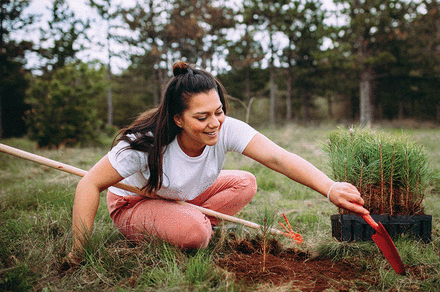 Climate change is arguably the greatest threat to public health facing our world.
The International Panel on Climate Change and others have detailed the many pathways in which our health — indeed, our very existence on this planet — are already being affected. Those include but are not limited to increases in extreme heat, severe weather events, vector-borne and respiratory diseases, disruptions in food production, and flooding.
These impacts are not being experienced equally. They are falling disproportionately upon low-income communities and communities of color, exacerbating already profound health inequities.
Given the global scale of the climate crisis, it's easy to get overwhelmed and wonder what we can reasonably achieve in our own communities. Yet tremendous opportunity exists to take meaningful action and the local and regional levels. One such effort is the Fairmount Indigo Community Development Corporation Collaborative, which serves predominantly low- and middle-income communities in Boston.
Collaborative member groups are advocating for local and state policies that will reduce greenhouse gas emissions, improve air quality and increase access to affordable housing. The groups are backing a Boston Conservation Corps program that aims to accelerate climate-focused projects with a dedicated workforce. They're also calling for monitoring of a 2021 Massachusetts climate policy that charts a path toward zero emissions by 2050, and they're supporting increased funding for climate adaptation and affordable housing projects.
The collaborative members, their partners and resident activists realize that a good solution solves multiple problems. For example, one of their policy goals is to double the excise tax rate for real estate transactions, which would raise an estimated $600 million per year for both affordable housing development and climate resilience projects in frontline communities.
The collaborative is one of 14 community-based partners supported by the Kresge Foundation's Climate Change, Health and Equity initiative. Many of the organizations supported through the five-year, $22 million initiative are achieving important victories, including expanding transit access, establishing a clean energy standard and supporting urban resilience.
Despite encouraging signs of progress, health funders have yet to support climate advocacy led by affected communities at sufficient scale. A field assessment found a total of just $84 million in grants from 100 funders in health and equity initiatives related to climate, with very few coming from health foundations. A more recent study conducted by the Center for Effective Philanthropy found that while 90% of foundation leaders believe that climate change is an urgent problem, only about 2% of foundation giving goes toward climate mitigation and adaptation.
Clearly, more climate action is necessary. We invite you to join us at APHA's 2022 Annual Meeting and Expo at 10:30 a.m. ET on Nov. 7 at session 947857 to learn how communities are organizing to create a more equitable and climate resilient future.
Kabel is a senior fellow with the Kresge Foundation and Lyle is CEO of the Dorchester Bay Economic Development Corporation, which is a member of the Fairmount Indigo Community Development Corporation Collaborative.
Copyright The Nation's Health, American Public Health Association