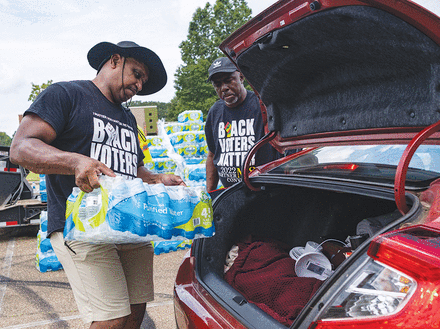 On Aug. 29, Jackson, Mississippi, prepared for the worst as rainfall of historic proportions caused the Pearl River to overflow its banks. Fearing a repeat of the city's devastating spring 2020 flood, the city's mayor called on residents to evacuate.
Fortunately, the floodwaters rolled in at lower levels than expected. But the record rainfall exacerbated decades-old problems at the city's aging water treatment facility, leaving more than 100,000 people without safe drinking water.
Though the floodwaters have since receded in Jackson, feelings of powerlessness, stress and anxiety are rising in the city, where more than 82% of residents are Black and 1 in 4 live in poverty. When the flooding occurred, Jackson had already been under a boil water advisory from the state health department for at least a month. Decades of disinvestment in the city's crumbling water infrastructure has left it ill-equipped to handle the more intense and frequent flooding that is linked to climate change.
Around Jackson, the contaminated water and low or no water pressure caused taps to run dry, rendered toilets and showers unusable and crippled air conditioning systems. Residents waited in line for hours for bottled water. The impact was felt especially hard at Jackson State University, where 7,000 students at the historically Black college had just started the fall semester. The water crisis hit students' pocketbooks hard, leading some to rent hotel rooms or to drive or fly home. Students living off-campus and graduate students with families worried about unexpected food costs due to the inability to cook at home. Some students lost their cars in the flood, said Fran'Cee Brown-McClure, PhD, vice president for student affairs.
"All of this is sitting very heavy on our students, faculty and staff," Brown-McClure told The Nation's Health. "But in the midst of the crisis and in the midst of these negative situations that impact communities of color and that have impacted JSU, there is still great resiliency."
The world's climate is changing at an alarming and unprecedented rate, and numerous studies show that the mental health impacts caused by heavier rains, flooding, hurricanes, wildfires, poor air quality and extreme heat and cold are not experienced equally. According to a 2021 report from the American Psychological Association and ecoAmerica, the destructive impacts of climate change will be felt by everyone, but the impact will fall hardest on low-income people and communities of color. Climate change can increase stress, anxiety, depression, mood disorders, PTSD, cognitive decline, poor academic performance and higher exposure to violence and crime, research shows.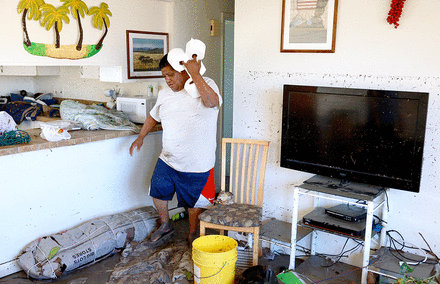 "Climate change exacerbates every existing stressor that communities face and individuals experience," said Jasmine Davenport, MSc, executive director of Our Climate. "From housing insecurity, gender inequality, job uncertainty, health care accessibility, people are overburdened, feel left behind, are tired of their communities being 'sacrifice zones,' and are burned out from advocating, hearing empty promises and, quite frankly, hitting a point of not knowing what to do."
An April Healthy Minds poll from the American Psychiatric Association found that climate change is impacting the mental health of adults. But not all people are being affected equally: 65% of Black adults reported climate anxiety, as did 62% of Hispanic adults. White people were least likely to report climate anxiety, at 52%. The poll also found younger adults are more likely to be concerned about climate change's impacts on mental health, with more than half of respondents ages 18-34 expressing anxiety about climate change and its impact on their mental health.
While many leaders around the world are pursuing and pushing for action to mitigate climate change, only 1 in 3 U.S. adults feels optimistic, a spring poll from ecoAmerica and APHA found. People ages 18-29 were much more likely than people over 60 to feel angry or fearful about climate change.
"It is vital that we provide people, especially young people, with the necessary tools and supportive spaces to build their resilience, as we are in the fight of our lives," Davenport told The Nation's Health.
A warming planet will also bring increases in suicide and substance use as climate change factors contribute to or exacerbate anxiety and depression, said Caitlin Gould, MPPA, of the Climate Science and Impacts Branch at the U.S. Environmental Protection Agency. Gould co-authored an April study in GeoHealth that found that regions in the U.S. with declining rain and increasing temperatures between 1999 and 2019 had increasing suicide rates. At-risk regions include the Northwest, North Central region and the South.
Despite the science, many Americans still do not realize just how profound and common the effects of climate change will be on mental health.
"Leaders need to have community trust and knowledge of cultural practices and language fluency," Gould told The Nation's Health. "They also should be equipping health care professionals with the training and tools to identify mental health issues driven by the effects of climate change."
Some states are stepping up and joining the fight. In Oregon, Gov. Kate Brown directed the Oregon Health Authority to study the harms from climate change on the mental health of young Oregonians. A June report, "Climate Change and Youth Mental Health" shared data from focus groups conducted with 15- to 25-year-olds representing a range of cultures and races, including American Indian youth and youth with disabilities. According to the report, the weight of climate change can seem overwhelming and unfair to young people who see their future lives and well-being at stake, yet are not able to represent themselves at decisionmaking tables where climate change decisions are debated.
"They feel that their anger and frustration is being dismissed both by the adults in their lives and adults in power," said Julie Early Sifuentes, MS, the report's lead author. "There is this feeling that the responsibility of addressing climate change is being shifted to them."
The study also amplified the voices of tribal youth for whom the capacity to adapt to environmental change is often based on their connection to the land. Multiple studies show that chronic climate stressors such as drought, wildfires and extreme heat interfere with the ability to gather traditional foods and impact the cultural practices that are important for resilience and well-being among American Indian youth and their communities. Culturally appropriate training for mental health workers could help mitigate these issues, Sifuentes said, such as supporting more people of color to become therapists and counselors.
"There is a real need for some non-traditional cross-sector collaborations," Sifuentes said. "Typically in public health, we haven't seen a strong connection or recognized a strong connection between mental health and environmental health. Climate change is really bringing to the surface how important our relationship with nature and with our physical environment is to our overall well-being."
The World Health Organization underscored that connection this summer in a new issue brief, calling for nations around the world to include mental health and psychosocial support in their national health and climate change plans.
"By ramping up mental health and psychosocial support within disaster risk reduction and climate action, countries can do more to help protect those most at risk," said Dévora Kestel, MSc, WHO's director of the Department of Mental Health and Substance Abuse, in a news release.
For more on climate change and human health, visit www.apha.org/climate-change.
Copyright The Nation's Health, American Public Health Association