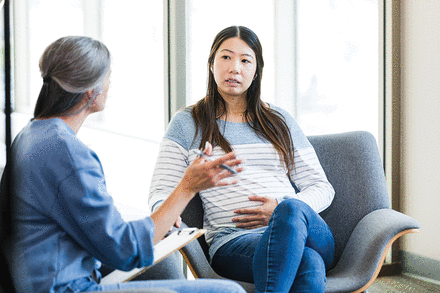 Drug overdose deaths among pregnant and postpartum women in the U.S. have risen rapidly in recent years, with deaths spiking during the first year of the COVID-19 pandemic, a recent study finds.
From 2017 to 2020, 1 in 6 pregnancy-associated deaths were due to drug overdose, according to the study, which was published in the December issue of the Journal of the American Medical Association.
Researchers at Columbia University's Mailman School of Public Health examined records from the National Vital Statistics System, finding overdose mortality rose over 80% during the four-year period, reaching 11.85 people per 100,000 population in the first year of the pandemic. Overdose deaths among women of reproductive age overall rose just 38% during the same period.
Emilie Bruzelius, MPH, a study co-author and doctoral student in the school's Department of Epidemiology, said that both stigmatization and barriers to drug use treatment are especially difficult for people who are pregnant or who have recently given birth. Those factors could make them "especially prone to fatal overdose," she told The Nation's Health.
Overdose deaths during pregnancy or postpartum for women tended to involve benzodiazepines, heroin and prescription opioids. In 2020, researchers found a spike in deaths due to overdoses from cocaine, fentanyl or methamphetamines. Fentanyl-related deaths particularly increased in 2020, nearly doubling as the drug was mixed in with other illicit drugs.
Social isolation, economic challenges and health care disruptions during the COVID-19 pandemic likely contributed to increases in substance use, Bruzelius said. Cancelations of in-person support and therapy groups also led to disruptions in care.
"We know that less than 20% of people with a substance use disorder actually have access to treatment," said Silvia Martins, MD, PhD, senior author of the study and director of the school's Substance Use Epidemiology Unit.
A 2021 report from the White House Office of National Drug Control Policy examined barriers to substance use treatment among pregnant people and how to overcome them. The report found that pregnant and postpartum women are often reluctant to seek substance use treatment because they fear they will lose custody of their children. Infants account for more than 20% of foster care placements in the U.S. each year, "most associated with parental substance use," the report said.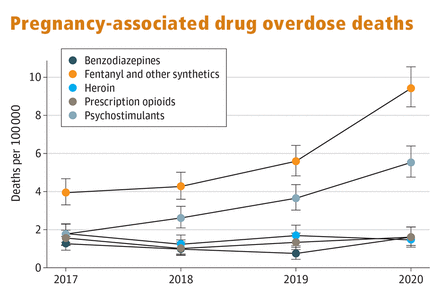 Along with illicit drug use, alcohol use is not uncommon for pregnant and postpartum women. A 2022 study in Morbidity and Mortality Weekly Report found that more than 13% of pregnant women had consumed alcohol within the last 30 days.
The White House report shares recommendations for improving access to substance use treatment and federal health services related to pregnancy. It also offers strategies to keep infants with family members rather than placing them in foster care, and ways to enhance public-private partnerships by creating a collaborative platform involving hospitals, outpatient clinics and local health programs.
Few treatment programs for substance use disorder are tailored to the specific needs of pregnant people. Many programs prohibit patients from bringing their children to treatment, forcing postpartum people to choose between caring for their newborn or seeking help. Pregnant women with substance use disorders are 17% less likely to be accepted for outpatient treatment than other women, according to the White House report.
"We need to work on decreasing stigma and increasing access to treatment, not just for pregnant people, but among families," Martins told The Nation's Health.
For more on the report, "Substance Use Disorder in Pregnancy: Improving Outcomes for Families," visit www.whitehouse.gov. For the study, visit www.jama.com.
Copyright The Nation's Health, American Public Health Association