More than a month after a train derailment in East Palestine, Ohio, released toxic chemicals into the community, local public health workers were still in emergency response mode following the unexpected disaster.
"I was dumbfounded when I first heard what had happened," said Laura Fauss, MPH, environmental programs manager at the Columbiana County Health District, which serves the northeastern Ohio village.
Protecting drinking water was immediately a top priority, especially with so many residents relying on private water wells. Among the hazardous chemicals on the derailed Norfolk Southern train were hundreds of thousands of pounds of vinyl chloride, a known human carcinogen.
Workers at Columbiana County Health District, along with partners, quickly developed a water-testing plan, putting it together even as fellow first responders were still dealing with the immediate train crash and fire. Two days after officials lifted the local evacuation order, which forced hundreds from their homes, teams started collecting water samples.
Within a month, the health department had sampled 174 water wells, Fauss said, and at least 1,000 local residents were on a hotline-generated waiting list to get their own water tested. As of early March, testing had not revealed any contamination, but the risk will linger for years to come.
The health department is planning now for long-term water monitoring, Fauss said. She noted that after a similar toxic train derailment in Louisiana in 1982, which also involved vinyl chloride, environmental testing continued for decades.
"This is a real long-term concern for our residents," Wes Vins, DPA, health commissioner for Columbiana County, told The Nation's Health.
The East Palestine train derailment is the latest large chemical disaster to make national headlines, but smaller chemical incidents happen frequently in the U.S. In both cases, public health departments play a central role in their response.
On average, there is a chemical fire, explosion or toxic release every two days in the U.S., according to the Coalition to Prevent Chemical Disasters. One study, published in 2020 in the Centers for Disease Control and Prevention's Morbidity and Mortality Weekly Report, identified thousands of toxic incidents — those involving chemical, biologic, radiologic and medical materials — within the span of several years in fewer than a dozen states.
Between 2010 and 2014, according to the study, nine state health departments alone reported more than 22,300 incidents, as well as about 6,600 related injuries and 190 deaths. And as climate change worsens floods, fires and other weather, the U.S. Government Accountability Office warns the risks of chemical disasters at industrial facilities will grow.
Those disasters will have a worse impact on the nearest communities, which are disproportionately made up of Black, Hispanic and impoverished people.
While disaster preparedness is a core public health activity, not all local health departments have specific training related to chemical emergencies, said Lori Tremmel Freeman, MBA, CEO of the National Association of County and City Health Officials. In recent NACCHO surveys, almost half of local health departments reported no preparedness activities related to chemical, biological, radiological and nuclear threats.
"We need to better understand why that it is," she told The Nation's Health. "Because the bottom line is that local health departments have unique perspectives on this."
Funding is likely part of it, Freeman said. While health departments have received an influx of short-term emergency funds to deal with COVID-19, funding for CDC's Public Health Emergency Preparedness programs is about half of what it was in 2002, after adjusting for inflation.
"The more that our health departments can be part of these responses, the better the outcomes will be," said Freeman, an APHA member.
In February, public health officials in Harris County, Texas, which includes Houston, issued a two-square-mile shelter-in-place order following an ammonia gas leak at a distribution center in the city of Katy. It was lifted later the same day.
Chemical disaster training happens year-round at Harris County Public Health, home to one of the world's largest petrochemical industries, said Michael McClendon, director of the agency's Office of Public Health Preparedness and Response. McClendon said the health department significantly increased such work in 2019 following a massive chemical fire at a petrochemical facility that burned for days and forced local schools and businesses to shutter.
"We realized we weren't as prepared as we thought," McClendon said of the 2019 fire. "But we decided to make this a priority and I think we're in a pretty good position right now."
Health monitoring is a key part of the department's response efforts, McClendon said. The agency works closely with local hospitals to watch for indicators that a chemical event is making people sick, often for weeks after an incident happens.
McClendon said preparedness capacity has improved, but it can be challenging to sustain.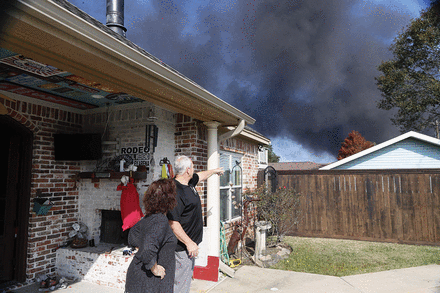 "The budget for this office has not seen an increase in several years," he told The Nation's Health.
Harris County Public Health is involved in chemical disaster response, but not in its primary prevention work. That is not the case in Contra Costa County, California, where a unique ordinance gives local public health workers the tools to stop such incidents from happening in the first place. The county is home to four refineries and a number of large chemical manufacturers.
In 1999, following a series of chemical incidents and related fatalities, the county adopted an Industrial Safety Ordinance, building on existing state rules. In particular, the ordinance zeroed in on process safety, focusing on management systems and human factors that lead to chemical disasters, said Nicole Heath, acting director of Hazardous Materials Programs at Contra Costa Health Services.
Six facilities are currently subject to the ordinance, Heath said. The health department sends a team of chemical engineers to each facility every three years to conduct an audit, which can take more than a month. During the audit, inspectors ensure that facilities are complying with baseline safety regulations, but also recommend ways they can reduce disaster risk, such as minimizing the amount of a certain chemical stored on site or even substituting it out for a less toxic substance.
Since the ordinance was adopted, the number of major chemical accidents or releases has dropped significantly, Heath said, from about 10 a year in the early 2000s to just one in 2022.
"It's really hard to use the absence of incidents as a metric, but it's such a drastic difference," she told The Nation's Health. "It's hard to feel like it's not working."
Nationally, health advocates have long called for stronger prevention on chemical threats. Last year, they urged the U.S. Environmental Protection Agency to strengthen its Risk Management Plan Rule, which is meant to protect the millions of Americans living near high-risk chemical facilities. Among the changes advocates want: push facilities to adopt safer chemicals and processes, and require broad disclosure — in multiple languages — about chemicals stored on site.
EPA is expected to issue a final rule in August.
"Until EPA takes up measures like these, we'll see incidents like East Palestine happen over and over," Maya Nye, PhD, federal policy director for Coming Clean, an environmental health nonprofit, told The Nation's Health.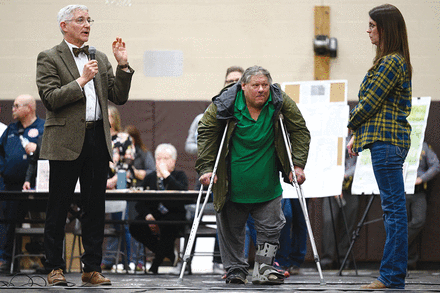 For more information, visit www.preventchemicaldisasters.org.
Copyright The Nation's Health, American Public Health Association