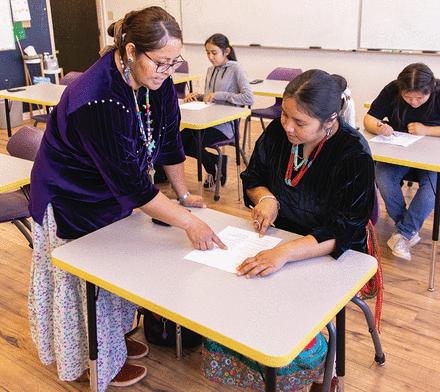 An APHA resource can help high school students gain deeper insights on climate and health, going beyond what they may receive in their regular curriculum.
The Climate and Health Education Toolkit, created by APHA's Environment Section and the Association's Center for Climate, Health and Equity, is a resource for volunteers to foster discussions with students.
Based on a lesson plan from the National Institute of Environmental Health Sciences, the toolkit contains simplified language that is easy for both guest lecturers and students to understand. Public health experts can visit classrooms and present parts of the 100-minute lesson or share the material in its entirety.
Topics covered in the toolkit include air quality, vector-borne diseases, food safety, mental health and water-related illness. Students are also introduced to concepts such as climate mitigation, health co-benefits and adaption strategies.
Once they have engaged in the lesson plan, students are able to discuss the effects of climate change on health, understand who is most at risk from climate change and recognize some things that can be done to protect health.
The toolkit can be modified if students have trouble grasping concepts.
For example, when APHA member Tiffany Canate, MPH, taught a version of the toolkit at a summer camp and with high schoolers, she said the students better understood the lessons when they thought about environmental effects on health as "cause and effect" rather than language such as "climate drivers and health outcomes."
If youth do not discuss climate change in classrooms or with their parents, they may rely on social media or news to get information. Bleak headlines and deadly weather disasters can cause "eco anxiety," which is a feeling of fear and despair about the future and planet, according to Katherine Catalano, MS, director of the APHA center. Students need to feel empowered to make changes, she said.
A 2019 NPR survey of U.S. adults found that 66% agree that schools should teach about climate change and its impacts on the environment, economy and society, while only 10% of those surveyed thought climate change should not be taught at all. The same survey found that 45% of parents talk to their children about climate change and 42% of teachers teach students about climate change.
"Many respondents felt they didn't have the expertise or background knowledge to talk about it appropriately," Catalano told The Nation's Health. "This resource can help change that."
For more information on the toolkit, which is sponsored by Biogen, visit bit.ly/cehtoolkit.
Copyright The Nation's Health, American Public Health Association